With two months to go, it's not too early to look ahead to Late Night with Roy, the public opening of North Carolina's 2018-19 basketball season.
The team's preseason practice is set to begin in late September, but Friday, Oct. 12 is being finalized as the planned date of Late Night, a source confirmed to Inside Carolina.
The Smith Center event, which is free to the public with general admission seating, is not just basketball activities, as it has traditionally featured player introductions, dance numbers, skits, and is highlighted by an intra-squad scrimmage to close out the evening. Additionally, the first public display of the new Roy Williams Court will be part of the festivities. The Carolina Basketball family will celebrate the unveiling in private with the team and former players at a reunion in late August and then with Tar Heel fans at Late Night.
Former North Carolina players and alums have hosted the event, most notably the late Stuart Scott of ESPN and TNT's Kenny Smith. Bobby Frasor and Jessie Holley have also hosted in the past.
The UNC football team hosts Coastal Division rival Virginia Tech on Saturday, Oct. 13 in Kenan Memorial Stadium.
The evening provides fans with their first glimpse of the North Carolina freshmen in action. This year the Tar Heels bring in three touted rookies. At 6-foot-7, five-star Nassir Little was the No. 3 overall player in the incoming freshman class, according to the 247 Sports Composite. In-state five-star guard Coby White was ranked as the No. 23 prospect and versatile Concord, N.C. wing Rechon Black was ranked No. 69.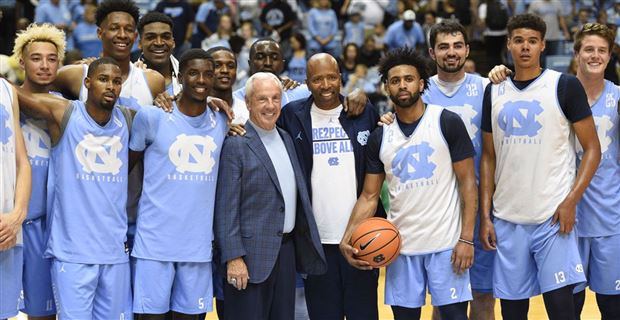 Late Night with Roy remains a key evening for UNC Basketball recruiting. In the past, many top recruits have taken their official visits during the Late Night with Roy weekend. Additionally, UNC hosts unofficial visitors and it has become a popular date for underclassmen to visit Carolina's campus.
The state's top prospect in the rising senior class, Wendell Moore -- told Inside Carolina that he intends to take an official visit to North Carolina the weekend of this year's Late Night.
The Tar Heels are coming off a 26-11 season in 2017-18, which concluded with a second-round exit from the NCAA Tournament at the hands of Texas A&M. UNC lost two key starters and leaders from that team in star point guard Joel Berry and stat-stuffing wing Theo Pinson.
Heading into the 2018-19 season, the Tar Heels will feature a mixture of proven, veteran players and the aforementioned dynamic freshmen talent. Returning are Luke Maye, Kenny Williams, and Cameron Johnson -- all starters on the 2017-18 team. Reserve guard Seventh Woods, Brandon Robinson, and Andrew Platek are back along with sophomore big men Sterling Manley, Garrison Brooks, and Brandon Huffman.
Woods and freshmen White and Black, plus walk-on K.J. Smith, will all compete for minutes at point guard.
The Tar Heels held four team practices this summer and will hold two more as part of their trip to the Bahamas for two exhibition games Aug. 17-18. Check out a video from a recent UNC summer practice.