CHAPEL HILL, N.C. – Chris Kapilovic entered training camp in 2017 expecting to have an experienced offensive line with a legitimate depth chart running 10 deep. Then everything that seemingly could go wrong did go wrong, beginning with the losses of three potential starters and continuing with various undisclosed injuries throughout the course of the season.
As UNC stumbled to its worst finish in 12 years, there were weeks of practice in which the key members of the starting offensive line were unable take reps together before stepping on the field on Saturday and attempting to manufacture chemistry. As a result, the Tar Heels ranked T-10th in yards per carry (4.05) and 11th in sacks allowed per game (2.5) in the ACC. While there was young talent in the position group, players such as Billy Ross, Brian Anderson and Marcus McKethan, it wasn't yet their time to contribute.
"The freshmen we redshirted, if we felt like they could've went in and played better than what we had, then we certainly would've done that," Kapilovic said in an interview with Inside Carolina, "but Larry [Fedora] and I didn't feel that way. Instead of just throwing them out there and burning a year, you felt like it was better just to develop those guys and have them for the future. Sometimes when you play kids too early, you can really disrupt their confidence as well."
Injuries negated the potential strength of UNC's offense last season up front, and despite an incredible loss of experience, Kapilovic has a young and currently healthy crop of players ready to serve as a new foundation. The Tar Heels lost 114 career starts, including multi-year starters in left tackle Bentley Spain, center Cam Dillard, left guard Khaliel Rodgers and right guard R.J. Prince, and return just 19 career starts shared by four players.
Right tackle Charlie Heck (6-7, 300) started 11 games last season and enters his junior campaign as the most experienced offensive lineman on UNC's roster.
"From the beginning of the season to the end, [Heck's] improvement was remarkable, really," Kapilovic said. "He had a couple really bad plays in the early part of the season that hurt him… but, to his credit, he kept battling, and improved and improved. I think he did a great job and I have high expectations for him."
William Sweet (6-7, 300) was solid at right tackle in three starts before tearing his ACL early in the season at Old Dominion. The Jacksonville, Fla. junior has been cleared to return to all football activities and will flip over to left tackle this season.
"He's doing everything and he seems to have a lot of confidence," Kapilovic said. "That's great, because sometimes kids come back from the ACL injury and they're not confident in being able to play and turn it loose. So I'm hoping and praying that we can get back to where he left off and try to catch up during training camp."
One freshman Fedora and Kapilovic thought capable of playing last fall was Jordan Tucker (6-6, 335), but an injury kept him on the sideline. He's likely to claim the third tackle spot to solidify UNC's rotation on the edge.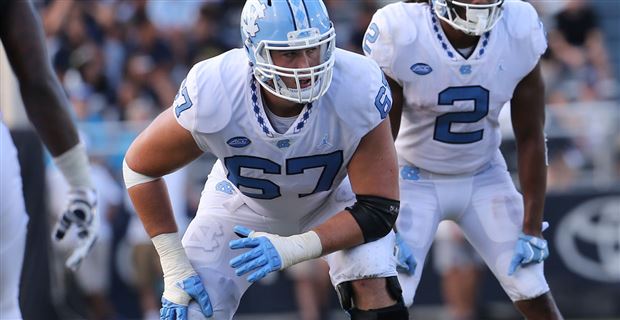 Junior Mason Veal (6-5, 305) and McKethan are serviceable options at tackle, although Veal's ability to play every position along the line elevates his value, especially if the injury bug decides to hang around the Kenan Football Center another season. With McKethan's playing time at tackle seemingly limited this fall, the athletic big man will take reps on the interior during camp.
Junior Nick Polino started three games at left guard in 2017 and emerged from spring practice as the starter at that position. Redshirt freshman Jonah Melton, who saw his first legitimate reps in the spring after coming back from an ACL injury, is battling for the backup position at left guard. There is far less certainty on the other side of the interior.
"The right guard spot is really wide open," Kapilovic said. "Nobody secured that in the spring."
Ross (6-5, 315) had some positive moments, while sophomore Tyler Pritchett was sidelined in the spring due to injury. The question marks at right guard open the door for both McKethan and highly-touted newcomer William Barnes to enter the fray during training camp.
Sophomore Jay-Jay McCargo (6-3, 295) was another offensive lineman who missed spring practice due to injury, but the Alexandria, Va. native is slotted as the starting center with Anderson (6-3, 290) and veteran walk-on Jonathan Trull (6-4, 310) backing him up.
While the depth chart is largely penciled in ahead of training camp, there is the possibility of change, given unforeseen adversity and development as Kapilovic works to construct a starting lineup for the opener at California on Sept. 1.
"When you start getting into training camp, you're looking for the five best guys to get them on the field," Kapilovic said. "That's why these kids all summer, a lot of them are playing multiple positions, so that you're marketable to play at multiple spots. That's really what we're looking for. Who are the top five guys?"
That's for training camp to determine.