NORTH AUGUSTA, S.C. --- Wendell Moore's official visit schedule is now complete. The coveted standout from Concord (N.C.) Cox Mill will travel to all five of his finalists -- N.C. State, South Carolina, Wake Forest, Duke and North Carolina -- this fall.
Moore had already scheduled his first four trips: N.C. State on the weekend of Sept. 1, South Carolina on Sept. 8, Duke on Sept. 22, and Wake Forest on Sept. 29. But he confirmed on Thursday morning that his fifth and final official visit - to UNC - has now been scheduled as well.
"I've scheduled the last one to Carolina, that's for their Late Night with Roy, Oct. 12-14," Moore told Inside Carolina while at the EYBL Peach Jam.
Moore has made it clear in recent months that he is in no hurry to make a decision. That's despite having offers from, and being very familiar with, these five finalists for quite some time. Indeed, the Tar Heels offered him two and a half years ago.
"I wouldn't call it a priority (to decide right after the visits)," Moore said. "It's just something where I want to take my time with it and I'm aiming to get to it maybe early fall, right before the high school season if it's possible. But definitely (decide) before the high school season is over. I'm just trying to take my time with it. I want to be able to pick a school where I can fit in and be me right away.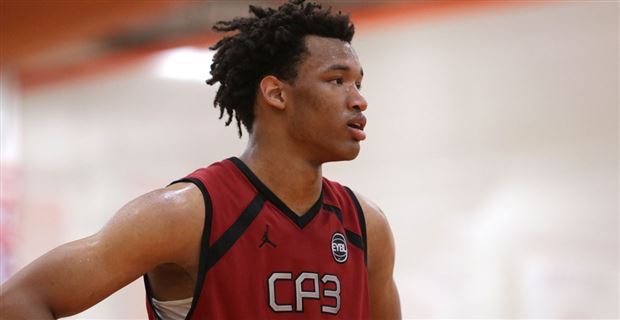 "Those five schools have been on me the longest. We talk a lot about who they're recruiting and how they're going to use me. All five contact me every day ... and I talk to everybody they're recruiting."
Moore, who is ranked No. 20 in the 2019 class by the 247 Sports Composite, recently returned from playing with the USA Basketball U17 National Team in Argentina at the FIBA World Cup. Moore started all seven games -- all of which the talented USA team won handily - en route to a gold medal. "It was a great experience for me, being able to play with all the guys and coming home with a gold medal," he said.
There had been rumors that Moore might head to a big-name prep school to play a national schedule as a senior, but he put those rumors to rest on Thursday.
"I'll be staying at Cox Mill for my senior year," Moore said of the school that he has led to back-to-back state championships. "There was thought (about going to a prep school) but at the end of the day I wanted to stay."