In the second of a two-part series, we offer five defensive backups who will find themselves in a position of significant contribution in 2018.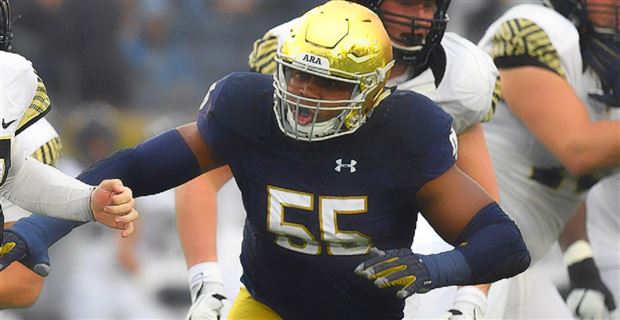 Jones isn't going to get snaps ahead of starting Mike linebacker Te'von Coney or Buck linebacker Drue Tranquill. But Coney and Tranquill can't play every snap. Coney has the versatility to play both positions, which would allow Jones to build upon a brief but impressive burst of energy against Miami Ohio (four tackles) and USC (three tackles) last season.
Jones, generally considered undersized for the Mike linebacker position, is an aggressive, attacking linebacker who thirsts contact. The Ocoee, Fla. product is a much better football player than he's being given credit for by the masses, who naturally love Coney and Tranquill and don't want to think about defensive snaps without them in the lineup.
But Jones can play, and based upon his brief flurries last year, you know he's going to play with a passionate aggression.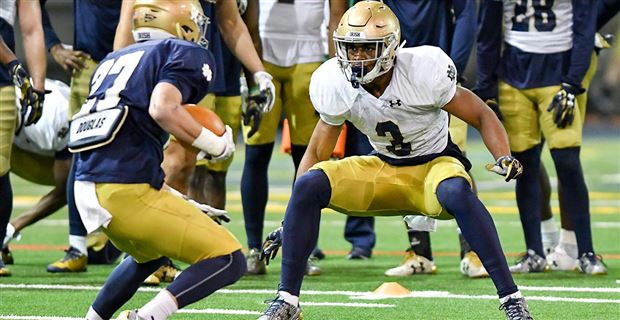 Navy transfer Alohi Gilman and junior Jalen Elliott emerged from the spring as the apparent starters at safety, which doesn't look to be a significant upgrade from last year's pairing of Nick Coleman and Elliott. Coleman will play a significant role – whether it's at safety or nickel – and that's not a bad thing. He was Notre Dame's best safety in '17.
Gilman brings some experience and savvy after sitting out a year. But he didn't show a ton of burst during the spring and reportedly ad-libbed a bit too much in the spring. Elliott needs to improve as a tackler – significantly. No other options beyond early-entry freshman Griffith and highly-touted Allen offer an upgrade, including two-year contributor Devin Studstill.
Griffith, originally from Chicago, and Allen, a Marietta, Ga. native, represent the future. But under the circumstances, they'll need to make a contribution in the present for the Irish to improve at the safety positions.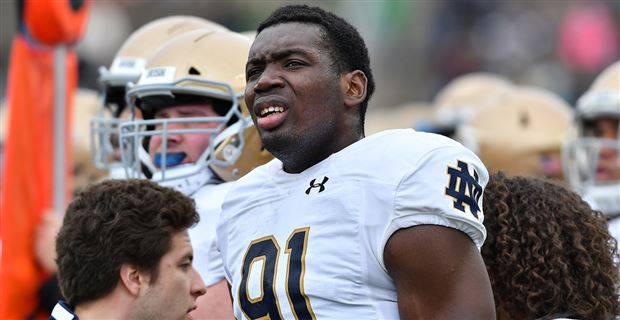 This name may come as a surprise because a) he played very little as a red-shirt freshman in 2017 and b) he wasn't talked about much in the spring. The spring storyline focused on Jay Hayes deciding to bypass his final year of eligibility to attend Georgia and junior Khalid Kareem's ascension to the starting spot in place of Hayes.
But just like the inside linebacker positions where Coney and Tranquill can't take every snap, Kareem can't either. Defensive line coach Mike Elston has mentioned on a couple of occasions how important it is to incorporate Ogundeji in the playing mix.
A dedicated participant in the weight room, the West Bloomfield, Mich. product has been called one of the strongest players pound-for-pound by Irish head coach Brian Kelly. While Daelin Hayes and Julian Okwara will get the bulk of the pass-rush snaps, the Irish need Ogundeji to play a fairly substantial role as Kareem's backup on the strong side.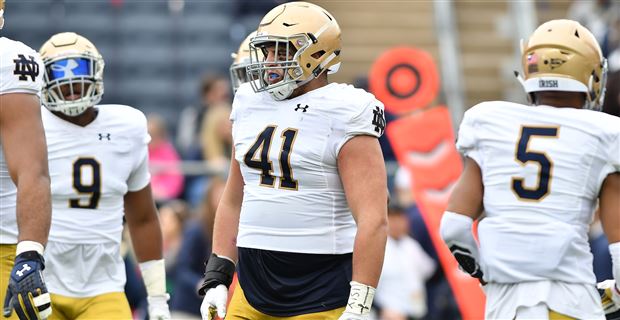 Fellow sophomore Myron Tagovailoa-Amosa has more play-making ability because of his length and athleticism. But if Hinish continues to progress as he did over the last half of his rookie season in '17, he could end up taking some snaps away from fifth-year senior Jonathan Bonner, who flip-flopped on the interior with Jerry Tillery over the winter/spring.
Hinish improved dramatically over the final seven games after participating from the outset of the season and making just one stop in the first six games. Defensive line play, particularly at the nose, is about more than tackle totals, and Hinish occupied people even when he wasn't making stops. But Hinish did a much better job of using his hands and getting off blocks over the final seven games, which is when he made six of his seven tackles.
"Last year, I was just a bull in a china shop," said the Pittsburgh product this spring. "This year, I'll be a bull in a china shop with technique."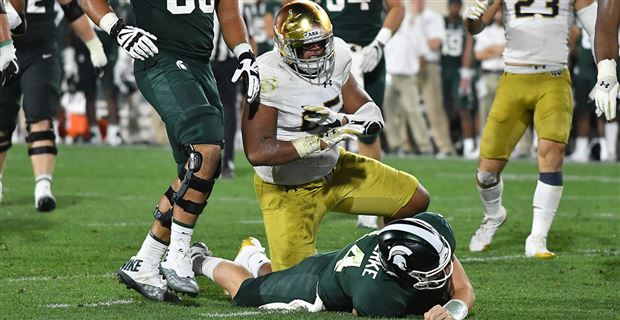 Built along the same lines frame-wise as Tillery – who now will play the three-technique ahead of Tagovailoa-Amosa after working at nose tackle last year – the sophomore from Ewa Beach, Hawaii has the makings of a real quality interior defensive lineman.
Tagovailoa-Amosa needs to make himself more of a playmaker. Seven unassisted tackles considering how much playing time he received as a freshman seems a tad low. But he was a freshman, and with a full year in Matt Balis' strength and conditioning program, the 6-foot-2½, 293-pounder should be much better prepared to be an impact player on the inside.
Perhaps he won't take snaps away from Tillery per se, but look for Tillery and Tagovailoa-Amosa to align on the interior simultaneously, particularly in pass situations where their length can assist with the pass rush.