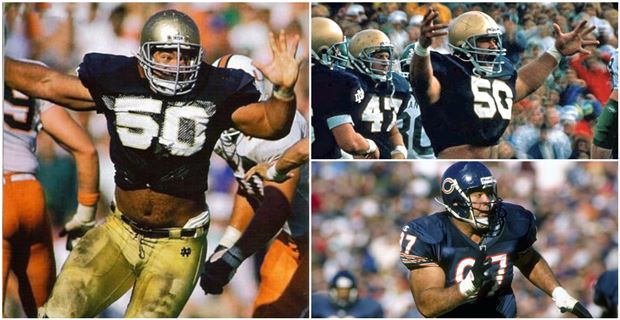 If they were posting odds in Las Vegas, they couldn't have come up with a number high enough.
Chris Zorich did not project to Notre Dame. He barely had enough to eat as a child in a single-parent home, literally rummaging through trash bins as a five-year old in Chicago, seeking something edible to share with his mother.
When he enrolled for high school at Chicago Vocational School, he had never played a day of organized football – or any sport for that matter – in his life.
His mother, Zora, was not going to allow him to play football.
"I'm not going to let my baby get hurt," she proclaimed.
But when Zorich found his way into a Notre Dame uniform in the fall of 1987 – a 6-foot-1, 215-pound linebacker when he enrolled – it was the beginning of a journey that would include a national championship, a 23-game winning streak, the Lombardi Award as the nation's top front-seven defensive player, and six-plus years with his hometown Chicago Bears following his selection in the second round of the NFL draft.
"The idea that I would go to Notre Dame…" said Zorich before breaking into laughter. "No one went to college from my neighborhood."
It wasn't until his sophomore year at CVS before he donned a football uniform, and that was after he forged his mother's signature on his permission slip.
It didn't take long for him to garner interest on the collegiate level.
"God bless the coaching staff at Indiana State," Zorich said.
Indiana State in Terre Haute, Ind., was the first to offer Zorich an opportunity to go to college for free and play football just three years after he first put on the pads.
"It was just a regular recruiting letter and I was like, 'Yeah, I'll come!' Zorich said. "They were like, 'Why don't you hold off for a little bit. You might get some better offers.'"
The "better offers" came in short order. Zorich ultimately narrowed his choices down to Notre Dame, Michigan, Illinois – where linebacker great Dick Butkus played after attending CVS – Miami and Northwestern.
Not a subscriber?

Sign up now to get access to the daily recruiting scoop on the Four Horsemen Lounge and all of the premium Notre Dame stories on IrishIllustrated.com! Click here to subscribe! Your first 7 days are FREE!
Michigan, coached by the legendary Bo Schembechler, fell by the wayside early.
"I didn't want to go to Michigan because I heard Bo wanted to move me to nose guard," Zorich said. "I didn't want to go there. I'm a linebacker! I went to the same high school as Dick Butkus and Keena Turner! F--- that!"
Zorich never did make his trip to Miami, where he would have joined a nose tackle by the name of Russell Maryland.
"I probably never would have played at Miami with Russell Maryland there," Zorich said.
Zorich wouldn't play his first year at Notre Dame either, although by week two – a home game against Michigan State – Irish head coach Lou Holtz gave serious consideration to using Zorich, now a budding 225-pound nose tackle, against the Spartans.
Mike Griffin, Rich Morrison, Mike Crounse and George Williams were among those who were contending for playing time at nose tackle entering the season. Zorich got a crack at it on the practice field and turned heads.
"I was giving (center) Chuck Lanza fits in practice," Zorich recalled. "He's like, 'Dude, calm down, it's Wednesday!'"
As the Michigan State game approached, Holtz announced in front of his team: "I think we may have found our new nose guard." Zorich didn't know Holtz was talking about him.
But the Irish head coach held off from using him until the 1988 season when Zorich – by now a 260-pounder – made his Notre Dame debut under the lights at home against Schembechler's Michigan squad.
Holtz knew some eight months earlier that Zorich undoubtedly would be in the starting lineup for the '88 opener against the Wolverines on Sept. 10. He had seen Zorich's reaction following the 35-10 loss to Texas A&M in the Cotton Bowl, a game in which Zorich did not play as he preserved a year of eligibility.
"I'm in the locker room balling because I'm thinking I let my team down because I didn't practice hard enough for Chuck Lanza, and that's why we lost," Zorich said. "A year later, after the national championship, Holtz wrote a book and wrote about how no one in the locker room was upset about losing other than me.
"He said, 'I don't know how we're going to do this, but I want 11 people like Zorich on the field.'"
In his collegiate debut against Michigan, Zorich was credited with 10 tackles and a sack-and-a-half.
"I jumped offside three or four times and nobody says anything about that," Zorich laughed. "But I played my ass off and I was like, 'This is fun!'"
It was the start of what would be three magical years for Zorich and the Irish who won 23 straight games in 1988-89 before No. 1 Notre Dame fell to No. 7 Miami in Coral Gables to snap the streak. In Zorich's three seasons, Notre Dame won 33 of 37 games.
"Holtz did an incredible job of blending a bunch of guys who had had the crap kicked out of them -- Andy Heck, Mark Green, Anthony Johnson -- with a bunch of young, talented players that were afterthoughts to many people," Zorich said.
"We were supposed to be better in 1989 – and that team was great too – but we started it all a year early."
As is often the case for those smack dab in the middle of making history, the moment in time is a blur for Zorich. Enjoying the moment when in the midst of the moment is difficult to appreciate.
"I tell kids now, 'You've got to enjoy the moment.' I didn't. I don't want to speak for anybody else, but we had success and we felt like this was what we were supposed to do. We had to do this.
"We had a couple guys that goofed around, but it was all business otherwise. I don't remember enjoying the moment. We went undefeated and thought this was automatic, that we couldn't be beat. We thought we were going to win for the next 10 years. I didn't take the time to enjoy it, but I'm glad that was the atmosphere Holtz created because if we had stopped to enjoy it, we may have lost a few of those games."
Today, Zorich proudly sports his 1988 national championship ring. It looks pristine, although it's now nearly 30 years old. Why does it look brand new? Because Zorich wouldn't wear it for most of those 30 years.
"I never wore it because we lost that Miami game in 1989," Zorich said. "But as you get older, you realize how special it was."
No Notre Dame teams – not Knute Rockne's nor Frank Leahy's – won 23 games in a row.
"I know how hard it was to get there," Zorich said.
Another lasting impression left on Zorich was the Notre Dame fan reaction toward those 1988-89 teams.
"We would be leaving practice on a Tuesday and there would be these crazy Notre Dame people sitting outside their RVs in their law chairs, getting up to high-five us as we walked off the field," said Zorich in retroactive astonishment. "It just was such an incredible time."
After the tragic passing of Zora Zorich at the age of 59 – Zorich returned from the 10-9 Orange Bowl loss to find his mother dead of a heart attack in his childhood home – he realized another dream, this time without her.
The hometown Chicago Bears drafted him with the 49th overall pick in the second around.
"I remember my first game as a Bear in '91," Zorich said. "I'm on special teams and I'm sitting near my locker after the game. I'm pissed because we lost. One of my teammates comes up and says, 'What are you doing?' I'm like, 'We just lost the game,' and he's like, 'Man you didn't even play. Let's go party.'
"At Notre Dame, if we lost, I was done for the night."
Zorich spent nearly seven years with the Bears, recording 284 tackles and 16½ sacks before management asked him to take a pay cut to help the organization pay for the contract of a free agent. It was a guy by the name of Rick Mirer, the No. 2 overall pick out of Notre Dame by Seattle four years earlier.
Immediately snatched up by the Washington Redskins, Zorich's first NFL game not in a Bears uniform came that weekend…against the Bears.
"I came this close to getting a sack," Zorich said.
With the Christopher Zorich Foundation firmly established, football suddenly wasn't the only thing in his life. Providing turkey dinners on Thanksgiving and serving Mother's Day brunches – all in honor of his mother – had moved to the forefront.
"Dave Wannstedt was hired after the Bears fired Mike Ditka," Zorich said. "Wannstedt said to me, 'I'm reading more about the stuff you're doing in the community than I am about what you're doing in football. That's not right.'
"I was like, 'Do you know what you sound like? Really?'"
Zorich's passion for football had died.
"Football for me was in Chicago, and when that came to an end, football came to an end," Zorich said. "I played for Notre Dame, played in Chicago, had all my foundation stuff, and I wanted to go to law school.
"I talked to the dean of the law school at Notre Dame and he said, 'Whenever you're ready, we'd love to have you.' Washington wanted to re-sign me for another year, but I was coming off an ACL. I was like, 'You know what? I did what I wanted to do. I'm good.'"
Zorich hadn't just come full circle. He had taken more than a few laps around his goals in life with a new set of dreams to accomplish.
"I came from digging in garbage for food to going to Notre Dame and being a part of Notre Dame history with a national championship and 23 straight wins," Zorich said. "I had met presidents. I got drafted by my hometown team and now I had a chance to go to law school. I had a good run. It was time to move on."
Part II: Zorich achieves his law school goal, becomes disillusioned with his future as a lawyer, runs into legal issues with his foundation, and begins re-directing his life toward his next achievement – serving as an athletic director, first at Prairie State in 2015 and now at Chicago State.