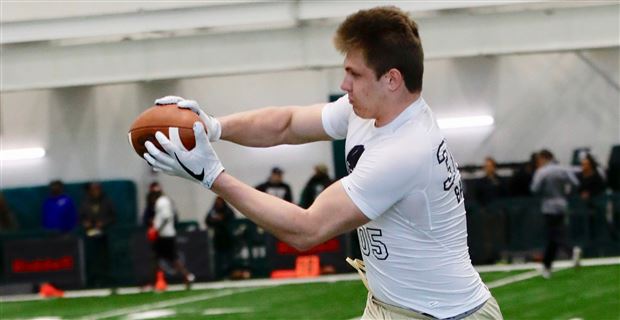 On June 4, the day following his first trip to Notre Dame, Kevin Bauman stated that he was only beginning to chip away at his recruitment.
More visits were to be had and options were to be weighed.
"In terms of making a decision, I honestly couldn't tell you," Bauman said just over a week ago. "That time will come at the right time. I'm just looking into the schools that have offered."
As it went, today was the "right time."
Bauman took to Twitter to announce his commitment to Notre Dame, as first reported by Irish Illustrated, giving the Irish the No. 142 overall prospect nationally, No. 2 tight end nationally, and No. 4 overall prospect in the 2020 class.
Clearly, this announcement wasn't expected this early. The 6-foot-5, 230-pound prospect was expected to evaluate the rest of his scholarship offers, which include Boston College, Michigan, Nebraska, North Carolina, Rutgers, Syracuse, Texas A&M, Vanderbilt, Virginia, and West Virginia.
Undoubtedly, Bauman would have seen his offer list fill with top programs had he remained on the market. Of course, some will still take a run at the top-end recruit.
How did the Irish secure his pledge with around 18 months separating today and the Early Signing Period of the 2020 class?
During Bauman's unofficial visit, coach Chip Long sold his tight end friendly scheme. And with that scheme comes a history of success at the tight end position that few programs have.
Additionally, Bauman attends Red Bank Catholic in New Jersey – the program that produced Quenton Nelson who, as we know, was selected in the Top 10 of the 2018 NFL Draft after a highly successful career at Notre Dame, which ended with unanimous All-American honors.
The success Nelson had under Harry Hiestand at Notre Dame was a big seller for both Bauman and his parents, who reportedly gushed about Nelson – who recently signed a contract worth north of $23 million with a signing bonus of more than $15 million.
It's also worth noting that Irish 2020 quarterback commitment Drew Pyne was in touch with Bauman during his visit, a conversation that has carried on since.
Bauman expressed admiration in the young passer's highlight film, which is certainly noteworthy as the promising tight end surely has confidence in who will be delivering him the football.
At his position, the Irish could pass on taking a tight end (or tight ends) in the 2019 class. So far, multiple top-of-the-board tight end recruits have come off the board, including priority recruit Luke Deal, who recently gave his pledge to Auburn.
The pair of four-star tight ends out of the West in Jude Wolfe and Ethan Rae appear primed to play Pac-12 football while the rest of the board looks murky at best.
Of course, Bauman will have tough competition in the early goings (assuming he signs with the Irish) with a pair of former Top 100 recruits in Cole Kmet and Brock Wright coming along nicely and former All-American George Takacs and Georgia product Tommy Tremble arriving on campus this week.
However, Long is known for his multiple tight end sets and platooning of athletes at the position. Early playing time is certainly on the table.
Big picture speaking, this is an outstanding athlete at a position of need for Notre Dame. Hopefully for the Irish, Bauman will continue the trend of Red Bank products dominating in South Bend.