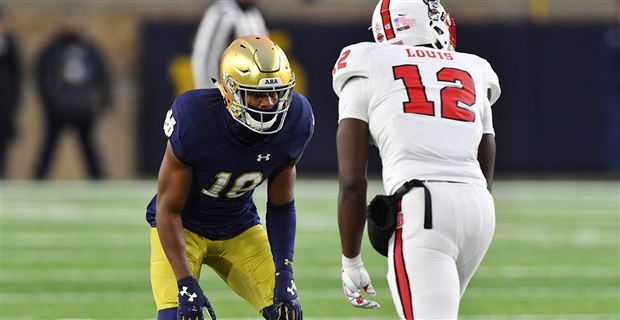 A football-track star out of Greer, S.C., Troy Pride Jr. was one of Notre Dame's top catches in the recruiting class of 2016, verbally committing to the Irish the day before Christmas 2015.
He wasted little time making his mark with the Irish, participating in eight games (three starts) as a freshman. He finished with 12 tackles – 10 unassisted – and a fumble recovered against USC. Five of his 12 tackles came against Miami.
Pride's sophomore season began a bit more slowly with the transition to defensive coordinator Mike Elko. He did not play in the second game of the 2017 season against Georgia. But he worked his way into the lineup with four tackles against Wake Forest. Pride started the final four games of the season, recording a career-high six stops against Navy with a tackle for loss and his first career interception.
While participating in the sprint events for the Irish track-and-field team, Pride worked his way onto the No. 1 unit at cornerback during spring drills. He is the projected starter opposite Julian Love heading into the start of August drills and a player who is rapidly on the rise.
Position: Cornerback
Class/Eligibility: Junior (2)
Post-Spring Status: Ascending
Recruiting Ranking: Pride was 247Sports' No. 91 overall prospect in the Class of 2016. He was the seventh highest ranked player in Notre Dame's 23-man class. His composite ranking – 249th – was a reflection of ESPN's inexplicable three-star rating as the No. 91 cornerback in the country. Rivals was more in line with 247Sports, listing Pride as a four-star and the No. 23 cornerback nationally.
Path To Playing Time In '18
Pride carved that path in the spring when he wrestled the starting field cornerback slot away from Nick Watkins, which contributed to Watkins' decision to use his fifth year at Houston. Shaun Crawford could push him for snaps at cornerback, although Crawford's main role is expected to be at nickel back. Either way, Pride will be an integral part of Notre Dame's secondary in 2018.
Long-Term Projection
Perhaps stardom is a bit too much to expect of Pride with that designation falling to Love following a spectacular, All-American type sophomore season. But Pride is trending in that direction and should help form a real top-notch cornerback tandem moving forward, particularly if Love, a junior, remains at Notre Dame through his senior season in 2019. With seven career starts heading into '18, he could add another 26 over the next two seasons.
Career Comparison
Vontez Duff was a speedy, top 100, four-star cornerback prospect out of Copperas Cove, Texas who started eight games through his first two years in the program. As a junior in 2002, he became a full-time starter that would span the final 25 games of his Notre Dame career. Duff finished with 47 games played and 33 starts – right on pace with Pride at this stage of his career – with 98 career tackles and seven interceptions, including three in his sophomore year and two in his senior season in 2003.
Quotable
"(Pride) has taken the next step. We all know about Julian Love in terms of what he's capable of doing. Troy Pride has probably, of all the corners, been the most consistent of anybody out there this spring. I'm really pleased with his physicality, his strength and his knowledge. I'm as pleased with him as anybody. I know he is too. I know he knows he's playing really well."-- Brian Kelly this spring
"Shaun Crawford and Troy Pride have been our most consistent corners. It doesn't surprise me with Shaun, but I'm very glad to see Troy take a step up in his consistency and his development.
"Troy's biggest hang-up has been his consistency, moving in and out of defenses and knowing the type of technique he needs to play when we change and adjust. He's the fastest DB we've got. His football intelligence is getting better every day. He wants to be great. He's very coachable. Emotionally, he's matured a lot." -- CB coach Todd Lyght this spring