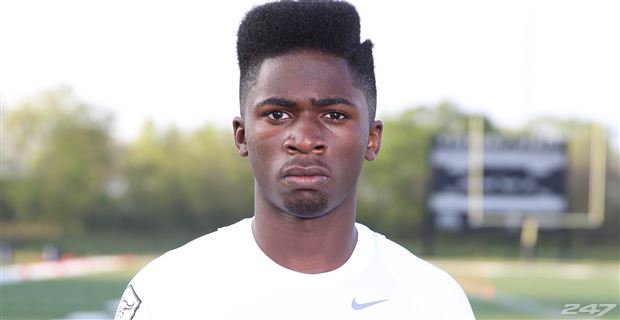 Until the final months prior to National Signing Day, few predicted Notre Dame to land Lawrence Keys.
This Friday, he'll leave New Orleans for South Bend.
In a loaded wide receiver class, Keys brings exceptional quickness, razor-sharp cutting ability, and elite agility. His elusive nature and big-play ability will add an exciting element to the offense assuming he develops the way his four-star billing suggests.
With his departure from the Bayou nearing, Irish Illustrated recruiting analyst Kevin Sinclair caught up with Keys to discuss his off-season, the role he's preparing to take on, his relationship with his classmates, thoughts on leaving Louisiana, and more.
Sinclair: What are your thoughts on leaving New Orleans with there obviously being a large difference between Louisiana and South Bend?
Keys: "Actually, I think ever since I left my visit, I've been ready to go back. I'm excited and I just can't wait to get up there. I've always wanted to explore different things. I've been in New Orleans since I was born. Born and raised, and I've always wanted to be able to experience something different in life. Just being able to get that chance to go up North to South Bend and be able to play at this wonderful school and great academic program, it's the best thing of my entire life and I'm ready."
Sinclair: I'm sure Notre Dame has set you up with workouts to prepare for summer training. How has that been going?
Keys: "Everything has really been going good. The workouts are ten times harder than you have in high school. It's exhausting and tiring but that's what's required of you in playing college ball."
"I'm about 6-foot now. And weight-wise, I want to say I'm about 170. I've been eating a lot and working out."
Sinclair: Since you signed, which coaches have you been speaking with and what have they been saying to you about what you'll be doing when you get up to South Bend?
Keys: "I've been talking to coach Alexander, which is my position coach. Basically, he's giving me a few words before I get up there. He told me to focus on getting stronger, speed and acceleration, and reading the playbook and getting familiar to it, used to it, and see what it's going to be like."
Sinclair: Have the coaches talked to you specifically about what exactly your role will be taking on? Will it be mostly slot, or also outside, maybe taking some snaps out of the backfield?
Keys: "It's more of like, a slot but more of the outside as well. I'll be doing a lot of motion, jet sweeps, swings, and stuff like that. And hopefully I'll get some special teams too. Some punt return, kick return."
Sinclair: Everyone's really excited about the wide receiver class, all of you being very different. What are your thoughts on Kevin Austin, Braden Lenzy, and Micah Jones?
Keys: "I love those guys. Talent-wise, Micah and Kevin, they're more like the big type of receivers, big guys to go up in there and get the ball. I love their work ethic. Braden; him and I are kind of similar because we've both got the speed, about the same height. He may have a bit of a bigger frame than me. I love how we have those two big guys and two speedy guys."
"We all actually started a group chat and we text in there all day. We're really excited to get up there."
Sinclair: Also being from Louisiana, have you talked to Michael Young more since signing?
Keys: "Yes sir, I talked to him yesterday. He's excited. Basically, he's asking me what I'm working on, whether I'm studying the playbook. Staying up to date with a lot of stuff."
Sinclair: What do you think you could do to get on the field as a freshman?
Keys: First, it'll actually start by me getting a bigger frame and more size. I've actually been working on that a lot more. Basically, learning the playbook fast and catching on to everything fast."
Sinclair: I know your mom was a big part of your recruitment. Is she going to be heading up to South Bend with you on Friday and is she going to get up there often?
Keys: "Yes sir. I don't think she's going to want to come home once we leave."
"Everybody can't wait and to actually watch me on TV. Everybody's excited. The whole city just can't wait. People are so numb and used to kids staying down South. I just wanted to take the different route and do different things than staying down South.
Sinclair: Did you get yourself a bunch of jackets and sweaters to stay warm up in Indiana?
Keys: "Yes sir, I have a lot of right now and I'll maybe get some more once I get out there. I'm going to wear jackets for maybe the first year, but then I'm going to be wearing white T (shirts)."