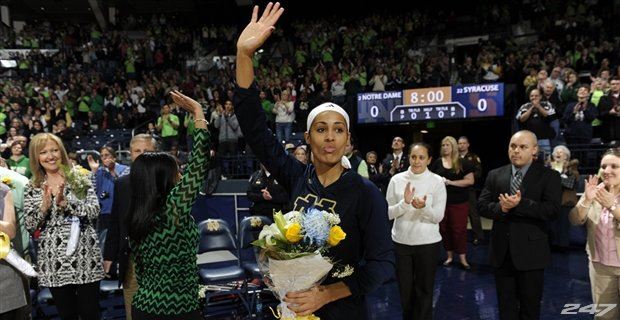 For her work in the community, former Notre Dame women's basketball star and current Dallas wings guard Skylar Diggins was given the Dawn Staley Community Leadership Award.
The award, which is in honor of Dawn Staley, a WNBA Hall of Famer, was given to Diggins because she best reflects Staley's "spirit, leadership, charitable, effects, love for the game and inspirational presence in the community."
Per a story from the Dallas Fort Worth NBC Affiliate, WNBA President Lisa Borders, Diggins, a three-time WNBA All-Star, was a perfect fit for this honor.
"Skylar understands the importance of empowering youth to reach their full potential," said Borders. "A deep commitment to the community helps make her an exceptional ambassador for our game."
Diggins' work with the Boys & Girls Clubs of America in Dallas is a big factor behind the initial nomination. She was even inducted into he Boys & Girls Clubs of America Alumni Hall of Fame last year.
"What I love most about being a part of the Boys & Girls Club, it's the intangible things," said Diggins. "Even just being here and having a safe haven to come to in the community. What I loved and what I used was athletics and telling my story. Being able to talk to the kids, interact with them, the important part is showing up, but to keep showing up. You're going to have people that say you can or can't do this you're entire life. It's way too exhausting to keep up a facade. It's way easier to just be who you are. Nobody dictates what you do. You can be whatever you want to be."
The Dawn Staley Community Leadership Award is presented annually. A designated committee selected Diggins-Smith as the winner from a group of nominated WNBA players.
"As an alumnus of the Boys & Girls Club, Skylar has dedicated herself to being a champion for children," said Staley, who is currently head coach of the University of South Carolina women's basketball team and the USA Basketball Women's National Team. "Her commitment to ensuring that the Boys & Girls Club is a positive place for kids and teens gives them an opportunity for a brighter future."
The WNBA will make a $10,000 donation to the South Bend Venues Parks and Arts Foundation on behalf of Diggins-Smith.
In high school, Diggins was the Gatorade National Player of the Year, Indiana Miss Basketball and a McDonald's All-American in 2009. She was a two-time Big East Player of the Year (2012, 2013) at Notre Dame, as well as a two-time First-Team All-American. She was selected by the Tulsa Shock with the No. 3 overall pick in the WNBA draft in 2013. The team later relocate to Dallas and became the Dallas Wings. During her five-year career in the WNBA, Diggins has averaged 15.4 points, 4.6 assists and 2.5 rebounds per game.