During Michigan's dominant run of the rivalry with Ohio State, and college football, during the 1990's, a common connection between all of those Maize and Blue teams were that they had star players and a strong base of their team from the Buckeye State.
Desmond Howard and Charles Woodson, two Heisman winners, are the names people remember most when recalling the dominant period for Michigan in the rivalry, but there have been plenty of other Ohioans who went on to star for UM, including Elvis Grbac, Mario Manningham, Shawn Crable, Prescott Burgess, and a number of others.
Following Lloyd Carr's departure from the program following the 2007 season, recruiting in the Buckeye State took a bit of a drop off under Rich Rodriguez. The Wolverines signed 15 players from Ohio during Rich Rod's tenure, but maybe just 1 or 2 of them, at most, had real opportunities to play for the Scarlet and Gray. While the volume was still there, the ability to come in and take the state's best talent, the same way Bo (Schmbechler), Gary (Moeller), and Lloyd did over the years, just wasn't being shown.
Once Rodriguez departed, things seemed to look like they were turning around under Brady Hoke, when it came to the recruiting trail in the state. Hoke made some big splashes in Ohio, landing Kyle Kalis, Tom Strobel, Chris Wormley, De'Veon Smith, Ben Gedeon, Dymonte Thomas, and Michael Ferns, all of whom had committable offers from the Buckeyes. He also was able to secure commitments from 13 other Ohioans during the four cycles he recruited in Ann Arbor, including pulling some over on OSU when it came to evaluations, as Joe Bolden, Taco Charlton, and Jake Butt, among a few others, went on to star for the program, despite not being offered by the home state school. Hoke's biggest problem was player development, rather than recruitment, and is a big reason why he was replaced by Jim Harbaugh, ahead of the 2015 season.
Want daily inside scoop on the Buckeyes? Get VIP access with a 7-Day FREE Trial now!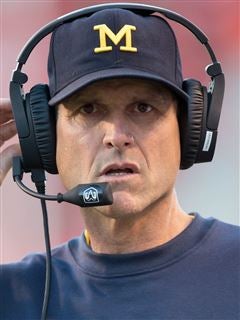 When Harbaugh arrived at Michigan, he took a national approach to recruiting, utilizing his ties developed on the west coast while at Stanford. While he spoke about the importance of recruiting Ohio, the results just haven't been there, as he signed two players from the state in 2015, none in 2016, three in 2017, and none in 2018.
The Wolverines do have three verbal pledges from the Buckeye State in their 2019 class, though, and in listening to his "Attack Each Day" podcast, it seems Harbaugh wants to continue efforts to go across enemy lines to land top talent.
"A good percentage of our players from the state of Ohio actually start," Harbaugh said, talking about the program's efforts in Ohio and Pennsylvania. "Three out of four start from the state of Pennsylvania. So we do look at that percentage and know we have to recruit heavier in Ohio and Pennsylvania."
"It's a conscious effort that coach and I have talked about, of getting back into Ohio and Pennsylvania," Matt Dudek, Michigan's director of recruiting, added, noting the staff has spent as much time as allowed during the evaluation period visiting schools across the Buckeye State, and that they also will be co-hosting a camp in Cleveland.
Outside of words, Harbaugh has taken action to make sure the Wolverines are keeping the pipeline from the south running. Mike Zordich, with ties in the Youngstown area, was already on staff, but the UM head coach also added Ed Warinner, a former Ohio State assistant from 2012-2016, and Al Washington, who coached at Cincinnati most recently, to the fold this off-season.
All of the moves the Maize and Blue have made seem to be paying off, with three pledges in the fold thus far from Ohio in 2019, at least two more possibly on the way this cycle, and a number of the state's top 2020 prospects already looking hard at the program.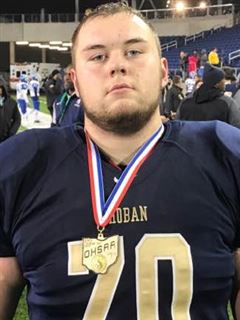 But are the Wolverines really a threat to Ohio State inside state borders?
Out of the three players Michigan has committed from the state this cycle, two of them, OL Zach Carpenter and DE Gabe Newburg, didn't hold scholarships from the Buckeyes. The other, Nolan Rumler, has been a lifelong Wolverine fan, who was a long shot for OSU from the start.
Looking at other 2019 prospects who could end up heading north, LB/S Joey Velazquez, CB Nyles Beverly, DT Rodas Johnson, and TE Erick All don't hold Ohio State scholarships right now. The only prospect with an offer who would be a massive blow to the Bucks if lost, would be DE Zach Harrison, but right now it appears Penn State is the biggest threat to Urban Meyer and his staff.
And it's very early for 2020, but it would definitely be a surprise if top talents like Paris Johnson Jr., DeaMonte Trayanum, Darrion Henry, Michael Drennen II, and Jaheim Thomas picked UM over OSU, if given the opportunity to play for both programs.
The answer to the question above at this time is no, Michigan doesn't appear to be a threat to OSU's in-state recruiting efforts right now. But, with increased resources going towards the cause, a staff that has ties across Ohio, and turning around the results on the field, it's something that certainly could change quickly, especially if the Buckeyes take their stranglehold on local stars for granted.