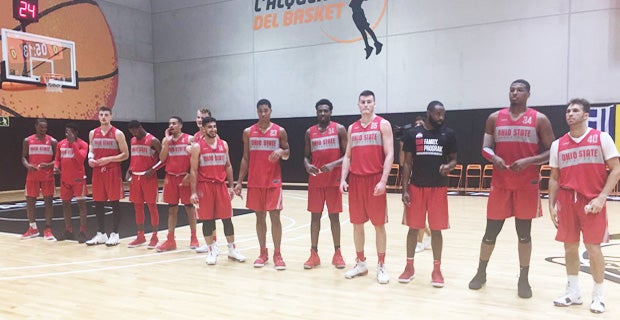 The Ohio State men's basketball team played its second of three games during its exhibition tour of Spain on Tuesday.
The Buckeyes rolled to a 95-63 win over Valencia. Below is the report from Ohio State sports information director Dan Wallenberg on the game:
The Ohio State men's basketball team won its second of three games being played over 11-days in Spain Tuesday in Valencia. The Buckeyes downed the Valencia All-Stars 95-63 behind a game-high 19 points from freshman guard Duane Washington Jr.
Kyle Young tallied 11 points just ahead of Jaedon LeDee's 10 second half points. Young also had a game-high nine rebounds while Micah Potter and LeDee added eight boards each.
The Buckeyes were credited with 22 assists led by four from Keyshawn Woods and three apiece from Musa Jallow, C.J. Jackson and Washington Jr.
Ohio State will return to action at 7 p.m. local time, 1 p.m. ET Thursday in Barcelona.
Here were more details from Wallenberg's Twitter account (@OSUADAthComm):
* The game was played at L'Alquernia del Basket, which seated about 225.
* The Buckeyes started Luther Muhammad, Jallow, Washington Jr, Jaedon LeDee and Kaleb Wesson.
* OSU led 13-8 early as Washington had 11 of OSU's first 13 points. Washington was 4 for 4 from the floor with a pair of threes in the first quarter.
* Jackson had some solid defense, leading to a steal and dunk for Kyle Young. OSU led 28-12 after the first quarter.
* Young had three offensive rebound baskets as OSU went up 47-30 at the half.
* Woods had back-to-back baskets as OSU went up 57-37 midway through the third quarter.
* Washington Jr hit a three to end the third to give Buckeyes a 70-42 lead with 10 mins to play. At that point, he was 7 of 10 from the field and 3 of 3 from international three-point distance.
Do you have your copy of Undisputed Champions? Click here for ordering information.
* Click here for postgame interviews conducted by senior guard Joey Lane.
"The game was good," said OSU coach Chris Holtmann. "I think we played a team that played harder than the team we played the other night. They were a little more together. We had a lot of contributions from a lot of guys."
Asked about Washington, Holtmann said, "Duane made shots early. I think he scored 12 of our first 15 points. Our guys did a good job screeing for him. That was good to see. He let it come to him.
"We had great activity from our interior guys. We played hard defensively. C.J. Jackson leads the way with that. He had terrific ball pressure and good activity and had a lot of deflections. Kyle (Young) was super active. He has a great motor. That is a strength for him. He does a good job in terms of rebounding."