Sooner Nation is worried about their projected starting quarterback Kyler Murray (5'10, 190) because as his MLB draft stock rises and now that he's projected as a solid first rounder they wonder if there is a million plus signing bonus on the table is Murray going to choose pro baseball over OU Football?

All Sooner Nation seems to be worried expect the man in charge of the program OU Head Coach Lincoln Riley who has never been worried about it.

"My feelings are the same that they have been," said Coach Riley. "I really don't care what happens in the draft. I have had conversations with Kyler and his family and I fully expect him to be with us. I really don't have any worries about it.

"Everybody else has been a lot more worried about it than me. I have not lost one night of sleep on it so I apologize if anybody else has. I knew the deal getting into it. When he first decided to leave A&M we had very candid conversations with him and his family and they've lived up to their word every part of it. I have no doubt that they will continue to do so. and I'll say the same thing about us.

"Kyler will also be with us this summer as he's not going back to the Cape this summer to play baseball, he will be in our summer program."

Murray has been nursing a minor hamstring pull that caused him to miss most of the Big 12 Baseball Tournament and he's questionable as the Sooners get ready to open regional play in Tallahassee, Florida Friday morning at 11:00 AM against Mississippi State. It's the same hamstring that Murray pulled early in training camp in 2017 that cost him a couple of practices.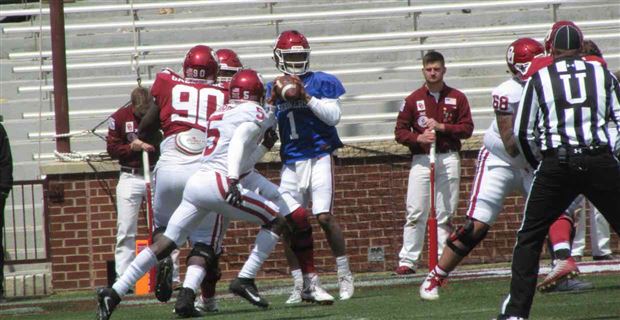 "Yeah he's going to have to learn how to manage it," said Riley. "He's been a guy throughout his entire athletic career that's had very few injuries but sometimes when you have something minor like that they're just nagging type injuries that you have to prepare your body so they don't happen. We've already had a pretty good conversation about that and our strength team and medical team will be ready to address it as soon as we get our hands on him.
"We have a great working relationship with baseball and their medical staff and our medical staff is in constant contact with their medical staff, our coaches are talking to their coaches and our strength coaches are talking to their strength coaches. The trainers are all on the same page on what we're doing with Tyler and if something shows up that we need to discuss we do it and with Kyler, we decide the best course of action. It's been a team effort with very few glitches."

Murray went through a full workout yesterday in Tallahassee and Murray was seen taking an aggressive batting practice and by the looks of things he looks ready to play when the Sooners open play in the Florida State regional. He should at least be able to DH.

There're a number of top prospects that tell me that they want to play two sports. With most of them, it's a football/track combination but some athletes have dreams of playing two sports and OU is a program that will let them chase that dream.

"No, I don't have any problem with it If they can handle it the right way I think it would be a positive," said Coach Riley. 'There're others out there that can do it and want to. It sends a message to those other recruits that if playing two sports is something they desire if they come and do it the right way Oklahoma will give them that opportunity."

Summer camp starts next week for the Sooners and the players will start getting back into town for off-season workouts starting on Monday, June 4th.