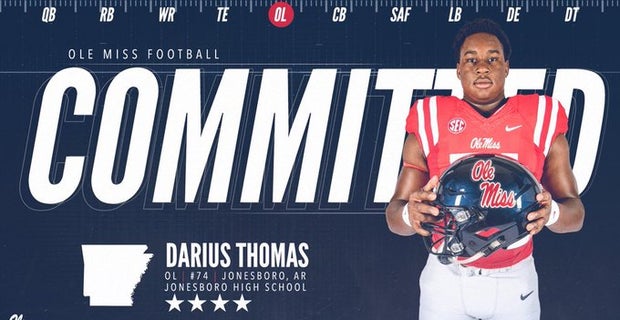 One of the more impressive linemen you will see on the hoof in this year's class, Darius Thomas, gave his commitment today to the Ole Miss Rebels.
July 31, 2018

"I just liked everything about Ole Miss," Thomas said from his home in Jonesboro (Ark.). "My last trip to Ole Miss pretty much confirmed my feelings I had from past trips. It's just the best fit for me."

Thomas, along with his mother, father and sister, took in an official visit to Ole Miss back in June. What he got to see on that trip sealed the deal.

"I like how tight the players are and how comfortable everyone is around their community. Everywhere you walk people are asking if you play football. It's just a big football town. Everyone treats the players really good. I just saw how much of a good time the players have playing at Ole Miss. It's a neat atmosphere they have over there."

Ole Miss starting left tackle, Greg Little, is expected to leave early in the NFL after this season. Greg is projected to be a top 10 pick by most draft gurus. Thomas knows the door is open.

"They really haven't talked about my playing this or that position, but I do look at the success they have putting players in the league at my position. You look around the league and there are players all over from Ole Miss. I know coach (Jack) Bicknell has coached in the league for a long time. It's a great opportunity for me to go learn under him for three to four years and try and advance my career."

You might not even see a NFL player that is built quite like the nation's No. 170 overall ranked player. He's built like a tree trunk at 6-foot-7, 335 pounds.

"We have a lot of big people in our family (laugh). My sister is over 6-foot-0 tall and she's in 7th grade. My mom is tall. It takes a lot of food to feed our family each day (laugh)."

Thomas was offered by the likes of Georgia, Ole Miss, Mississippi State, Arkansas, Memphis, Arizona State, LSU, Missouri, Auburn and plenty more but the Rebels were simply the best fit.

"It's a great situation for me down there. I like the culture they have going on. I love their coaches, from (Maurice) Harris to (Matt) Luke to (Jack) Bicknell. The players are all really tight, and I feel like I fit in with those guys. I just can't wait to get going in January when I enroll."

Darrius Thomas marks the 26th commitment for Ole Miss in the 2019 class. They are currently ranked No. 11 in the nation.