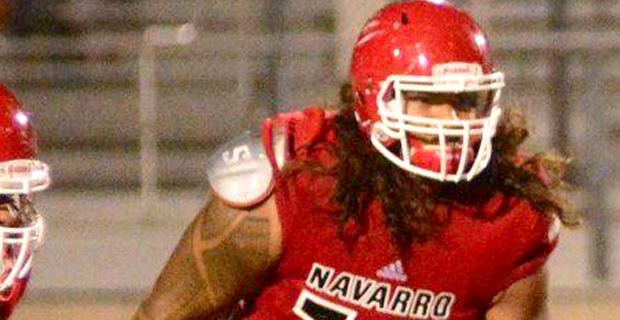 Corsicana (Tex.) Navarro College offensive tackle Malaeala Aumave-Laulu has committed to the University of Oregon. The decision was made during the elite junior college prospect's official visit in Eugene.
In his note on twitter, Aumave-Laulu said:
I would like to thank my family and God first! Without them I am nothing! I would like to thank my Juco coaches especially coach Danielson and coach Gush! Thank you to all that has coached me in my life! My uncle Junior I love you and thank you! Thank you for pushing me. Thank you to all the schools that have recruited me! I thank you for believing in my talents! God has truly Blessed me to be in a great situation! With this Blessing I am shutting down my recruitment and committing to the University of Oregon! Eugene you have a real one coming to town! It's about to get real in Autzen! #RipKeith #RipGrampz
Oregon beat out some of the nation's best programs. In early May he released a list of seven finalists which include the Ducks, Oklahoma, TCU, USC, Ole Miss, Florida State, and Florida. Alabama offered shortly after and also sought after the big-time line prospect.
The pledge is yet another coup for Oregon coach Mario Cristobal, as Aumavae-Laulu is among the best junior college prospects in the country. He's ranked the second-best offensive tackle and seventh best overall JUCO by 247Sports. The 247Sports Composite is even more favorable, touting him as the top JUCO player regardless of position in the class of 2019. His 247Sports Composite score makes him the 55th best prospect to pick Oregon regardless of position, and the fourth best offensive line verbal commitment.
Not only that, but he continues the trend of adding very large offensive tackles and guard. At 6-foot-7 and 345 pounds, Aumavae-Laulu fits right in with 2018 prep tackle commitments Justin Johnson (6-foot-7, 355), Christopher Randazzo (6-foot-7, 325), Steven Jones (6-foot-5, 340), and guard pledge Penei Sewell (6-foot-5, 349).
He is the first offensive line commitment in the 2019 class. He joins a class that appears on pace to become the best in program history. The class is currently tops in the Pac-12 and is in the top 10 nationally.
This will be Aumavae-Laulu's second year of junior college ball at Navarro College. That means he'll have three years to play two seasons with the Ducks.
This month has been a successful one for the program on the recruiting trail. He acts as the fourth verbal commitment for the Ducks joining linebacker Isaac Townsend, defensive tackle Suaava Poti and wide receiver JR Waters. The Ducks are expected to nearly double the 12 commitments they hold at the moment.