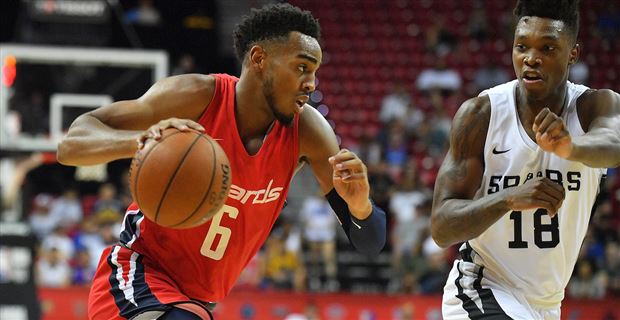 Troy Brown's professional career couldn't have gotten off to a much better start.
Fresh off of a pair of 20 point games in the NBA Summer League in Las Vegas, Brown was recognized as one of the top performers through four days of games. The popular NBA television program The Starters placed Brown on the All-Vegas second-team.
The 15th overall draft pick has been especially sharp in the Washington Wizards last two games in Nevada. On Sunday Brown posted a double-double, scoring 21 points and grabbing 12 rebounds in the team's narrow loss to the San Antonio Spurs. He followed that up with a 23 point and eight rebound outing in the team's win over the Philadelphia 76ers.
Through three games in Vegas Oregon's first ever one-and-done has averaged 19.0 points per game, 8.0 rebounds per game and 1.7 steals per game.
He has taken high number of shots, however. He's 53 shots in three games and has made just 23 of them for a 43.4-percent shooting average. He's especially struggled from distance, connecting on 1-of-10 tries from beyond the three-point line.
The three-point difficulties should not come as a surprise. He was a sub-30-percent shooter from deep in his one season in Eugene. He made 29.1-percent of his 110 tries.
Brown broke a more than decade long drought of Oregon players going in the opening 30 picks of the NBA Draft last month. He just missed a lottery selection, going 15th to Washington. The last player to go in the first round had been Aaron Brooks in 2007.
He is not the only former Oregon player taking part of NBA Summer League action in Las Vegas. He is joined by second year players Jordan Bell (Golden State), Tyler Dorsey (Atlanta) and Chris Boucher (Toronto) and former teammates Elijah Brown (Golden State) and MiKyle McIntosh (Portland).
Brown and the Washington Wizards (1-2) will begin postseason on Wednesday with a 1 PM start against the Los Angeles Clippers. The game will be broadcast on ESPNU.
Dorsey, Bell, Elijah Brown and Boucher will all also play on Wednesday. The Hawks are set for a 5:30 PM tip against the Indiana Pacers (although Dorsey has missed the past two games with injury) on ESPN3, Toronto faces Denver at 7 PM on ESPN2 and the Warriors play the Charlotte Hornets at 7:30 PM on ESPN3.