UNIVERSITY PARK, Pa. — Penn State coach James Franklin met with the media on Wednesday evening after the conclusion of a Nittany Lions practice session. Still less than a week into team evaluation via fall camp activities, he provided updates on several topics.
Penn State, preparing for a Sept. 1 season opener against Appalachian State, started camp last Friday. Here's a rundown of what you need to know from our latest opportunity to talk Nittany Lions football with Franklin.
Less than one week into camp, questions are being answered
During his opening statement at Penn State Media Day on Saturday, Franklin pointed to three positions as key roster question marks: defensive tackle, kicker and linebacker.
Only four days later, he expressed optimism that indicates those question marks are beginning to fade away.
"They were the biggest question marks going in (to camp). We're starting to kind of answer them," Franklin said.
"At defensive tackle, I feel like we're further ahead than I thought we would be at this point," he continued. "Right now I kind of feel better about our linebacker situation, and these four freshmen kickers are doing phenomenal."
Media members got a long look at those young kickers. At the conclusion of practice, Franklin assembled the entire team to watch Rafael Checa and Jake Pinegar attempt five field goals apiece.
Not only did it test their talent, but this final session certainly amplified pressure. Neither Checa nor Pinegar attempted kicks during media access on Saturday, when it was fellow first-year players Vlad Hilling and Justin Tobin who took the reps.
Pinegar missed his first attempt — a 38-yard try. It easily had the distance but soared wide left, which was also the case on a missed Pinegar field goal attempt about 15 minutes before, when the vast majority of reporters focused on offense vs. defense competition. Holder and All-Big Ten punter Blake Gillikin was quick to provide positive reinforcement when Pinegar showed some frustration after that earlier miss.
His failed field goal attempt to start the final practice period would be the only miss for either competitor. Pinegar connected on his following four field goals, while Checa didn't falter on his five attempts. There were two tries from 38 yards out, one from 36, one from 42 and another from 44.
A combined 9 of 10 performance with an audience should be encouraging for Nittany Lions coaches. Checa actually had the edge in accuracy on Wednesday night and it's clear the three walk-on freshmen won't leave a clear path to the starting job for Pinegar, who is the position's only scholarship player.
Franklin wasn't nearly as detailed when discussing defensive tackles but opened up while detailing developments at linebacker.
Jan Johnson, a redshirt junior vying to fill the vacancy at middle linebacker, was the first name Franklin mentioned.
"Jan is really doing some nice things. I think there's a lot of comfort with him," he said. "I would say the same thing with (projected starting outside linebacker) Cam Brown, who has had a really good offseason and camp so far."
He also placed a spotlight on a promising freshman duo — Jesse Luketa and Micah Parsons — that arrived in January as early enrollees. Franklin spent significant time highlighting Parsons, who was the highest-ranked Nittany Lions recruit since 2005 (Derrick Williams) and starred as an edge rusher and running back for Harrisburg (Pa.) High School.
"Micah — you would never know that he's never played linebacker before," Franklin said. "He can find the ball. … Now we've got to get him more consistent in terms of being in the right gap, [using] the right leverage and those types of things, but he can naturally find the ball."
Franklin added that senior Manny Bowen — recently reinstated on the roster after an eight-month dismissal — "has looked really, really good".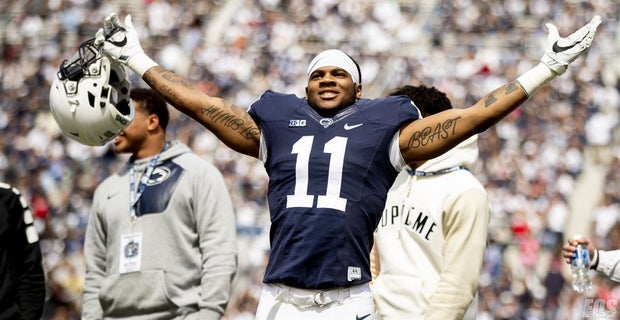 Pass-catchers are also stepping up
Compelling competitions at receiver and tight end have been sustained storylines this year. After losing three players who combined to collect 164 receptions last season — Saquon Barkley, Mike Gesicki and DaeSean Hamilton — there's an abundance of pass targets for senior quarterback Trace McSorley to distribute elsewhere.
Expect these position battles to continue throughout camp and into the season. Still, Franklin sounded like a coach closing in on clarity at tight end and heaped praise on a true freshman receiver.
Jonathan Holland, a redshirt junior tight end, has apparently gained some separation in the push for starting reps.
"Holland is doing really nice things," Franklin said. "He's had a really good offseason and good spring. He's built on it. Obviously I'm not ready to make any announcements."
Franklin went on to mention other members of the position group, such as redshirt junior Nick Bowers and redshirt sophomore Danny Dalton, but Holland has made the greatest impression.
"I would say right now, Holland probably has been the most consistent," Franklin said. "We've been very pleased with his blocking. He's always been a guy who can make plays in the passing game but he's really doing a good job for us when it comes to run game and blocking. ... I've been pleased with his maturity."
Meanwhile, Jahan Dotson — one of three blue-chip receiver prospects who signed with Penn State in the 2018 recruiting cycle — has turned heads early in his first collegiate camp.
"The guy I think right now that there's a lot of buzz in our program about is Jahan Dotson," Franklin said. "Very natural, fluid guy. The game comes easy to him. Nothing seems too big for him. He never gets rattled, has got consistent hands, everything is effortless for him."
The Nazareth (Pa.) High School product initially committed to UCLA early last September but ultimately landed in Happy Valley, committing to and signing with the Nittany Lions in one fell swoop on Dec. 20.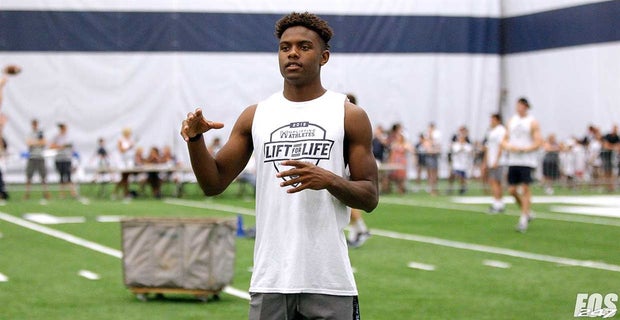 The little things add up
Just a few moments after Franklin referenced Dotson, he pushed pause on the media session to yell toward a group of receivers.
"Jog off the field," he shouted, jolting some media colleagues in the process.
It's a command he repeated enough to ask those players to return to the field just to leave it again — the right way this time.
Juwan Johnson, the team's most productive receiver who returns from the 2017 roster, explained the importance of such "coachable moments".
"That kind of just separates us from other teams," Johnson said. "We focus on the little things. … Little things like jogging off the field and doing acts of kindness. That's pretty much been our M.O. and that's sort of why I came here. Now we're carrying on the tradition."