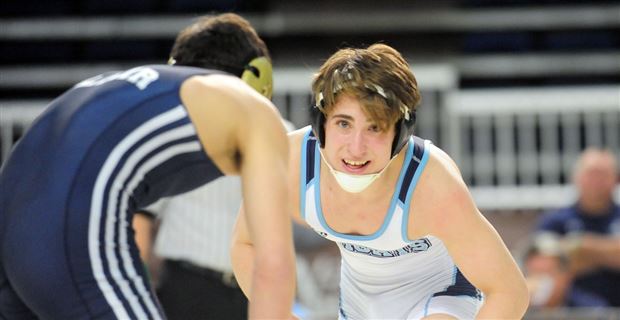 As the old adage goes...'the rich get richer.' And this seems to be an increasingly regular reflection of Penn State wrestling, which just added to its top-flight Class of 2018; this time with another top Pennsylvania prospect to the lineup. This time when Wyoming Seminary wrestler Jack Davis announced he had decided to become a Nittany Lion.
Originally Davis had pledged to Pitt, but opted to ultimately join the defending national champions to close out his recruitment.
Davis is a already highly-decorated athlete and nationally-ranked wrestler at 132-pounds. Over the course of his high school career he has won three straight Pennsylvania prep titles and two national titles. He projects to wrestle at the 133 or 141 weight class initially at the collegiate level.
Although he originally pledged to Pitt nearly eight months ago, his feelings started to change to the point he opted to re-open his recruitment back in April. Davis reportedly reached out to a variety of programs to gauge their interest and immediately received interest from various programs, including Ohio State, Lock Haven and Penn State.
While it's a tall order to crack the starting lineup of a squad that is in the middle of a dynasty, winning seven of the last eight NCAA team championships, Davis is taking an approach where he knows it will take a lot of focus and work from the outset of his collegiate career at University Park. As he told the Citizens' Voice, "Knowing how I've been in my past, I feel like anything is possible if I put my mind to it. If I continue to work hard and push myself...I don't doubt seeing myself in the starting lineup and pushing myself to be great."
Penn State's wrestling recruiting class was already ranked No. 1 nationally by both InterMat and FloWrestling before Davis joined the Nittany Lions. The Nittany Lions continue to set the pace for the sport by attracting elite talent from around the country. In fact, prior to Davis' pledge, the Lions had already landed seven of FloWrestling's Top 100 prospects, all of whom were in the Top 40 of the rankings. These prospects include No. 6 Seth Nevills (Clovis, Calif.), No. 10 Joe Lee (Evansville Mater Dei, ID/NLWC), No. 12 Michael Beard (Malvern Prep, Pa.), No. 14 Aaron Brooks (North Hagerstown, Md.), No. 15 Roman Bravo-Young (Sunnyside, Ariz.), No. 20 Gavin Teasdale (Jefferson-Morgan, Pa.), and No. 37 Brody Teske (Fort Dodge, Iowa). As InterMat said raving about Penn State's impressive Class of 2018, "It's an absurdly strong class for the squad that has won seven national titles over the last eight seasons."
This is Penn State's first No. 1 ranked class since the Class of 2014, which featured Nick Nevills, Bo Nickal, Jason Nolf and Shakur Rasheed.