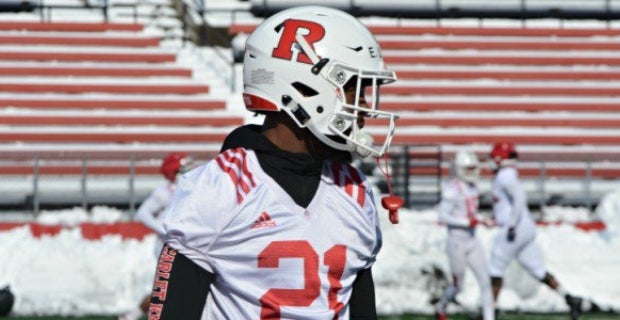 Each year, more high school prospects are graduating in December so they can enrollee for the January semester in college and participate in spring practice and winter conditioning. This past January, the Rutgers football program enrolled seven true freshmen and that jumpstart on their college careers is proving to be an advantage early in training camp.
"All those guys, [Have benefited from early enrollment]," offensive coordinator John McNulty said on Monday. "[Artur Sitkowski], [Isaih] Pacheco, all those guys who were here early. And I look at the guys who just got here, the Paul Woods and Daevon Robinsons. They are doing a good job, but you talk about swimming and you can see it in their eyes and they have a fraction of the job the quarterback has."
The January enrollment has allowed seven Scarlet Knights to have already logged seven months in the program.
"They feel like they are veteran guys already. I know it's hard for me to remember they are freshmen," McNulty said. "The fact that the other day we were talking about getting the freshmen together and it was like 'oh these guys are freshmen.' But they have been here the whole time I have been here so I feel like they are veteran type players because they went through a hard winter conditioning, spring and summer."
Here is a look at our latest report on how the current early enrollee freshmen are faring through their first week of Rutgers football training camp.
QB Artur Sitkowski
There have been some expected bumps in the road that are going to trip up any true freshman quarterback during the first week of training camp. However, Sitkowski still looks like the guy that the staff will trust to run the offense this season.
RB Isaih Pacheco
It is almost as though the staff is biting their tongues, not wanting to glow too much about Pacheco this early. But it's tough to deny his talent on the practice field. It may be only a matter of time before Pacheco is the workhorse in the Rutgers backfield.
WR Eddie Lewis
Thus far, Lewis has been one of the top wide receivers of camp and looks to be headed for a lot of playing time as a true freshman. Lewis is a year older than the average freshman as he attended Milford Academy in the fall for a semester at prep school.
WR Jalen Jordan
The IMG Academy alum looks fluid for his size and moves well. He may not be in the two-deep just yet, but he has shown some promise in the early going. This past spring, Jordan was working at tight end and now is getting a look at wide receiver.
OL Raiqwon O'Neal
It's tough for a backup freshman offensive tackle to make a ton of noise through the first five days of training camp. However, O'Neal is a player who is expected to steadily develop over the course of this season. He showed up in good shape to camp and will likely see more reps through the month of August.
CB Kessawn Abraham
The speedy cornerback has shown some flashes early in camp. He started camp on the outside of the two-deep as freshman Jarrett Paul laid claim to that fourth spot early on. However, Abraham should not be counted out of that race just yet.
QB Jalen Chatman
The freshman is not expected to factor into the quarterback competition and a redshirt year looks to be in the cards. Chatman may not have the strongest arm of the Rutgers football quarterbacks, but he has shown a soft touch and his winning pedigree bodes well for the future at the position.