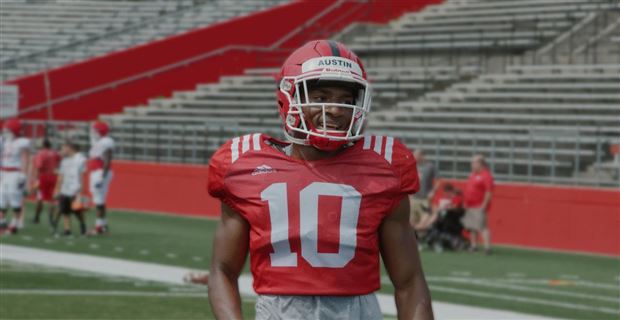 Blessuan Austin has generated excitement in the Rutgers football fanbase over the past couple of seasons as one of the Scarlet Knights top defensive backs. As he enters his senior season, the cornerback is beginning to receive a similar level of hype on a national level.
Austin was rated as one of the 50 most underrated players in the country by Athlon Sports. He is one of seven Big Ten athletes and eight cornerbacks to make the list. The publication bases the selection on the missed opportunity to break out last season after a knee injury ended his season after four games last year.
"Austin was poised to earn a spot among the Big Ten's top defensive backs in 2017, but a knee injury limited him to four games. In his three years with the Scarlet Knights, Austin has recorded 86 tackles, defended 22 passes and picked off three throws," Athlon Sports wrote.
Austin collected 12 tackles, one interception and one pass break-up in his four appearances. The interception came against Nebraska before he suffered the injury.
The Queens, New York, native spent the past nine months rehabbing his knee, hoping to return to game shape by the time the Scarlet Knights open their season against Texas State on September 1st. Whether he reaches that goal will be seen in a couple of months, but the effort he's put in to achieve it is unquestionable.
"Taking it easy is not my style at all. I'm just going to keep working, keep going through the rehab that got me to the point where I'm feeling now," Bless Austin said back on April 10th. "I feel great. I did some one-on-ones last Saturday … the route tree is opening up and I feel real good, real confident in my leg."
His work off the field impressed both his new position coach Cory Robinson and head coach Chris Ash.
"Bless is doing great," Ash said. "He's come off the ACL surgery. He'll be fully cleared by the time we start summer workouts. He's getting a lot of work in now, not in team situations, but individual stuff and group things. He's looking good. Really has done an outstanding job this offseason of developing his body. He's doing what he can do after the ACL injury."
Robinson encouraged Austin to use his time off the field to develop his intangibles, namely his leadership skills. The senior cornerback is among the oldest and most experienced members of the program, and so he is expected to be an example for the underclassman.
"He's really been a bright spot in a limited role with the things he's done. More importantly, he's becoming a leader outside of being on the field," Robinson said. "He can't physically contribute as much, but he's really taken a role of coaching those guys, encouraging those guys down-in and down-out as well as in the classroom and the meeting room."