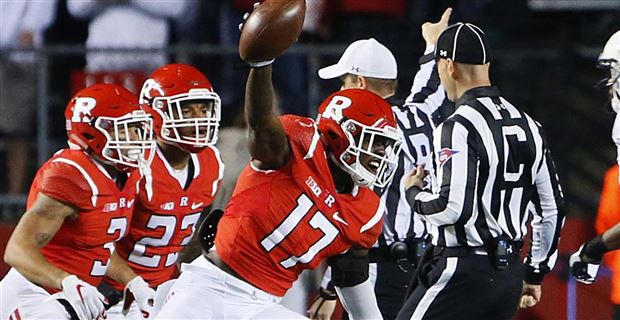 The Rutgers football team will be minus two scholarship players when training camp begins in the first week of August. Scarlet Nation has confirmed with sources that safety KJ Gray and linebacker Brendan DeVera have both been dismissed from the team for a violation of team rules.
Gray was heading into his junior year and was penciled in as the opening day starter at strong safety. DeVera was set to begin his sophomore campaign and was projected to be the backup middle linebacker.
Last season, Gray led the RU secondary with 58 tackles in 10 game appearances. He also started four games.
His loss has made a thin safety position even thinner.
"There is not a lot of depth [at safety]. There has been a lot of turnover in that room so that makes it challenging," RU safeties coach Noah Joseph said in a late March interview following a spring practice. "…K.J. Gray and Saquan Hampton have played some football and understand how you play and how you prepare."
This past spring, junior Damon Hayes moved from cornerback to safety and was expected to battle Gray for the starting strong safety spot alongside Hampton. Now, that spot looks to be firmly in the hands of Hayes as training camp approaches. However, there is little depth behind him in the secondary.
Jawaun Harris, who played safety last season, has left to pursue a professional baseball career after being drafted in the seventh round by the San Diego Padres in the 2018 MLB Draft.
Rutgers also did not return safety Kiy Hester, who will play this season as a grad transfer at Florida International.
Devera's dismissal will have an impact on the two-deep at the middle linebacker position. Last season, he played primarily on special teams, but began to draw his share of praise from the coaching staff over the course of the offseason and into spring.
"Brendan DeVera has really come on at linebacker. He has done a great job here this spring," head coach Chris Ash said following a spring practice during the first week of April.
These two losses will, however, also open the possibility for other players to step into a new role. At middle linebacker, that means redshirt sophomore Rashawn Battle will see more reps in training camp.
Gray and DeVera were not the first players dismissed under Ash's watch. Since his arrival, he has dismissed former quarterback Tylin Oden, wide receiver Dacoven Bailey, and wide receiver Ahmir Mitchell.
Gray was a three-star recruit out of St. Peter's Prep (Jersey City, N.J.) in the class of 2016 and was ranked No.24 in the state by 247Sports. DeVera was a two-star prospect out of Wayne Hills (Wayne, N.J.) in the class of 2017 and ranked No.63 in the state.