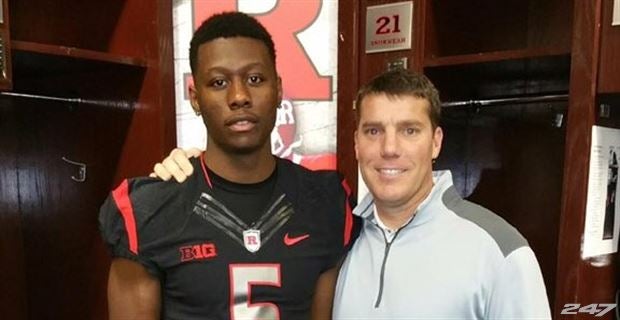 More trouble is brewing for former Rutgers safety KJ Gray. A day after it was announced that he had been dismissed from the team, a host of other problems have been revealed. Earlier tonight, it became public that several Rutgers players are being investigated for fraudulent use of credit cards, as first reported by Keith Sargeant of NJ Advance Media.
More news has emerged as Gray was charged with multiple offenses during a traffic stop in East Brunswick. NJ Advance Media's James Kratch first made the news public this evening. Scarlet Nation has learned that Gray was charged with a number of traffic offenses, including Possession of a Controlled Substance and Driving with an Open Container of Alcohol. Gray has not yet appeared in court for these charges and Scarlet Nation has learned that Gray is scheduled for a court date on October 10 of this year at East Brunswick Municipal Court.
This is the latest in a series of issues involving Gray. He was dismissed, along with Brendan DeVera, for a violation of team rules. However, the Sargeant NJ Advance Media revealed that several other players are being investigated in that incident.
Gray was scheduled to start for Rutgers this season at the strong safety position coming off a season when he led the secondary with 58 tackles in 10 games. His loss hurts an already depleted secondary, as the safety position was short on players this past spring. That forced the staff to move Damon Hayes from cornerback to safety and now he projects to be the starter in place of Gray. That still does not account for the depth issue as Rutgers is very thin at the position. Last season, the staff had to turn to wide receiver Jawuan Harris to help out at the safety position. Senior Kiy Hester also played a role at the safety position, despite some nagging injuries. He has since moved on to Florida International University as a grad transfer.
Gray joined Rutgers in the class of 2016 as a three-star recruit out of St. Peter's Prep in Jersey City, N.J. He was actually one of the first group of prospects to commit to head coach Chris Ash, as he announced his decision a week before signing day in 2016.
Scarlet Nation continues to provide ongoing coverage of the recent suspensions and their impact on the program. For more on this developing story, check out our series of articles:
Rutgers players currently under investigation
KJ Gray and Brendan DeVera dismissed from Rutgers football team
The potential impact of Gray and DeVera dismissals
Brendan DeVera and KJ Gray make statements about dismissal
Rutgers safety recruiting has shifted with dismissal of KJ Gray
How DeVera dismissal has changed Rutgers linebacker recruiting