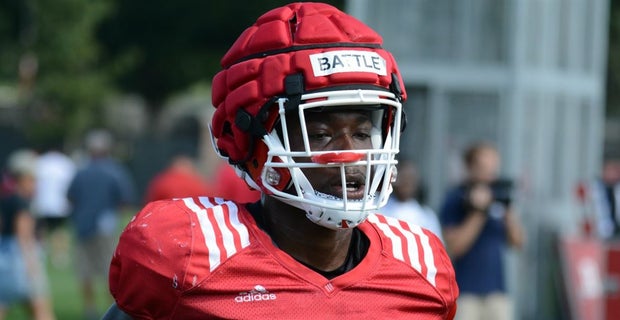 The pecking order at middle linebacker has changed from last season as Rutgers redshirt sophomore Rashawn Battle is now backing up two-year returning starter Deonte Roberts. Battle appeared in four games last season and collected three tackles along with an interception. Now, he is being trusted with more responsibility in the middle of the Rutgers defense.
"Coming into my sophomore year, I feel like everything is coming a lot smoother to me," Battle said following today's practice. "I am in playbook more, I am more mature and I am not the same player I was before. As I get older, I just try to learn more and more every single day and get better every day."
The first week of training camp has been favorable for Battle, who has earned his share of accolades from both players and coaches.
"Rashawn Battle, I think was a really under the radar guy in the spring," defensive coordinator Jay Niemann said earlier today. "He had a really good spring and he is making good progress these first several practices."
Battle was part of head coach Chris Ash's first recruiting class at Rutgers and since his arrival, he had a brief audition at the defensive end position.
"Since I have been here, I have been at the MIKE [middle linebacker] more. They switched me around a little bit and threw me in as a pass rusher a little bit, but mainly I have been at the MIKE," Battle said. "I like the MIKE, it is the quarterback of the defense. You want to set everyone straight and be the guy that everyone can look at and say, 'he is going to get us right.'"
The linebacking corps features a host of veteran players as Trevor Morris and Roberts are both two-year starters. Battle has much less experience but could be one play away from stepping in with the first-team defense.
"We are doing good, we have great ones, twos and even threes at linebacker as well," Battle said. "We are all just trying to work and get each other better."
The approaching season is also one that Battle has been looking forward to since signing his national letter of intent as part of Rutgers incoming class of 2016.
"It is definitely exciting. Being out there in the stadium at Rutgers or at Penn State or at Michigan, wherever we are playing, it is a great feeling and not a lot of people get to do that. I just keep on trying to be the best player I can be every single day. Nobody wants to be that one kid on the sidelines. So being out there is just a great feeling, no matter what I am doing on the field."