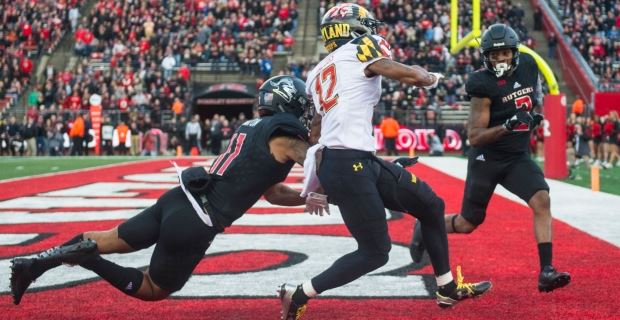 Scarlet Nation's look at Maryland began with an overview of the Terrapins, followed by a deep dive into their 2017 season by the numbers and then a look at what the coaches said during spring camp. Now, in the latest installment of Maryland week, we spoke to Josh Stirn, Maryland beat writer for InsideMDSports.com, 247 Sports' Maryland site.
Scarlet Nation: Maryland's new offensive coordinator Matt Canada arrives after a stint at LSU. How would you describe his offense given what you saw in the spring? How much of an impact does this shift in offensive philosophy project to have?
Josh Stirn: The offense should look significantly different this season, not just because of the coordinator change, but also because the quarterback situation. After Tyrrell Pigrome and Kasim Hill both suffered season-ending injuries during non-conference play last year, the Terps were forced to adjust their offense to fit a pocket passer, so former coordinator Walt Bell's uptempo, read-option offense never fully came to life during his two seasons in College Park. Canada should not only have the luxury of a healthy Pigrome and Hill, but he'll also be able to lean heavily on the Terps' running backs. He doesn't have the deepest playbook, but he deploys a number of different personnel packages and pre-snap shifts to create confusion, which the team seemed to adjust to pretty well during the spring.
--------------
SN: Maryland returns 95 percent of its rushing production and its entire starting offensive line. Does that project to be the Terrapins' strength on that side of the ball?

JS: That's safe to say. The Terps will lean heavily on veteran running backs Ty Johnson and Lorenzo Harrison, but there's also high expectations for former four-star Anthony McFarland Jr., who redshirted last year because he wasn't fully recovered from an injury suffered as a high school senior. Add in Jake Funk and Javon Leake -- who combined for six rushing touchdowns last year -- and you're looking at a backfield that could go five-deep. Canada isn't expected to rotate running backs as much as Bell did, but he's open to having two or three running backs on the field as once, perhaps using McFarland in the slot.

The talented crop of running backs will run behind an offensive line that features three redshirt seniors with NFL potential and a rising junior former top-100 recruit. The Terps' ranked in the middle-of-the-pack in rushing yards last year, but an improved passing game and a quarterback that has to be accounted for in the run game could open things up for Johnson and Harrison, who combined for more than 1,600 rushing yards on 8.3 yards per carry as underclassmen two years ago.
--------------

SN: What is the situation at quarterback looking like after last season's injury issues? Who is projected to be the starter?

JS: Pigrome, who tore his ACL in the season-opener, and Hill, his replacement that suffered the same injury two weeks later, will compete for the starting job in August after both of them missed spring practice. All things equal, I'd lean towards Hill being the favorite, but Pigrome is supposedly further ahead in his rehab which could potentially prove to be the decisive factor. Pigrome and Hill competed for the starting job last year and Pigrome narrowly beat out the true freshman Hill. Then Pigrome had a near-flawless sophomore debut, leading the Terps' to a 51-41 win over the Longhorns in Austin. Hill, though, displayed tremendous poise in the game's fourth quarter after Pigrome went down, leading the game-winning drive. He then led Maryland to a 63-17 win over Towson the following week.
On paper, Hill is both more gifted and a better fit for Canada's offense than Pigrome, a generously listed 5-foot-11 dual-threat signal caller who was hand-picked out of Alabama by Bell. Bell was Pigrome's biggest supporter, the only recruiter who didn't see him as a receiver, and he fit well into his read-option attack. Canada's offense, though, will at times require the quarterback to play under center which is something that isn't necessarily ideal for Pigrome given his height and skillset. Hill, a former four-star quarterback from Washington D.C., is perhaps Maryland's most gifted quarterback in years.
---------------

SN: Three starters in the defensive backfield return in Antoine Brooks Jr., Darnell Savage, Jr. and Tino Ellis. How much will their experience factor in for Durkin's defense?

JS: The Terps' defense has a lot of questions, but Brooks, Savage and Eliis are three players Durkin can rely on in the secondary. Despite losing corner J.C. Jackson and safety Josh Woods, who both landed NFL contracts this summer as undrafted rookies, the unit is expected once again to be the strength of the defense. As we saw last year, though, the defensive backs are only as strong as the pass rush, which needs to be improved after a 16-sack season. Auburn transfer Bryant Cowart -- once the nation's top-rated recruit -- and now-healthy Jesse Aniebonam provide hope at defensive end. Durkin has raved about Cowart's maturity and leadership.
---------------

SN: What are Maryland's biggest strengths? Biggest weaknesses?

JS: Maryland's season last year proved a team is only as good as its weakest link, so the Terps' passing game and front seven needs to take major steps forward this year in order for the talented backfield and secondary to properly flourish. A lot of the offense's success rides on the quarterback play, which should be improved as long as Pigrome and Hill don't have any more setbacks, but the Terps' also only have one proven receiver now that DJ Moore -- the 2017 Big Ten Receiver of the Year -- is gone. That's not the best optics for a passing game that ranked 12th in the Big Ten last year. No tight ends even caught a pass.

Linebackers are also a weakness. The Terps lost captain Jermaine Carter Jr., who was drafted by the Carolina Panthers, so they brought in Illinois graduate transfer Tre Watson this spring to help guide an otherwise young unit. Maryland also loses its starting defensive tackles, who both landed NFL contracts as undrafted free agents, so it could be a struggle once again to stop the run. It most certainly won't be a strength, so the biggest x-factor on defense might be whether Cowart and Aniebonam can add life into the Terps' pass rush, allowing the secondary to make plays.
---------------

SN: Give me your way-too-early prediction for this season's meeting in College Park.

JS: If history is any indication, it'll likely be a back-and-forth game decided by seven points or less. That's been the case three of the past four years, so I'll go with another thriller: Maryland 36, Rutgers 30. For both teams, it's likely a must-win game for postseason eligibility, but for the Terps it's a game sandwiched between two tough road bouts (Michigan, Iowa), so they can't afford to lose. I think the home team will get the win in the series for the third consecutive year after the first two meetings as conference foes featured come-from-behind wins by the visitors.