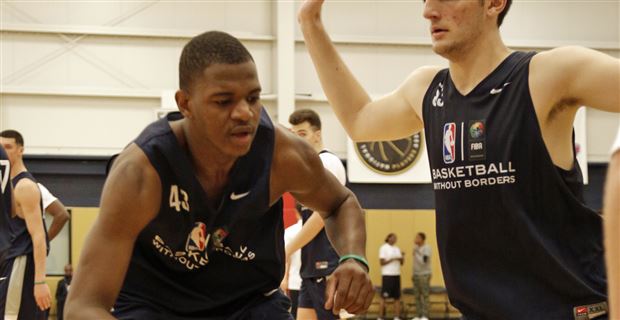 The Rutgers men's basketball program sits in an interesting position as it enters the first of three evaluation periods this July. The staff's top remaining target, Aundre Hyatt, is mulling whether to come out as a 2018 recruit. A potential commitment from Hyatt would allow Rutgers to get a head start on the 2020 class while other programs are still filling gaps for next season and recruiting multiple spots for 2019.
Rutgers head coach Steve Pikiell already secured his headline recruit for 2019 in the form of Paul Mulcahy of Gladstone (N.J.) Gill St. Bernard's and New Heights (Under Armour).
What Rutgers decides to do if things don't work out with Hyatt is one of the most crucial questions of the summer. Rutgers is still in pursuit of four-star wing guard Ismael Massoud and will most likely track the rising star at the Nike Peach Jam in South Carolina this week. Some of the programs recruiting Massoud include Illinois, Creighton, Georgia Georgia Tech, Auburn, Texas Tech, Harvard and Florida State. Creighton is a serious contender, but things can always change.
After Massoud and Hyatt, things get a little muddled. Top 200 recruits Wildens Leveque (Mass Rivals/Adidas) and Karim Coulibaly (New World/Adidas) are still available and have offers from Rutgers. The 6-foot-9 Leveque attends Gould Academy in Maine and is being recruited by Penn State, UMass, USF and Providence, among others. A 6-foot-9 stretch forward from Mali, Coulibaly's recruitment is more of a wild card with Rhode Island a possible destination. It's unclear if Rutgers is actively recruiting these players.
On the wing, Gob Gabriel of the DC Blue Devils (NH) was offered last July. While not as physically ready as Massoud or Hyatt, Gabriel continues to impact the game in a variety of ways for Geo Baker's former AAU team. Gabriel recently visited Seton Hall's campus and holds an offer from St. Bonaventure. DC Blue Devils Director TJ Thompson told Scarlet Nation he expects Rutgers to watch both Gabriel and 2020 point guard Bol Akot on Saturday. The duo continues to fly under high-major radars because it doesn't compete on any of the three major sneaker circuits.
G3 Grind's De'Sean Allen-Eikens does not have an offer from Rutgers, but this 6-foot-6 wing has been one of the most efficient and productive players on the Under Armour circuit. Rutgers assistant Jay Young has attended one of Allen-Eikens' games during his high school season and again during the live period in April. As far as recruiting, Allen-Eikens recently took an official visit to UNC-Greensboro and holds offers from most Missouri Valley and MAC schools. Allen-Eikens continues to be a name to monitor as a productive scoring wing who could help Rutgers' ability to spread the floor.
Now, onto the 2020 class. It's still early in the process but Rutgers has done a good job of getting on the ground floor with several talented prospects from this class. Rutgers was the first program to extend a scholarship offer to Bol Akot of Proctor Academy (NH) and the DC Blue Devils. The floor general was named all-first team at the 2018 Deng Camp USA, where he averaged 11.4 points, 2.9 assists and 1.8 steals.
Long Island Lutheran (N.Y.) duo Zed Key and Andre Curbelo will lead the NY Jayhawks 16-and-under team this week at the adidas Gauntlet in New York City. Key is an undersized four with tremendous post-game moves and expanding shooting touch to the three-point line. Curbelo was recognized as one of five all-stars at the FIBA U17 World Cup last week after leading Puerto Rico to a bronze medal. In an interview with Evans Daniels of 247Sports, Curbelo said St. John's and West Virginia were recruiting him the hardest but he did give a mention to Rutgers. Florida just offered the Jayhawks duo as well.
To their credit, Rutgers had both players on campus this year and offered both in April. The Scarlet Knights are expected to watch Curbelo and Key in New York this week, per NY Jayhawks director Jay David.
Rutgers is also prioritizing top-50 recruit Clifford Omoruyi of Immaculate Conception. No, he's not related to Rutgers forward Eugene Omoruyi, but he has all the makings of a special college player. Blessed with a 7-foot-4.5 wingspan, Omoruyi has picked up recent offers from Illinois, N.C. State and Florida. Meanwhile, Virginia, Ohio State, Georgia and La Salle all reached out on the first day of the June contact period. He'll run with the NY Lightning at the Nike Peach Jam.
Bergen Catholic power forward Matt Zona is another recruit who picked up his first high major offer from Rutgers and continues to impress scouts and coaches alike. Here's what Made Hoops director of scouting Eric Hampford wrote about Zona after Hoop Group's Elite team camp.
"I was blown away by the Sunday performance of the 6-foot-9 post, who not only is a big body, but a highly skilled prospect. He was really feeling it from the perimeter in the morning game that I watched, but also had no qualms about getting his hands dirty and playing physical basketball in the post. Rutgers became his first high-major offer a few weeks back, and I'd be shocked if he doesn't pick up several more in July."
Rutgers reached out to two recruits from the PSA Cardinals during the June contact period in forward Richard Springs (MacDuffie School) and Hassan Diarra (Putnam Science Academy). Springs plays up with the PSA 17s and told Scarlet Nation that Rutgers assistant Jay Young has been in touch and will watch him at Peach Jam this week. He recently visited UConn and reportedly heard from Illinois, Pitt, Villanova, Marquette, Ohio State, West Virginia, Rhode Island and others during the June contact period.
Some other names to track include Anthony Thomas (Team Melo), a top-100 recruit who is transferring to the Patrick School (N.J.) for the upcoming season. Thomas already holds an offer from Rutgers but his latest move makes him a likely target for Rutgers assistant Brandin Knight.
Staying local, Team Rio will roll out five-star wing Jabri Abdur-Rahim (Blair), CJ Wilcher (St. Benedict's), Chad Venning (MacDuffie) and Philip Wheeler (Rumson-Fair Haven) on the Under Armour circuit; UA powerhouse We R1 features four-star big man Elijah Hutchins-Everett (Immaculate Conception); while Nike's NJ Playaz squad has wing Taj Thweatt (Wildwood Catholic) and Raejon Figures (Immaculate Conception).