Shy Tuttle didn't mince words Sunday morning when asked to describe Tennessee's 2017 season.
"I mean, sh*tty," the senior defensive tackle said before the Vols' open practice at Neyland Stadium. "But it's in the past."
Tuttle said he'll never completely forget the first eight-loss season and first winless-in-the-SEC season in Tennessee's proud history. He doesn't dwell on it, but he doesn't ignore it, either. He described it as somewhere in between. He wants to forget it, but he doesn't. He wants to focus only this season, but he occasionally wants to remember last season's "sh*tty" feeling for motivation.
"I mean, it's in the rearview mirror," Tuttle said. "But shoot, me, myself, I've got it in the back of my head, like, 'I ain't trying to be that again.' … I mean, shoot, we all know how it felt last year. We all know that now. We don't want to get that feeling again.
"We're excited. We're ready for this season to come."
Anything that motivates Shy Tuttle is generally a good thing, because the former highly touted prospect has had his promising career detoured with a pair of nasty, career-threatening injuries. He fought his way back onto the field in both cases, but the physical damage and lost practice time from those injuries left a mark on his performance.
This offseason has been different, though. Tuttle entered the final preseason camp of his college career fresh off the first fully-healthy offseason of his college career, and he claims to feel like himself again.
"Yes, sir. Most definitely," Tuttle said with his characteristic, North Carolina drawl. "Get stronger, faster, bigger. That's what I wanted for myself."
It remains to be seen whether Tuttle can enjoy a senior-season Renaissance under new head coach Jeremy Pruitt, new defensive coordinators Kevin Sherrer and Chris Rumph and new defensive line coach Tracy Rocker. It remains to be seen whether he'll ever be the same player who looked so promising as a healthy true freshman.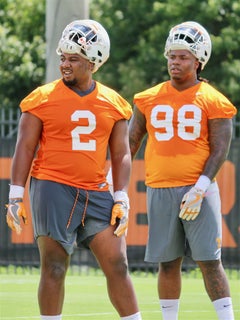 But all sides of the situation seem to genuinely believe in the possibility. His 6-foot-3, 300-pound frame isn't a sloppy one, and he's even become a much more vocal presence on the field. That's no small feat for someone nicknamed "Shy" for a reason.
"Shy's playing great right now," fellow senior defensive lineman Paul Bain said. "He's playing great. He's looking great."
A senior season is hardly the ideal time for a college football player to learn a completely different scheme in a completely different defense, but Tuttle said he's legitimately excited about transition from the 4-3-base defense of Bob Shoop to the new staff's multiple, 3-4-based scheme.
Nearly everything is different for Tuttle these days. Long gone are some of the players who signed alongside Tuttle in Tennessee's 2015 recruiting class, including his D-line-partner-in-crime Kahlil McKenzie. Tuttle still plays alongside a familiar face in fellow senior Kyle Phillips, though, and he said he's enjoying new first-team partner Alexis Johnson and the rest of his new-look position group.
"I mean, yeah, it's different," Tuttle said. "With a 4-3, you're one-gapping. In a 3-4 or multiple, you do a lot of two-gapping and stuff. It's a big difference, but it's all good. Really I've enjoyed it. Shoot, I embrace change. I'm always just looking to get better as a football player.
"I mean, shoot, I'm willing to play whatever the coaches wanting me to play, for real. So, yeah, I can make it fit. I can play it."
Tuttle knows better than anyone that his college career has been so different in so many ways from what he expected on an individual and team level. He believes his final season can be as improved as it needs to be for him to fulfill the promise he showed as a freshman.
"I mean, I ain't think I've done enough [yet]," Tuttle said. "But, shoot, new season's on the way. I'm excited."