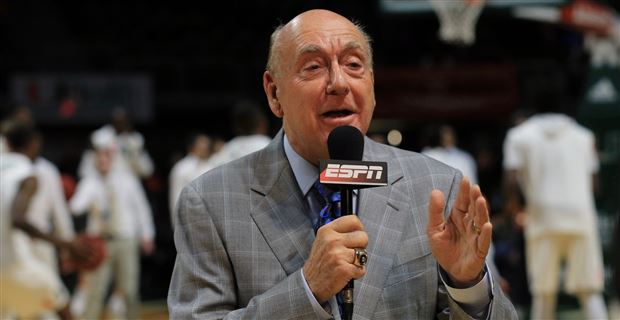 ESPN college basketball analyst Dick Vitale gave his preseason top four on Friday, tweeting that he had Kansas in the top spot ahead of Kentucky, Tennessee and Duke.
Vitale's ranking was a response to CBS Sports writer Gary Parrish's indecision on the debate between Kentucky and Kansas as college basketball's No. 1 team for 2018-19 — Parrish eventually picked Kentucky 1A and Kansas 1B, saying he "never found the clear-cut answer I wanted" — by stating that he believed the Jayhawks should be No. 1.
"Gary to me the experience/depth, size with multiple versatile PTPers gives @KUHoops the little edge over @KentuckyMBB," Vitale tweeted.
Parrish responded that he was leaning back toward Kansas after discussing it with fellow CBS Sports writer Matt Norlander on the podcast.
"The Jayhawks have at least five players who have already really produced at the high-major level," Parrish tweeted. "That's not worth nothing."
"I agree Gary, the Lawson brothers should be instant contributors," Vitale tweeted back. "Yes [Kansas is my] #1."
Vitale went on to give the rest of his rankings, with SEC rivals Kentucky and Tennessee at Nos. 2 and 3 and a young Duke team at No. 4.
Kansas returns two starters and three other regular contributors from last year's Final Four team, and adds to that transfers Dedric Lawson and K.J. Lawson from Memphis and Charlie Moore from California. Between Udoka Azubuike, Lagerald Vick, the Lawsons and Moore, Kansas has five players who averaged at least 12 points per game in their previous college seasons, the five producers referenced by Parrish. To that, the Jayhawks add the No. 5 recruiting class in the 247Sports Composite, which includes a likely lottery pick in Quentin Grimes and a potential starter at point guard in Devon Dotson.
Kentucky, too, returns plenty of experience. The Wildcats have three players who started games a year ago in PJ Washington, Nick Richards and Quade Green, and add a fourth in first-team All-Pac-12 forward Reid Travis from Stanford. But the real key is combining that foursome with the 247Sports Composite's No. 2 recruiting class, which should yield at least two starters in point guard Ashton Hagans and wing Keldon Johnson.
None of Vitale's four choices bring back the experience that Tennessee does. The Volunteers have arguably the most proven squad in college basketball, with all five starters back in the fold after winning a share of the SEC regular season title. Tennessee looked set up for a potential run last March, only to watch it go up in flames with Clayton Custer's game-winner with 3.6 seconds left. Just like that, Loyola Chicago took advantage of the wacky bracket, toppling Nevada, then Kansas State to get to the Final Four. With SEC Player of the Year Grant Williams heading a team with unfinished business, the Volunteers look like a strong choice for one of the nation's best teams.
And Duke is in the No. 4 spot pretty much entirely by virtue of the No. 1 recruiting class in the 247Sports Composite. That's not hyperbole; the Blue Devils' top returning scorer is center Marques Bolden, a backup who averaged 3.9 points per game last year. But a recruiting class that includes three of the top five players in the 247Sports Composite — R.J. Barrett (No. 1), Cameron Reddish (2) and Zion Williamson (5) — and a fourth five-star in Tre Jones (15) would seem to fill four of the five available starting spots, with skilled big Joey Baker (33) as a top reserve.
Will Vitale's choices prove prophetic? They aren't exactly controversial, as most have those four teams among their top five or six, with Gonzaga sandwiched in somewhere and Nevada often making an appearance. But it's always interesting to see how Vitale sees the nation's top teams.