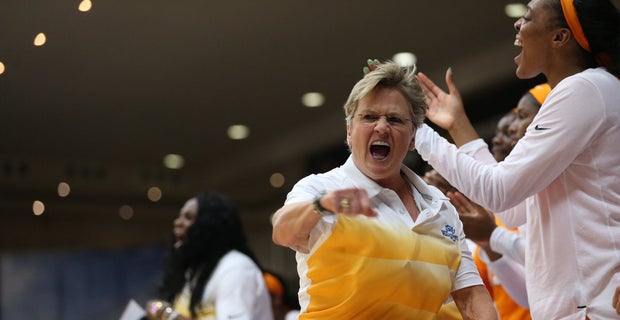 Holly Warlick has signed a contract extension to coach the Lady Vols through 2022.
Jimmy Hyams of the Sports Animal first broke the news about the extension on Tuesday.
Sources: Lady Vols coach Holly Warlick has signed a contract extension. Should be announced soon. Don't have details yet.

— Jimmy Hyams (@JimmyHyams) August 7, 2018
Warlick's contract had been set to expire at the end of the 2018-19 season. The terms of the new contract and extension have been reached among all parties involved. The University of Tennessee is expected to formally announce the contract on Wednesday or Thursday.
Warlick is entering her seventh year as head coach of the Lady Vols. Her career SEC winning percentage is .740 with a record of 71-25, which ranks Warlick first among all SEC head coaches. Her overall 153-43 record ranks her 11th among Power Five coaches in women's basketball, and she is the only one in the top 11 who has spent fewer than 10 seasons as a head coach.
Worked with @JimmyHyams for years back in the day; he has excellent track record, reporting that #HollyWarlick has signed contract extension to coach @LadyVol_Hoops. Recruiting has been on ??. This news will boost even more. #ladyvols pic.twitter.com/qJ8d3DAlHE

— Maria M. Cornelius (@mmcornelius) August 8, 2018
Tennessee's recruiting has been humming lately with commits from Class of 2019 posts Tamari Key and Emily Saunders. Several 2019 elite guard prospects also are expected to take officials visits to Knoxville after the fall semester starts. The news of the contract extension will be another boost to recruiting for the Lady Vols and remove the spiel from rival coaches that Warlick's contract was an issue.
The Lady Vols' 2018-19 schedule also should be announced soon. As already announced, Tennessee will play Clemson and UAB or Oklahoma at the 16th annual Junkanoo Jam on Nov. 22-24, in the Bahamas and at Oklahoma State on Dec. 2 in the SEC/Big 12 Challenge. According to opponents' schedules, the Lady Vols play Texas in Austin on Dec. 9 and host Stanford in Knoxville on Dec. 18. Tennessee also will play Notre Dame this season.
Warlick followed Pat Summitt, who retired in 2012 because of Alzheimer's disease. Summitt, who passed away in 2016, coached Tennessee for 38 years and had one athletics director for 29 of those years in now-retired Joan Cronan. In Warlick's first six years, she has had three athletics directors in Dave Hart, John Currie and Phillip Fulmer, who is now in the post and has expressed his support of Warlick.