Lady Vols earn key SEC win over Georgia
Tennessee plays inspired basketball for 'Live Pink, Bleed Orange'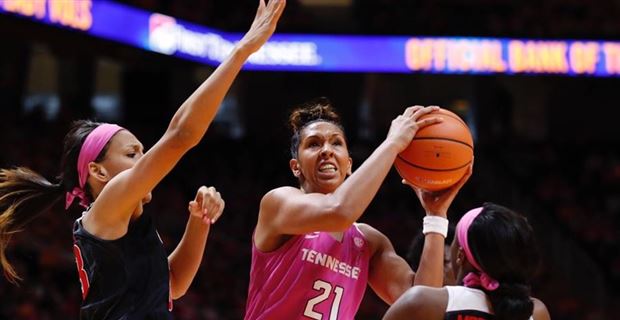 The Lady Vols secured a three-way tie for second place in the SEC after Sunday's 62-46 win over Georgia, dominating the boards and overcoming 27 turnovers in an inspired defensive performance for the "Live Pink, Bleed Orange."
Tennessee (21-4, 9-3) used a 19-6 second quarter advantage to force Georgia (21-4, 9-3) to play from behind, and the Lady Bulldogs never caught up.
Before tipoff, Coach Holly Warlick presented a check for $10,000 from Champions for a Cause, the nonprofit she cofounded to raise awareness and research funds for breast cancer, to the University Breast Center at UT Medical Center.
This is why we do what we do. #breastcancer #BreastCancerAwareness pic.twitter.com/wmNcUKInho

— ChampionsForACause (@Champs4ACause) February 11, 2018
The Lady Vols wore pink uniforms and pink shoes. Georgia also sported pink shoes, while officials used pink whistles. Warlick emphasized the purpose of the pink display to her players.
"That's life; this is a game. If these people can fight this in real life, we dang sure can get up and play basketball," Warlick said. "The hope in their eyes, their mentality, their positive thinking, I step back sometimes and go, 'That's incredible. It's absolutely incredible.
"If we would take that attitude in just life, basketball would be simple. Every time you step on that floor, you're playing as hard as you can. That doesn't guarantee you're going to win, but you put yourself in position to do that. Everybody that faces breast cancer, they're going to put themselves in position to survive. If I have learned one thing, it's about your attitude. And in the end, they're like, 'I fought a hell of a fight.' "
Senior Jaime Nared was a defensive stalwart – and also added 15 points, nine boards, four steals and three assists – twice securing offensive possessions with defensive hustle and twice getting offensive rebounds off after a teammate's missed free throw.
"It means so much. It hits home," Nared said. "My aunt was going through breast cancer last year. I mean, just playing for people that are fighting for something that is bigger or that they can't control. We play this game; we are blessed with so much.
"Sometimes, we can take it for granted with what we do and everything we are provided with. Just playing for people that are fighting something that is so tough. We don't even know what they are going through, but you see their positive impact and how they live life. Just playing for them is amazing."
The Lady Vols opened with a 17-13 lead after the first quarter, thanks to the board play of Mercedes Russell and offense of Nared and Meme Jackson.
Russell had nine boards by halftime, putting her over the 1,000-mark for her career after needing eight rebounds coming into the game to reach the four-figure milestone.
And just like that, @MerSladezz becomes just the sixth Lady Vol to reach 1??0??0??0?? rebounds! pic.twitter.com/edxtss4xjS

— Lady Vol Basketball (@LadyVol_Hoops) February 11, 2018
The final point to get Russell to 1,500 points for her career proved elusive. The senior finished with 13 points – and completed the double-double with 15 rebounds – and now has 1,499. Warlick left Russell in the game to try to get that last basket but pulled Russell with a minute to play and Georgia focused on stopping her.
"I didn't want her to get hurt," Warlick said. "She took a lot of hits (over her career), but I'll tell you this, that kid loves this program and has worked very hard in getting to where she is. She's gotten stronger, and I keep saying that she's one of the smartest kids that has ever put on a Lady Vol uniform. She's a point guard trapped in a post's body.
"I'm really proud of her because she keeps her composure, she takes hits, and she deserves to be in that elite group. She's worked hard to get there, and I just can't say enough about her and what she's meant for this program."
The Lady Vols will host Alabama on Thursday so Russell will have a shot to accomplish the feat at home and join Chamique Holdsclaw, Tamika Catchings, Sheila Frost, Glory Johnson and Bashaara Graves on a short list of players with 1,500/1,000.
"The names in the list are some of the best players to ever play the game of basketball," Russell said. "I mean, just to be added along them is very humbling. I'm very excited just to be on another list, but especially alongside those players is awesome. It's super humbling."
Tennessee took a 36-19 lead into the locker room at halftime thanks to the 19-6 advantage in the second quarter.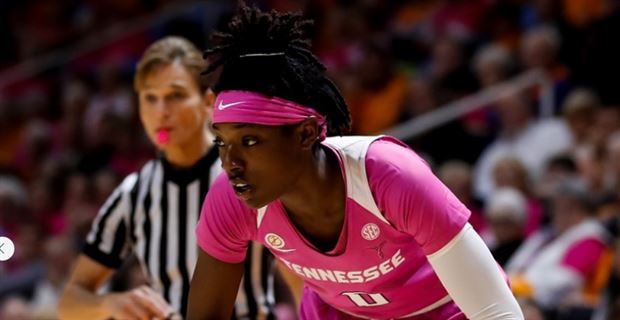 "We held them to single digits that quarter which is huge for us, especially against good teams," Nared said. "We want to do that every quarter, but in big games it's tougher. I think our length was disruptive during the course of the game. In our 2-3 (zone) we were roaming around and just communicating which helped us."
The Lady Vols won a 90-85 offensive funfest against Arkansas on the road Thursday and then held Georgia to just 46 points, much to the delight of the 12,523 fans in attendance at Thompson-Boling Arena.
"They are amazing," Nared said. "I think at halftime when we were shooting they were doing a Lady Vol chant. It was so loud. They help us in tough games."
Warlick made it a point to remind her team that the "Live Pink, Bleed Orange" game focused on people fighting cancer.
"It was Georgia, it was in front of a big crowd, and I told them, 'You're playing in front of people who are battling a disease, and then you have your fans coming that are there to support each other and the cause,' " Warlick said. "I think they took it to heart."
Georgia, which entered the game with second place to itself, filled a large section with red-and-black-clad fans. When the Lady Bulldogs took the court, the fans made themselves heard. And then the Lady Vols were introduced, and the arena erupted.
"This crowd here is special, and when they're loud, they're loud," Warlick said. "And they do give us energy, so it was fun for us to be in front of them. I'm glad that our kids played at the level that they should have for the people that were here."
With LSU's defeat of Texas A&M and South Carolina beating Florida, the Lady Vols are now tied with Georgia and South Carolina for second place in the SEC with four games to play. A cluster of teams are separated by one loss and fighting for the three slots behind league leader Mississippi State and the all-important double bye in the SEC tourney in March.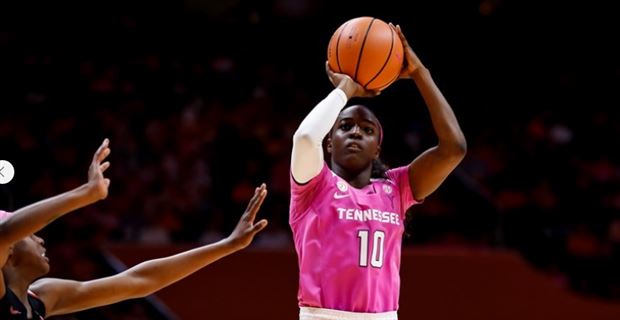 The SEC coaches' preseason poll didn't have Tennessee or Georgia among the league's top four teams.
"When those rankings came out in the beginning of the year, our message was, 'It's not where you start. It's where you finish,' " Georgia Coach Joni Taylor said. "We have put ourselves in a good position, and now we have got to secure that. It's not going to be easy by any means.
"We have a tough schedule remaining, as every team does in this conference."
Both Taylor and Warlick preached the one-game-at-a-time speech in a league that has Florida, which is in 13th place team, giving the Gamecocks quite a game in Gainesville on Sunday.
"In the SEC you can never take a break," Lady Bulldog Taja Cole said. "Every SEC team is a challenge. I know that we are going to prepare for every team the same way. We are going to continue listening to our coaches and just try to execute what they say the best way."
The Lady Vols are now 6-1 in games in which they have 20 or more turnovers, a rather bizarre stat line.
"I love us being aggressive. I love us attacking," Warlick said. "The things I don't like are like when we get a rebound and it fumbles out of bounds. That is either communication or not seeing the ball in your hands.
"This is the most that we have had, and I think it's crazy. At the beginning of the game – I'll have to go back and look at it – but we were trying to make a great play, and we don't have to. A great play to me is making a pass and leading someone to score. That's a great play; not that I have to jump pass, spin in the air, and do a twirl, because it's going up to John Adams up in the media row. That's not good."
While Tennessee had 27 turnovers, Georgia tallied 20 miscues.
"A lot of those we turned it over, but then we forced them to turn it over," Warlick said. "So, we got a little sloppy, but at least if we're going to turn it over, let's force them to turn it over."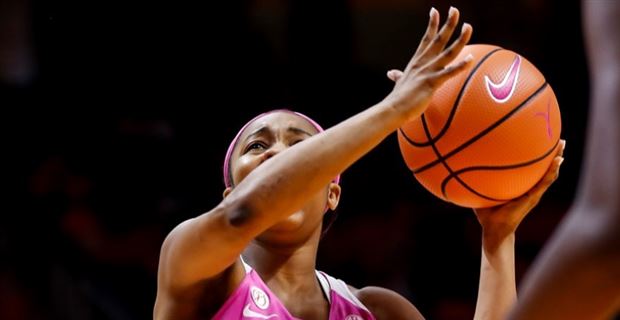 Tennessee held a 55-37 lead after the third quarter, as Georgia continued to struggle offensively. The Lady Vols mixed up their defenses with a healthy dose of zone, while the Lady Bulldogs misfired from the perimeter and at the rim.
"We were missing shots that we usually make," Georgia's Mackenzie Engram said. "In practice we are constantly told to go full speed and not let up. I think that kind of caught up to us, but we were missing shots we usually don't miss, and unfortunately, it didn't work out in our favor.
"I just really don't think that we could buy a bucket, and we were settling a lot for outside shots instead of trying to take it in and get the foul."
Evina Westbrook had a statement block in the fourth quarter, while Meme Jackson also delivered on the defensive end. The 6-6 Russell was a factor inside, and the Lady Bulldogs shot off balance at times in seeming awareness of her presence.
"Mercedes Russell is really tall," Cole said. "I think that we were trying to alter our shots a little bit instead of going directly at her, but we will work on it. We need to be able to finish over – that's not the first time we are going to see a big player like that. We have A'ja Wilson (of South Carolina) coming in on Thursday, so we will get better at it."
Kasiyahna Kushkituah, who is from Atlanta, had an effective 10 minutes for Tennessee, earning play in both halves and grabbing five boards.
"Kasi got in as a result of having three great – I'm not telling you good – great practices," Warlick said. "I told her, 'You know what, Kasi? If you did this the whole year, you would've gotten more playing time.' I said, 'I'm going to play you.'
"She's a strong young lady. Her tempo has got to get up; she's got to get in a little bit better shape. But I keep telling her, 'Stay the course. You're playing behind an All-American who can teach you, and you can learn.' And I think she's done just that. We're going to need her."
Kushkituah also scored on a power move to the rim in the second quarter to give the Lady Vols a 24-13 lead.
"She's one of the kids that wants to play the five," Warlick said. "This day and time, when you talk to high school players, (they say), 'I'm not a five. I'm not a four,' because they think it's inside. Kasi loves it. You saw how strong she is. She wants to bang, so she's a dying breed, and I'm glad she's here at Tennessee."
Tennessee shot 39.2 percent (20-51) overall, 33.3 percent (4-12) from the arc and 60 percent (18-30) from the line. The Lady Vols had 11 assists, 27 turnovers, 11 steals and one block. Tennessee won the glass battle, 50-30, and held Georgia to just six offensive rebounds.
"I'm excited about our defense, I'm excited about our rebounding, and I'm really excited about our effort," Warlick said. "And those were three things that we really wanted to focus on. Georgia's a tough basketball team, and we had to make sure we zeroed in on those three things for us to really be successful.
"Now, I'm not really excited about our turnovers and free throws. I guess you have to be mad about something if you're a head coach, so we'll go over that. But I'm really proud of our basketball team for getting the win."
Jackson and Rennia Davis notched 11 points each, while Anastasia Hayes added six points. Davis and Nared had three assists each, including when Davis found Nared inside for a 27-13 lead in the second quarter. Davis shouted at midcourt, a rare expression of emotion for the freshman, who is relatively quiet and has one of the smoothest jump shots in the game.
No. 11 @LadyVol_Hoops takes down No. 18 Georgia, 62-46, to move into a tie for second in the @SEC! pic.twitter.com/OE2Jz4Bdzp

— NCAA Women's BKB (@ncaawbb) February 11, 2018
"I just get excited for my teammates to make big plays," Davis said. "People want to make plays themselves, but for me it was exciting to see my teammates finish the pass I gave them."
Georgia shot 29.5 percent (18-61) overall, 8.3 percent (1-12) from the arc and 75 percent (9-12) from the line. The Lady Bulldogs had 20 turnovers, nine assists, 14 steals and four blocks.
Cole and Engram led Georgia with 12 points each, while Caliya Robinson added eight points. Engram completed the double-double with 10 rebounds.
"Tennessee is really good, and they're good defensively," Taylor said. "Their length bothered us a little bit. I think that got us a little frustrated. We started settling for open shots instead of making them guard us in the half court and getting the ball inside and working it inside-out.
"Fortunately, we were able to, for the most part, hold court defensively. I thought we were pretty good defensively, we just weren't making shots today that we normally make."
Tennessee got a needed infusion of confidence as the Lady Vols seek a strong finish in SEC play. Since the loss to LSU, Tennessee has won four consecutive games with two over ranked teams. After hosting Alabama, the Lady Vols are back on the road against Missouri and Florida.
"We've been really good at focusing in on one game at time, and we talked a lot (before the game) about Georgia being ahead of us in the standings," Warlick said. "We had solid practices leading up to this game. We were really in-tune, focused, and we stayed in our game plan, so I thought kids stepped up and did some really good things.
"We've been so up and down, but I thought we were just a really solid team today."
PINK BALL: Before the game tipped, Holly Warlick presented Joshua Baylog with a pink basketball. Baylog, 27, was diagnosed last summer with Stage 3 cancer, graduated from UT in December and started chemotherapy in January. Warlick met Baylog when she visited the chemo unit last week at UT Medical Center.
Last week, Coach Holly Warlick visited Joshua Baylog, 27, in chemo unit @utmedicalcenter. He was diagnosed last summer with Stage 3 cancer, graduated from UT in December, began chemo in January. On Sunday, she presented him with a pink ball to salute his strength and fight. pic.twitter.com/dyJnjuWqs9

— ChampionsForACause (@Champs4ACause) February 12, 2018
A native of Philadelphia, Tennessee, and graduate of McMinn County High School, Baylog earned his Bachelor of Science in agricultural sciences. While fighting cancer, he also spends his time farming, landscaping, harvesting lumber, cheering for the Lady Vols and hiking. Baylog resides in Knoxville with wife Kim and cat Simba.
SIMBA: During a second quarter timeout, Tennessee asked fans to hold up their children like Simba from "The Lion King" movie. The first offering came from UT Athletics Director Phillip Fulmer and his grandchild, much to the crowd's delight.
For you @LouisWBIR ????. pic.twitter.com/HEejRvLbWN

— Maria M. Cornelius (@mmcornelius) February 11, 2018
HIGHLIGHTS
Coach Holly Warlick
Lady Vol players Mercedes Russell, Rennia Davis and Jaime Nared
Georgia Coach Joni Taylor, Mackenzie Engram and Taja Cole