Mercedes Russell scored a career-high 33 points, and the Lady Vols overcame 30 points from the arc by Vanderbilt to stay perfect on the season with the 86-73 win and be one of only two teams left undefeated in SEC play.
Tennessee (15-0, 3-0) put away Vanderbilt (4-13, 0-3) with old-fashioned, Pat Summitt-style defense and board play in the fourth quarter.
Back-to-back steals by Jaime Nared and Anastasia Hayes immediately after the 4:43 media timeout pushed a tenuous 75-68 lead to 79-68 and forced a timeout by Vanderbilt Coach Stephanie White. The timeout was followed by another Hayes steal and a feed to Cheridene Green for an 81-68 lead.
The defense – Hayes had a layup, two steals and two assists in the 39-second sequence – was the tipping point for a game that Vanderbilt led by four in the third quarter.
"It was a major factor," White said. "When teams pressure us, we've got to be able to calm our minds. We've got to be able to execute our press break. We have young perimeter players, young guards. I think finding some calm in the storm, so to speak, is a growth area for us. That kind of pressure with that kind of length and that kind of athleticism that we see in the SEC is hard for us to simulate in practice.
"That 10-0 run they had in the fourth, due to our turnovers, was a problem for us."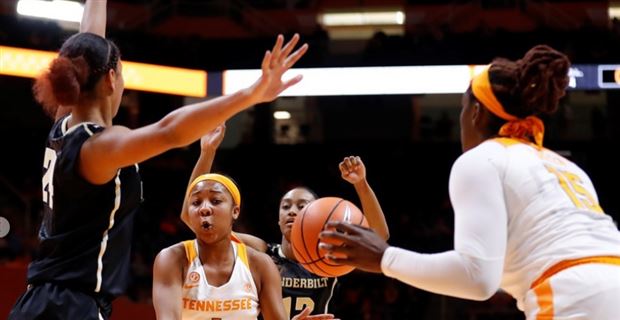 Prior to that, Warlick was searching for five players willing to hunker down – in the words of Summitt – and play some defense. Warlick found the right combination midway through the third quarter when Hayes replaced Evina Westbrook, who picked up her fourth foul at the 5:57 mark, and Cheridene Green entered for Rennia Davis for defensive reasons at the 3:48 mark.
The Commodores had wiped out an eight-point lead by Tennessee and then took their own four-point lead, 62-58, with 60 seconds left in the third quarter to put the Lady Vols behind at home.
But Russell got to the paint and the line, as did Green. A steal by Green – the result of Tennessee's pressure – put Green on the line. She made one to knot the score at 62-62 with 28 seconds left in the third stanza but missed the second. However, Russell beat everyone to the glass to keep the ball on Tennessee's end, and Nared found Meme Jackson for a three-pointer with three seconds left and the 65-62 lead – and the crowd of 10,023 erupted.
That set up the fourth quarter where Coach Holly Warlick left the same five players on the floor for the duration of the game, and the Lady Vols finally separated themselves from the Commodores.
"It wasn't about our offense; it was about our defense," Warlick said. "We couldn't get stops. Cheridene came in, and she's one of our best defenders. Annie (Anastasia Hayes) came in and did a good job. We had some defenders out there that were very good. We wanted to press early. We wanted to press in the first quarter, but our players weren't very interested in that. We waited until the fourth quarter."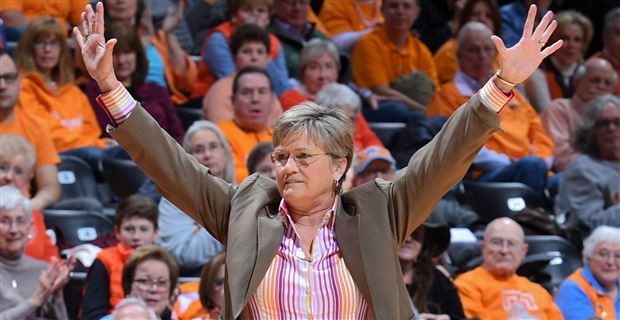 Slippage is to be expected, especially with a young team, but Tennessee has twice summoned the wherewithal to overcome obstacles – against Auburn last week it was 28 turnovers; on Sunday, it was 10 made three-pointers by the Commodores.
"I think we haven't played as tough as we can in the past couple of games," Nared said. "That's just something we need to pick up. Our turnovers in the first half were something that messed with us, and we didn't play aggressive defensively. We let our defense affect our offense in the first half and the third quarter. We picked it up in the fourth quarter, but we can't do that in this league."
Tennessee had nine turnovers in the first half – and just five after the break.
"We were making it difficult when we should have been making easy passes," Warlick said.
Moments from Sunday's win over Vandy ??

Photos » https://t.co/lWdKEoWkeU pic.twitter.com/skEmAQmW6Z

— Lady Vol Basketball (@LadyVol_Hoops) January 7, 2018
Warlick had hoped to rest Nared, who missed Saturday's practice to rest a lower extremity injury sustained against Auburn and also sounded congested at the post-game press conference. But the senior provides so much stability on both ends, and Nared would log 38 minutes after going the distance against Auburn.
"I'm all good," Nared said when asked how she was holding up after Sunday's game. "Unless I can't walk, nothing is going to keep me from playing. I love this game. I'm a tough player, and nothing is going to keep me out."
Saturday's practice wasn't particularly sharp, either.
"The last week and a half, we have probably had good practices, not great," Warlick said. "I think we saw a reflection of us not staying focused."
The relief came from Green and Hayes, who stepped in for Davis and Westbrook. Hayes told Green to get to the paint, and the ball would arrive. The freshman delivered on her promise.
"She is very quick and always aware," Green said. "She may make small mistakes like everyone else, but she's always got her eyes on everybody. She's very vocal with me, which is why I like playing with her."
After a defensive board by Russell, Hayes found Green in transition at the rim – a sequence that took four seconds – to give Tennessee a 71-63 lead with 8:28 left in the game. That was followed by a timeout, and Warlick, a former Lady Vol point guard, greeted Hayes with a hug.
"We are talking point guard to point guard," Warlick said. "She had an unbelievable pass, and it was on the money. It got us fired up. I know we scored, but immediately my mind went, 'That was a great pass!' I wanted to make sure she knew that.
"It was a quarterback throwing to a wide receiver. (Green) caught it and laid it up. Beautiful. It was just a great fast break. I wanted to make sure she understood that."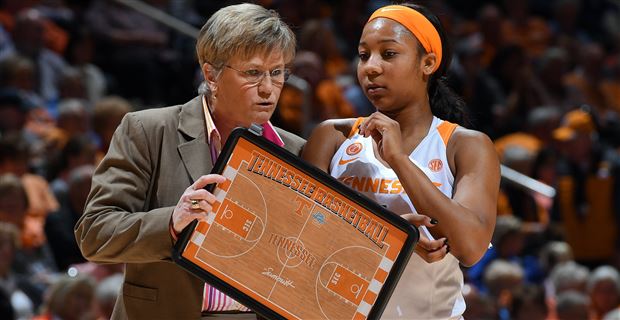 Westbrook struggled against Vanderbilt but in another good sign of chemistry, the freshman celebrated the team's fourth quarter success. Westbrook went 1-10 from the field but did put up a pair of fives in rebounds and assists.
"Evina didn't have a great game," Warlick said. "She is going to have those games. She was positive on the bench."
Tennessee has the luxury of having two point guards who can play at the same time – Westbrook and Hayes have closed games together multiple times this season – or spell each other. Hayes brings a starter-caliber guard off the bench and averages 24.5 minutes per game with Westbrook at 27.9.
"I tell Annie, 'I love you coming off the bench,' I absolutely love her coming off the bench because she has energy. She's quick. She is a dart," Warlick said. "Now, you have to guard somebody different, who is quick, fast, and attacks the basket."
Tennessee opened the game with a 10-2 lead, but the Commodores started draining three-pointers and the score was tied at 16-16 after the first 10 minutes. The Lady Vols managed a 37-32 lead at halftime, but Vanderbilt opened the third quarter with a three by Cierra Walker.
Walker went 6-8 from the arc and finished with 20 points.
"This is our rival team, and we wanted to come out and be competitive, to play hard," Walker said. "We knew that we needed to come out and prove ourselves, show that we belong to be here. Just overall, our team wanted to come out and compete against our rival."
Such is the nature of this rivalry – and the SEC overall. Tennessee and Mississippi State are the only two teams still undefeated in SEC play after just three games. South Carolina fell to Missouri, while LSU lost to Mississippi State.
"Every team we play in the conference is capable of beating one another," Nared said. "That's what is so great about the SEC and why we love playing in it. Every team is so competitive. We weren't shocked with Vandy hitting shots. We knew that's what they were doing from our scouting report.
"Our coaches did a great job of telling us what they can do, and we just didn't execute that at all or play well defensively. We knew who Vandy had that could shoot, and we didn't get on them. They beat us a lot from the outside and toward the second half they drove more. We just had to clean some things up."
A year ago that was a script for a loss for Tennessee. Instead the Lady Vols are 15-0 for just the fourth time in program history.
Russell's 33 points, eight rebounds, two blocks, a steal and no turnovers in 38 minutes led the Lady Vols. The 6-6 Russell also is ratcheting up her draft stock – especially playing 38 effective minutes at the post position.
When asked about her career-high, Russell talked about the team's effort.
"The past few days in practice we really emphasized that we need to get a lot of paint points and post touches," Russell said. "Our guards did a really good job of getting in the paint and hitting jump shots and attacking the basket."
Tennessee outscored Vanderbilt in the paint, 56-26. That overcame the Commodores 30-9 advantage from the arc.
While the Lady Vol freshmen get a lot of attention – and rightly so – it is Russell who presents a mismatch for opponents.
"She's a nightmare, yes," said White, the former head coach of the WNBA's Indiana Fever who also handled broadcast work during the college season before being hired by Vanderbilt. "She's really hard to match up with, not just because of her size, but her poise, her strength. I was able to cover Russell when we were doing TV, when she was a freshman and when she was a sophomore. (That was) when she didn't want that contact, when she was a little bit passive wanting the ball.
"Her development, particularly over the last two years, has been phenomenal. She's a pro. There's no doubt about it. She's hungry for the ball. She puts this team on her shoulders in a way that you don't see a lot of bigs do. She's so poised and mobile. I'm not sure there is anybody in the country that can match up with her. She's really a rock and a glue for them."
Russell, a fifth-year senior, could have departed for the WNBA after last season, but she wanted another season to leave her mark on Tennessee. The Lady Vols would not be undefeated without her.
"I think Mercedes is demanding the ball more," Warlick said. "I think we have players that understand that we need to get her the ball. I talk a lot about playing inside-out. Mercedes has to get touches.
"Mercedes is stronger. I think it gets really physical on her, and she's strong and big and takes a lot of the hits. I was really proud of her for hanging tough."
Green also is built for SEC play. Nared reiterated in the post-game press conference that Green's strength is something to be reckoned with for opponents. Nared also encouraged Westbrook by noting that it took her three years to learn not to foul.
"Evina is a great passer, she sees the floor," Warlick said. "We haven't had a guard like Evina Westbrook that sees it all. She had a couple of turnovers, and we've just got to get her settled down. I was more concerned with her getting in foul trouble. I didn't think she was as committed on defense. She is a better defender than she played today.
"I got on her a bit about that. Run your team. It's your team. Run your basketball team. Annie stepped up and did that today. You've got to step up and run your basketball team whether you are having a great game or not. (Westbrook) was on the bench and cheering for her teammates, and you want to see that."
Tennessee will need plenty of poise over the next three games – all on the road – when the Lady Vols play at Texas A&M, South Carolina and Notre Dame. That will be followed by a home game against Mississippi State for a stretch of four matchups with ranked teams.
"The past couple games came down to the stretch, and we really relied on our defense to separate us," Russell said. "Our defense has got to be huge in the next couple of games coming up, but we are just going to take it one game at a time."
Tennessee shot 48.6 percent (34-70) overall, 18.8 percent (3-16) from the arc and 75 percent (15-20) from the line. The Lady Vols had 24 assists, 14 turnovers, 14 steals and three blocks. Tennessee won the board battle, 42-28, and scored 23 second-chance points to six for Vanderbilt.
Nared tallied 15 points to join Russell (33) and Green (17) in double figures, while Hayes notched seven assists to just two turnovers in 29 minutes of play. Jackson added nine points, eight rebounds and five assists, while Davis had a pair of sevens in points and rebounds.
Vanderbilt shot 49.1 percent (27-55) overall, 50 percent (10-20) from the arc and 56.3 percent (9-16) from the line. The Commodores had 16 assists, 21 turnovers, eight steals and a block.
"I'm really proud of our team for battling," White said. "We came into a tough environment with a lot of adversity and played a national championship-competitive team. We had some breakdowns, there's no doubt about it. We can't afford 21 turnovers. We can't afford to give up 17 (offensive) boards. For the most part, we were coming in and just looking for our team to fight and compete and execute the game plan. For the most part, we did that."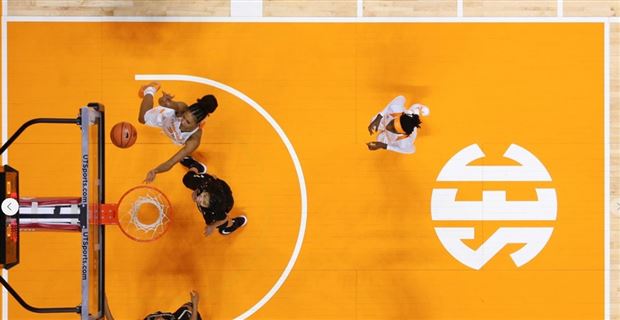 Christa Reed tallied 16 points, while Chelsie Hall added 15. Erin Whalen chipped in with 10 points. Combined with Walker's 20 points, four Commodores reached double digits.
Hall, a 5-7 freshman from Seffner, Florida, led Vanderbilt with eight points and was fearless in the paint. Hall went 9-14 from the line.
"We were coming off the pick-and-roll, so I knew that once I saw Russell come out, that I had the open lane," Hall said. "Then, if they crashed, I kicked it out to my teammates."
Tennessee will take the win and get ready for the road. The Lady Vols will need this version of Green going forward – and Warlick wants her juco post to stop fretting about mistakes.
"Cheridene could play a minute and have five rebounds," Warlick said. "When we came off at halftime I was like, 'Great job.' She goes, 'I had those turnovers.' I said to forget the negative. You are doing a heck of a job. I want her to focus on the positive. She is gradually just building her way back in and getting in shape. We need her."
Green, who is from London, England, was 7-8 from the field and added five rebounds – with four on offense because she doesn't give up on the ball – two assists and two steals. Green missed last season to recover from ACL surgery – Tennessee knew she had the knee injury and still wanted the juco post because of her motor, attitude and effort – and is making the adjustment to a higher level of the game.
"Basketball is really exciting for me," said Green, who is from London, England and the Lady Vols' first international player. "Sometimes I get a little too excited. I love watching the game and being involved.
"I'm always ready, no matter how many minutes I get. I'm always going to be ready to go in even if it's just grabbing rebounds or talking or playing defense. I'm always ready and excited to play."
HIGHLIGHTS
The #LadyVols improve to 15-0 for the fourth time in school history. Relive Sunday's win ??

Recap » https://t.co/25tFm0jEtn
Stats » https://t.co/Nu9iuXlfvr
Highlights » https://t.co/qAP39c8Pzy pic.twitter.com/FaeDFOEnRc

— Lady Vol Basketball (@LadyVol_Hoops) January 7, 2018
HIGHLIGHTS WITH SEC NETWORK COMMENTARY
Coach Holly Warlick
Lady Vols Mercedes Russell, Cheridene Green and Jaime Nared
Vanderbilt Coach Stephanie White, Cierra Walker and Chelsie Hall