Vols' Pruitt describes 36-hour whirlwind
The past 36 hours in Jeremy Pruitt's life have been a whirlwind, but Tennessee's new head football coach admitted things couldn't have worked out any better.
GET VIP ACCESS TO GOVOLS247 WITH A FREE 7-DAY TRIAL
The past 36 hours in Jeremy Pruitt's life have been a whirlwind, but Tennessee's new head football coach admitted things couldn't have worked out any better.
Pruitt finished his tenure as Alabama's defensive coordinator the right way, helping the Crimson Tide win another national championship, and he was wheels-up to Knoxville a few hours later to put 100 percent of his attention on rebuilding one of the nation's winningest programs — and a program whose rivalry with Alabama is one of the nation's most well-known border battles.
And one of Pruitt's fellow passengers on his flight on Knoxville was Kevin Sherrer — who will be Pruitt's defensive coordinator at Tennessee but, like his new boss, finished his term as a defensive assistant at Georgia before joining the Vols full-time. Pruitt's Tide had just topped Sherrer's Bulldogs in overtime for the national title.
It's been an eventful couple of days for Pruitt, but he had a big smile on his face Wednesday afternoon.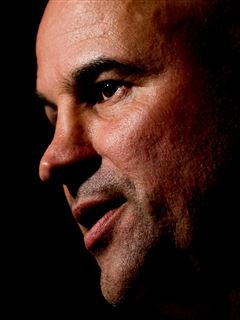 "Most of the time after the games, you're kind of, you know, your adrenaline is going, so sometimes it's hard to go to sleep, at least for me," Pruitt said. "That was a late game as it was, and knowing the next day where I'm going, I'd kind of been waiting on this moment, to get it going, and it's almost kind of chomping at the bit. I was excited. I didn't get a whole lot of sleep. A lot of phone calls.
"Coach Sherrer, the good thing was he was kind of going through the same deal, so me and him stayed up at night, and we talked late nights all week heading up to game week, obviously just trying to plan the rest of our week and what we were gonna do when we got here. Then you get here, you kind of get started back — where are we at in recruiting, where are we at with our players, what do we got to do, what do we got to move with our staff moving forward.
"It's been exciting."
(Want the latest scoop on Tennessee football and basketball? Make sure you're in the loop — take five seconds to sign up for our FREE Vols newsletter now!)
Pruitt didn't hesitate when asked when it dawned on him that he could now put 100 percent of his effort and focus on the Vols.
"I would think probably right after the game — you know, when the game's over with, and we got back to the hotel," he said. "You go in there and you kind of see everybody for the last time. I went to school at Alabama, I've coached there for eight years and I have a lot of friends there. Everybody knows the rivalry and all that, but to kind of see everybody off and all that deal, that was good for me. I enjoyed it. But I was ready to be here. I had to tell my wife, 'Let's go, let's get to the room, because we've got to get packed up and get ready to go in the morning.' I've been ready to get here.
"I've talked about it before, that the whole reason I stayed there and coached in that game was 'cause I felt like I needed to do it for those kids, to help them get what they wanted. But most of the time, my mind was thinking about Knoxville. I can tell you that."
Tennessee's new coach smiled when asked if it was bizarre to be coaching a new team so quickly after helping one of that team's biggest rivals win another national championship, saying he didn't have time to think about that. National Signing Day is exactly four weeks from today.
"I can tell you this: If you ain't recruiting 365 days a year, somebody else is. If we want to get what we want, we better get started. That's what we've been trying to do, and that's what we're gonna do. If there's one thing about it, everybody's got the same thing. There's 24 hours in a day, and there's seven days in a week, and it's what you're gonna with 'em [that matters]. And we're gonna try to do the best that we can, and really try to grind it out and outwork people."
———————————————
Contact Wes Rucker by email at wes.rucker@cbsinteractive.com or ON TWITTER, or FOLLOW GOVOLS247 ON FACEBOOK.