The Tennessee football team hopes to return to prominence sooner rather than later under new head coach Jeremy Pruitt and his staff.
As important as coaching staffs are to a football program, though, players ultimately have to make plays on the field — or get exposed in the process.
It's often said that a player's biggest improvement comes between his first and second year on campus. One full year's worth of experience on campus, whether a player redshirts or contributes, tends to make most players much more comfortable with their surroundings and much more ready to help their team.
With those previous few paragraphs in mind, GoVols247's eighth annual Second-Year Surge series will examine Tennessee's group of second-year scholarship players, dissecting reasons for optimism and hesitation about each player's immediate and long-term future in the Pruitt era.
The Vols need significant improvement from players in their 2017 signing class if they hope to start climbing back toward their traditional place near the top of the Southeastern Conference.
Will that happen, though?
Let's start that conversation now.
Second-Year Surge continues with a look at sophomore cornerback Shawn Shamburger.?
Position: Cornerback
Size: 6-foot, 191 pounds
Hometown/Previous school: Moultrie, Ga./Colquitt County High School
Recruiting ranking: No. 1,007 overall prospect in the nation according to the industry-generated 247Sports Composite, No. 889 overall prospect in the nation according to 247Sports. No. 111 cornerback prospect in the nation according to the 247Sports Composite, No. 94 cornerback prospect in the nation according to 247Sports. No. 101 overall prospect in Georgia according to the 247Sports Composite, No. 90 overall prospect in Georgia according to 247Sports.
2017 stats: 11 games, 1 start; 19 tackles (14 solos, 5 assists), 1 tackle for loss, 1 sack.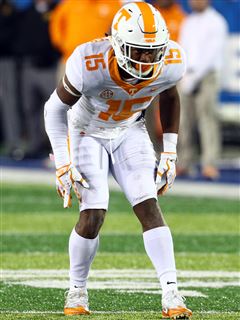 STRENGTHS SHOWN: Tennessee wasn't necessarily sure if Shawn Shamburger could swim when it was forced to toss the then-freshman into the deepest of deep ends last season. Shamburger had played a bit but not a ton heading into last season's game at eventual national champion Alabama, but the Vols tossed him into the starting lineup and a matchup with eventual first-round NFL Draft pick wide receiver Calvin Ridley. In perhaps the least surprising moment of the season, Alabama quickly tried to exploit that matchup. In one of the biggest surprising moments of the season, though, Shamburger seemed to give as good as he got. No Tennessee player could suggest he covered himself in glory during a 45-7 loss to the Crimson Tide, but Ridley was held to 82 yards on eight receptions, and he almost certainly would have had a lot more yards and a few more catches if not for Shamburger's solid performance. He led the team that day with 12 tackles, and while you never want a cornerback to lead you in tackles, Shamburger's performance was good after considering all the factors. Shamburger wasn't considered an elite prospect, but he has great size and length for the corner position in this era, and he's a good athlete with enough toughness to step up and help in run support while providing the occasional blitz from the corner spot — something we know his aggressive new head coach will surely appreciate.
STEP-UP NEEDED: To be candid, we didn't hear Shamburger's name nearly as much as we expected during spring camp, and when we did, it wasn't exactly the most ringing endorsement, so it's safe to suggest his spring left a little to be desired. That might not mean much at the end of the day, but it wasn't what we expected to hear. It's worth noting that Pruitt is a defensive backs coach by trade, a former college defensive back himself and has spent much of his career working for a man (Nick Saban) widely considered one of the game's best defensive back coaches, so he has incredibly high expectations for that group. And it wouldn't be tough to blame Pruitt for needing some time to adjust to his new surroundings — surroundings that didn't feature five-star and high-four-star prospects stacked at every position group. But considering the way Shamburger played at Alabama last season and the potential he showed for his future, it's no stretch to suggest the spring was at least a mild disappointment on that front. Tennessee's defense has gaping holes at the cornerback position, and that's one of the areas a defense can least afford to struggle. The Vols need Shamburger — and, to be fair, every other cornerback on the roster — to take things up a notch in preseason camp. Tennessee tried to add graduate-transfer help at that position but came up short, but versatile January enrollee Alontae Taylor was moved to that spot midway through spring camp and more help has arrived in the summer, so there will at least be more options and more competition moving forward. That's usually a good thing.
SYNOPSIS (TL;DR): Shamburger should be one of Tennessee's starting cornerbacks this season, though that's less certain than it was heading into spring camp. Still, though, he has the size and athleticism to be at least a solid player at a crucial position, and the Vols need him to fulfill that potential. Shamburger's floor is high, but the height of his ceiling remains to be seen.