The Tennessee football team hopes to return to prominence sooner rather than later under new head coach Jeremy Pruitt and his staff.
As important as coaching staffs are to a football program, though, players ultimately have to make plays on the field — or get exposed in the process.
It's often said that a player's biggest improvement comes between his first and second year on campus. One full year's worth of experience on campus, whether a player redshirts or contributes, tends to make most players much more comfortable with their surroundings and much more ready to help their team.
With those previous few paragraphs in mind, GoVols247's eighth annual Second-Year Surge series will examine Tennessee's group of second-year scholarship players, dissecting reasons for optimism and hesitation about each player's immediate and long-term future in the Pruitt era.
The Vols need significant improvement from players in their 2017 signing class if they hope to start climbing back toward their traditional place near the top of the Southeastern Conference.
Will that happen, though?
Let's start that conversation now.
Second-Year Surge continues with a look at redshirt freshman linebacker Solon Page III.
Position: Linebacker
Size: 6-foot-2, 210 pounds
Hometown/Previous school: Marietta, Ga./Kell High School
Recruiting ranking: No. 592 overall prospect in the nation according to the industry-generated 247Sports Composite, No. 354 overall prospect in the nation according to 247Sports. No. 39 outside linebacker prospect in the nation according to the 247Sports Composite, No. 20 outside linebacker prospect in the nation according to 247Sports. No. 59 overall prospect in Georgia according to the 247Sports Composite, No. 33 overall prospect in Georgia according to 247Sports.
2017 stats: 0 games; Page redshirted but seemed to remain healthy during the season and get plenty of practice reps while working with the linebackers.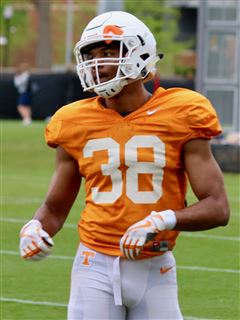 STRENGTHS SHOWN: We'll have plenty of time to dissect the way Page fits into Tennessee's defense, but let's get this out of the way first: Page is a good football player. You don't perform the way Page performed at a place like Kell at the AAAAA level in Georgia unless you're a good football player. Page had a career's worth of impressive numbers in his senior season alone by collecting 178 tackles (123 solo), 23 tackles for loss, two sacks, one interception, four forced fumbles and two quarterback hurries. Page also showed during the recruiting process how much he genuinely loves Tennessee, because he was one of the Vols' first commits in that cycle and never strayed despite interest from other good programs. Page might not ever be the biggest linebacker, but he's got room to grow into his frame and already put on some decent weight, and he's a good athlete who has good instincts on the field. He picked up a tackle for loss in the annual Orange & White Game at Neyland Stadium in the spring.
STEP-UP NEEDED: Page was one of the few Tennessee freshmen to be afforded a redshirt opportunity last season, and he seemed to take decent advantage of that extra time in the weight room. He was just a shade over 200 pounds when he enrolled, and he's put on at least 10 pounds (and probably a bit more) since then. The Vols took official heights and weights off the roster not long after Pruitt took control of the program, and Page hasn't been made available for interviews to this point, but he certainly looks bigger than 210 pounds. The fact is, though, that Page still physically resembles a square peg in a round hole for Tennessee's defense. Pruitt and his defensive staff want to be bigger across the board on that side of the ball, and linebacker is no exception. Page definitely doesn't look big enough to be an outside, pass-rushing linebacker, and he'd probably be pushing it at the Mike (middle) spot, too, so the Will (weakside) spot looks like his best chance to find a role at this point. But he's far from the only smallish linebacker inherited by this staff who needs to find room at Will, and one of those linebackers is junior Quart'e Sapp, who was one of the team's best players this spring. Page seemed to end spring camp in the third-team Will spot, behind Sapp and redshirt freshman Shanon Reid, and that's also a position that players like Darrin Kirkland Jr., Daniel Bituli, Dillon Bates and perhaps JJ Peterson can play. The bottom line is that Page will need to continue improving if he wants to earn a spot in the gameday rotation, and he might need some guys to go down with injuries if he wants a rotation spot this season. Fortunately for him and everyone else, though, Pruitt is beholden to none of these players and will have no qualms putting the best players on the field. And there's always the possibility of being a sub-package linebacker, too. So opportunity is now here, rather than nowhere.
SYNOPSIS (TL;DR): Page's biggest role for Tennessee this season might come on special teams, but he's a solid player who has a chance to do more than that if he continues to grow and develop and perhaps get a break. But he does need to continue growing.