The Tennessee football team hopes to return to prominence sooner rather than later under new head coach Jeremy Pruitt and his staff.
As important as coaching staffs are to a football program, though, players ultimately have to make plays on the field — or get exposed in the process.
It's often said that a player's biggest improvement comes between his first and second year on campus. One full year's worth of experience on campus, whether a player redshirts or contributes, tends to make most players much more comfortable with their surroundings and much more ready to help their team.
With those previous few paragraphs in mind, GoVols247's eighth annual Second-Year Surge series will examine Tennessee's group of second-year scholarship players, dissecting reasons for optimism and hesitation about each player's immediate and long-term future in the Pruitt era.
The Vols need significant improvement from players in their 2017 signing class if they hope to start climbing back toward their traditional place near the top of the Southeastern Conference.
Will that happen, though?
Let's start that conversation now.
Second-Year Surge continues with a look at sophomore offensive lineman Trey Smith.?
Position: Offensive line
Size: 6-foot-6, 320 pounds
Hometown/Previous school: Jackson, Tenn./University School of Jackson
Recruiting ranking: No. 14 overall prospect in the nation according to the industry-generated 247Sports Composite, No. 5 overall prospect in the nation according to 247Sports. No. 4 offensive tackle prospect in the nation according to the 247Sports Composite, No. 5 offensive tackle prospect in the nation according to 247Sports. No. 1 overall prospect in Tennessee according to the 247Sports Composite, No. 1 overall prospect in Tennessee according to 247Sports.
2017 stats: 12 games, 12 starts.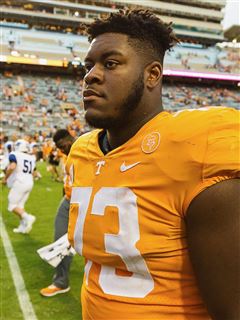 STRENGTHS SHOWN: Smith enrolled at Tennessee with all the hype you'd expect from a five-star, in-state prospect, and he somehow lived up that hype despite playing for an offense that wasn't very good on a team that wasn't very good. That's how good Smith was last season. He was the only Tennessee offensive lineman to start every game last season, and he comfortably graded out better than any other Tennessee offensive lineman, according to the stat gurus at 247Sports partner Pro Football Focus. Smith enrolled at Tennessee in January 2017, and competing in spring practice allowed him to take even more advantage of his rare combination of size, athleticism and maturity. If ever there were any doubts that Smith would step right in and start from Day One at Tennessee, those doubts were silenced practically from the first day he stepped onto the practice field. He didn't look like a freshman. He didn't play like a freshman. He didn't act like a freshman. And while no one would have faulted him for being overly confident or even arrogant, he was humble about everything. Freshmen like Smith don't come around every season, especially on the offensive line. When his pads were low and his technique was solid, he annihilated several defensive linemen at the point of attack.
STEP-UP NEEDED: On the field, there wasn't much to complain about with Smith, but there were some technical issues to clean up, and at times he could have been a bit better in pass protection. There's no reason to assume he couldn't correct those minor details and make himself an even better player going forward. The biggest question mark — by far — is the mysterious health issue that kept Smith off the field this spring and remains a concern going forward. Details regarding Smith's issue have understandably been kept in-house, but it's obvious that it's not a traditional sports injury. Tennessee has been cautious throughout the situation, and every time Pruitt or anyone else in the department starts to hint that Smith is "back," there are many others who quickly set the record straight and say he isn't 100 percent "back" and cleared for contact. Obviously this will be — and should be — one of the first questions Pruitt is asked to address at next week's SEC Media Days in Atlanta, and this will be one of the biggest questions about the Tennessee football team until it's answered with finality. At this point, a little bit of cautious optimism is probably OK, but let's not get too carried away.
SYNOPSIS (TL;DR): There are no concerns with Smith on the field, where he's already a really good offensive lineman and well on his way toward becoming a great offensive lineman. The question and concern with Smith is his health situation, and that looks to be the only thing that could prevent him from becoming a star and then a pro.