The Tennessee football team hopes to return to prominence sooner rather than later under new head coach Jeremy Pruitt and his staff.
As important as coaching staffs are to a football program, though, players ultimately have to make plays on the field — or get exposed in the process.
It's often said that a player's biggest improvement comes between his first and second year on campus. One full year's worth of experience on campus, whether a player redshirts or contributes, tends to make most players much more comfortable with their surroundings and much more ready to help their team.
With those previous few paragraphs in mind, GoVols247's eighth annual Second-Year Surge series will examine Tennessee's group of second-year scholarship players, dissecting reasons for optimism and hesitation about each player's immediate and long-term future in the Pruitt era.
The Vols need significant improvement from players in their 2017 signing class if they hope to start climbing back toward their traditional place near the top of the Southeastern Conference.
Will that happen, though?
Let's start that conversation now.
Second-Year Surge continues with a look at sophomore wide receiver Jordan Murphy.
Position: Wide receiver
Size: 5-foot-11, 170 pounds
Hometown/Previous school: Hattiesburg, Miss./Hattiesburg High School
Recruiting ranking: No. 349 overall prospect in the nation according to the industry-generated 247Sports Composite, No. 232 overall prospect in the nation according to 247Sports. No. 51 wide receiver prospect in the nation according to the 247Sports Composite, No. 30 wide receiver prospect in the nation according to 247Sports. No. 8 overall prospect in Mississippi according to the 247Sports Composite, No. 6 overall prospect in Mississippi according to 247Sports.
2017 stats: 7 games, 0 starts; 1 catch, 12 receiving yards.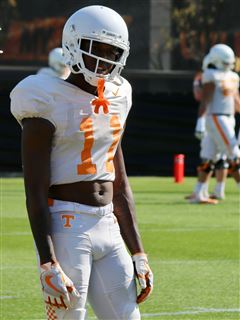 STRENGTHS SHOWN: One of the most common misconceptions in sports is that any receiver taller than 6-foot needs to be outside and that any receiver shorter than 6-foot needs to be in the slot. Steve Smith was a 5-foot-9 perimeter receiver and Randy Moss was at times a 6-foot-4 slot receiver, and those Hall of Fame players are just two examples. In other words, don't pigeonhole players. Murphy isn't a tall wideout at 5-foot-11, and he's definitely not a big wideout at 170 pounds, but he seemed to spend most of spring camp out wide, and he showed he could make some plays in that spot. He's quick but also has good top-end speed and ball skills, and he can be a deep threat. Tennessee has at least a few wideouts who seem to be primarily or exclusively slot guys, but Murphy has some versatility, so he has the potential to be a plug-and-play guy in multiple spots. He didn't get a ton of experience last season, but he got to play a little, and that probably made him a better and more comfortable player this spring. If he improves as much between spring camp and preseason camp as he did between the end of last season and the spring, he could give the Vols another nice option in the passing game.
STEP-UP NEEDED: You can't expect someone with a thin frame to suddenly swell up like a water balloon, and Murphy is definitely a player with a thin frame — so thin, in fact, that sometimes it seemed like 170 pounds was at least a tiny bit generous. He's probably never going to be a 200-pound guy. But he probably does need to get a little bigger if he wants to bang with an average SEC defensive back. Just the thought of someone like him running full speed into someone like Nigel Warrior is painful. Murphy also needs to work on his consistency. You can say that about most players, especially young players, and Murphy is one of those players. When coaches have options — and Tennessee has plenty of good options at receiver — they tend to roll with the players they trust. Murphy, for instance, spent most of the spring backing up Marquez Callaway. If you want to eat into Callaway's reps, you're going to have to earn the trust of your coaches and teammates. If you want to eat into the reps of guys like Jauan Jennings and Brandon Johnson, you're going to have to earn the trust of your coaches and teammates. Murphy, like most young players, has some work to do in that area. But when he's good, he's pretty good.
SYNOPSIS (TL;DR): The hunch on this end is that Murphy will get away from defenders and make some big plays for Tennessee this season, but how much he plays and how much he produces on a consistent basis this season is a much bigger question mark. He's talented but needs some polish and some more time in the weight room.