The Tennessee football team hopes to return to prominence sooner rather than later under new head coach Jeremy Pruitt and his staff.
As important as coaching staffs are to a football program, though, players ultimately have to make plays on the field — or get exposed in the process.
It's often said that a player's biggest improvement comes between his first and second year on campus. One full year's worth of experience on campus, whether a player redshirts or contributes, tends to make most players much more comfortable with their surroundings and much more ready to help their team.
With those previous few paragraphs in mind, GoVols247's eighth annual Second-Year Surge series will examine Tennessee's group of second-year scholarship players, dissecting reasons for optimism and hesitation about each player's immediate and long-term future in the Pruitt era.
The Vols need significant improvement from players in their 2017 signing class if they hope to start climbing back toward their traditional place near the top of the Southeastern Conference.
Will that happen, though?
Let's start that conversation now.
Second-Year Surge continues with a look at sophomore wide receiver Josh Palmer.
Position: Wide receiver
Size: 6-foot-2, 200 pounds
Hometown/Previous school: Brampton, Ont., Canada/St. Thomas Aquinas High School (Fla.)
Recruiting ranking: No. 836 overall prospect in the nation according to the industry-generated 247Sports Composite, No. 1,200 overall prospect in the nation according to 247Sports. No. 121 wide receiver prospect in the nation according to the 247Sports Composite, No. 164 wide receiver prospect in the nation according to 247Sports.
2017 stats: 12 games, 0 starts; 6 catches, 98 receiving yards, 0 receiving touchdowns; 1 carry, 6 rushing yards, 0 rushing touchdowns.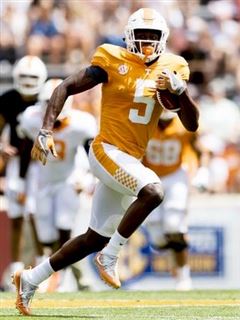 STRENGTHS SHOWN: Palmer had some issues — and some of them understandable issues — during his first season at the college level, but let's not forget the many good things he showed, too. For starters, Palmer is a big, strong wide receiver who also can run, and he got open plenty of times as a freshman at the SEC level. He looks a bit bigger than the 198 pounds he was listed at during his freshman season, but he still runs well and can create separation on intermediate and deep routes. He's also an excellent leaper, so he has every physical tool required to high point and catch the ball in tight windows. He's also a humble, hard worker who knows where he needs to improve and diligently works on those issues. He knows he got a late start to high-level football after spending most of his life in Canada, but when you consider all the factors, it's still tough to not be excited about the future this player could have at Tennessee and beyond. Getting a full spring's worth of first-team reps with Jauan Jennings on the sideline was a big plus for Palmer, and at times he seemed to take advantage of that opportunity.
STEP-UP NEEDED: For all the things Palmer did well last season, he often struggled to do the most important thing: catch the football. All the work getting open means nothing without an end product, and as a wide receiver, the end product results in you catching the football or at least making sure the opponent doesn't catch the football. Palmer had some painful drops last season, and more than one of them led directly to a turnover. That can't happen. Keeping your quarterback clean at this level is difficult, and any time your quarterback is protected and throws you a catchable pass, you have to catch it. That's your job. It's not Palmer's fault that he got a late start to the game in America, and it's not Palmer's fault that Jennings got hurt and forced him into a much bigger role than anticipated. In a perfect world, Palmer would have been able to redshirt or at least play a much smaller role, but things have rarely gone perfect for Tennessee in the past decade. Palmer seemed to bounce back and do some good things this spring, though, so nothing from last season seems to have done too much damage to his confidence. And that's a good thing, because while this team won't necessarily need him this season, didn't we say the same thing last season?
SYNOPSIS (TL;DR): Palmer is talented enough to help Tennessee make plays and win games this season, regardless of Jennings' situation, but he has to turn all that potential into production. The Vols have several options at wide receiver, but Palmer playing up to his potential would be a big boost for a team that needs its high-upside guys to produce. Tennessee's previous staff thought signing Palmer was a coup, and he has the talent to prove them right, but he hasn't done it yet.