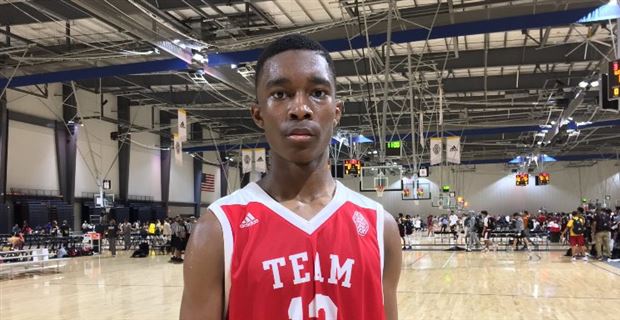 Tennessee basketball's focus on small forwards this week continued Friday with an offer to another four-star and Top-100 prospect at the position.
The Vols offered a scholarship to Jaelyn Withers, the No. 61 overall players in the 2019 class according to the 247Sports Composite rankings. The 6-foot-8, 212-pound Withers, out of North Mecklenburg High School in Huntersville, N.C., is ranked No. 16 among small forwards and is the No. 4 overall player in North Carolina in his class.

Tennessee earlier in the week offered Patrick Williams, Greg Gantt and CJ Walker, three more four-star small forwards in the 2019 class. The Vols now have seven offers out to small forwards that are ranked inside the Top100 of the 247Sports Composite.

Five-star prospects Trendon Watford, Christian Brown and Wendell Moore are ranked at No. 3, No. 4 and No. 5 among small forwards, respectively, and No. 11, No. 22 and No. 24 overall in the class.

Williams (No. 68 overall), Gantt (No. 78), Kobe Brown (No. 83) and Walker (No. 85) are ranked No. 20, No. 23, No. 24 and No. 25 among small forwards, respectively.

Tennessee's lone commitment in the 2019 class is three-star small forward Davonte Gaines, who committed to the Vols last summer. The 6-foot-6, 175-pound Gaines, from Buffalo, N.Y., is ranked No. 197 overall, No. 53 among small forwards and No. 6 overall in New York.
(Want the latest scoop on Tennessee football and basketball? Make sure you're in the loop — take five seconds to sign up for our FREE Vols newsletter now!)
Tennessee will likely have wing Admiral Schofield entering his senior year next season, while small forward Yves Pons will be a sophomore and small forward Jalen Johnson enters his redshirt sophomore season.
The Vols in the 2019 class, before the recent run on offers to small forwards, have prioritized four-star center D.J. Burns, from Rock Hill, S.C., and a few highly touted guards.

Tennessee coaches have used multiple visits on Kira Lewis, a four-star point guard, and the Vols hosted Tre Mann, another four-star point guard, on an official visit last month.

Coaches also visited five-star combo guard Jalen Lecque and spent time watching five-star point guard Josiah James, another guard the Vols visited, during live evaluation periods last month.

Marcus Watson and Dekeyvan Tandy, a pair of four-star prospects per the Composite, have been in focus among shooting guards on Tennessee's 2019 recruiting board.