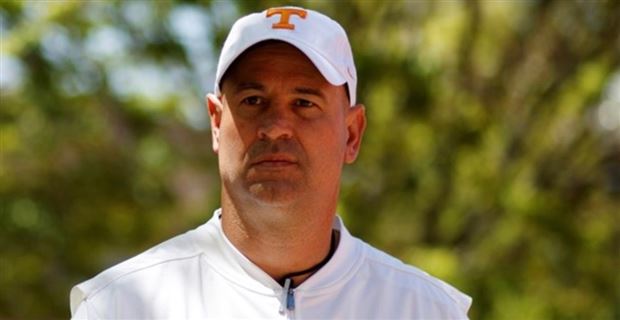 Jeremy Pruitt had run through a few topics already during his turn on stage at the Big Orange Caravan stop Thursday in Chattanooga.
He talked about the difference in recruiting as a head coach versus recruiting as an assistant coach. He talked about what he looks for in a prospect and even his dad coming out to watch practice.

He talked about the quarterback competition, what he likes about his team after the spring and the new level of competition awaiting this fall, when the roster is filled.

But when a microphone started getting passed around the crowd for a question-and-answer session, the second Tennessee fan in line got straight to the point.

"What will it take to beat Alabama?" the fan asked, drawing a laugh from the crowd. "And can we go undefeated and win a national championship?"

Pruitt couldn't help but smile. He appreciated such an ambitious question right out of the gate.

"I like that you're getting straight to the point," Pruitt said.

It's been 11 years since Tennessee had what it took to beat Alabama. Pruitt, hired in December to replace the fired Butch Jones, is the fourth different Tennessee coach that will try to get the better of the Crimson Tide and snap the streak.

The Vols last won in the series on Oct. 21, 2006, when No. 7 Tennessee took down Alabama 16-13 at Neyland Stadium under then-head coach Phillip Fulmer, who would be out following the 2008 season.

"The first thing is, to me, I hope we have bigger goals than just beating one team," Pruitt said. "That's the first thing."

Fulmer had been on the job as athletic director at Tennessee, taking over for the fired John Currie, only six days when he hired Pruitt away from Alabama, where he helped the Crimson Tide win another national championship as defensive coordinator.

(Want the latest scoop on Tennessee football and basketball? Make sure you're in the loop — take five seconds to sign up for our FREE Vols newsletter now!)
Pruitt broke into college football coaching at Alabama in 2007, making the jump from the prep level at Hoover (Ala.) High School. He coached defensive backs under Nick Saban from 2010-12 and was defensive coordinator 2016-17, after stops at Florida State (2013) and Georgia (2014-15).

But while he's trying to turn Tennessee around, he's not thinking about what it will take to beat Alabama. He has other stuff on his plate right now. First things first.

"Our goal is we want to fix what we can fix, which is us," Pruitt said. "We want to get to the point where everybody else is worried about beating Tennessee. That's our goal. That's the way it should be."