Tennessee entered preseason camp with a plan of how to manage wide receiver Jauan Jennings and offensive tackle Chance Hall through their recoveries from injuries.
One week into practices, the Vols don't see any reason to change their approach.
First-year Tennessee coach Jeremy Pruitt on Thursday said the Vols are "going to stick to the plan" with Jennings and Hall, who aren't yet 100 percent healthy following their offseason knee surgeries, as they try to get both players back to full speed as quickly as necessary.
Both Jennings and Hall have gone through drills at various points through the first five practices, but they also are having their workloads monitored, meaning Jennings hasn't been a full participant in some drills and Hall has had maintenance days.
"I think we're just going to stick to the plan," Pruitt said. "We know what the plan that we want (is). Obviously they're taking a few more reps every day, and both guys are doing really good. They're smart guys. They can learn in the meeting room. They can learn from somebody else's mistakes.
"But both guys have not played football in a long time. So whether it's running routes, catching the ball, ball security, pass-setting in the offensive line and just the daily grind — they've got to get back used to doing it, and that's why we're bringing them along slowly."
The 6-foot-3, 221-pound Jennings, who missed all but two quarters of the 2017 season after suffering a wrist injury in the season opener against Georgia Tech, had his knee scoped in the winter and sat out spring practice.
During Tennessee's open practice at Neyland Stadium on Sunday, Jennings didn't work with the first-team offense during 11-on-11 periods and instead ran with the groups going on the opposite half of the field.
(Want the latest scoop on Tennessee football and basketball? Make sure you're in the loop — take five seconds to sign up for our FREE Vols newsletter now!)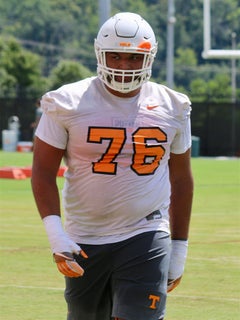 Hall started the final seven games of his freshman season in 2015, but he's played in just six games the past two seasons due to chronic knee problems. The 6-foot-5, 328-pound redshirt junior underwent knee surgery in March after missing all of the 2017 season. When he's gone through drills this preseason, Hall has worked at right tackle.
There was a time when Hall's future looked in doubt, but he continues to progress as he attempts a return from his previous health problems.
"I think Chance looks good out there," outside linebacker Darrell Taylor said Thursday. "He's gotten a lot better and it's all about getting better. Everybody gets better each day in practice each week, so it's all about getting better and I think he's doing that."