JT Shrout may not be a serious factor in Tennessee's quarterback situation as a freshman in 2018.
His development during his first season with the Vols certainly will be worth monitoring given the ceiling many believe he has.
The California native hadn't started a single high school game when he stole the show last summer at the QB COLLECTIVE camp while throwing for a handful of NFL personnel and other coaches, and when Tennessee in December flipped him from a long-time commitment to California, the Vols landed a quarterback with an impressive set of physical tools, albeit one in need of time to develop in many aspects of the game.
Richmond Flowers III, the son of a former Tennessee and NFL star and founder of the QB COLLECTIVE, shared the story of how Shrout elevated his game at the camp during an interview this week with Sports Radio WNML's Josh Ward on the Rocky Talk Podcast.
"JT was a backup quarterback at his high school," Flowers said, "and the kid ahead of him, his brother was an NFL quarterback in Matt Moore, and as a result he was talented as well and JT didn't play until his senior year. We had seen JT the year before at the camp and thought he was really talented, and then this year, he had been getting a little bit of buzz.
"He came to our camp and the guys that were there as well — the No. 1 player in the country in (current Georgia freshman) Justin Fields and players like (current Ole Miss freshman) Matt Corral — well, some buzz started happening, the coaches started talking and what they saw is what they saw. That's sort of up to them, and the reality is we had it covered by Yahoo! Sports and the sentiment got out about what they felt about JT Shrout.
"The benefit that JT received is just he was around some very quality folks that saw something that they see on daily basis relative to what they look for in the NFL. If you've got that, it's just sort of taking that and honing it, because JT again only played his senior year. But certainly he has the qualities that coaches look for at the highest level."
Among the current and former NFL coaches involved in Flowers's camp are retired three-time Super Bowl winner Mike Shanahan, former Washington Redskins coach Jim Zorn, current Los Angeles Rams coach Sean McVay, current San Francisco 49ers coach Kyle Shanahan and multiple other NFL assistants, according to the camp's website.
It was former NFL quarterback Sage Rosenfels, though, who was at the camp and touted Shrout's NFL-level potential.
"I think of all the quarterbacks who were here," Rosenfels told Yahoo! Sports writer Pete Thamel, "if I were an NFL general manager or quarterback coach, (he'd be) the guy who could step in on day one and fundamentally work within an NFL system."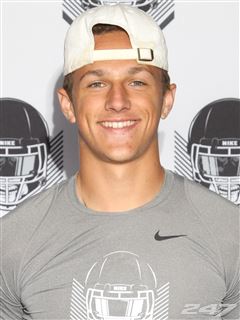 Flowers got an up-close look at Shrout and spent more time around him at his camp the past two years and believes Tennessee is getting a quarterback with the right mental makeup in addition to his natural abilities.
"He's just an amazing kid," Flowers said. "The first thing you recognize about him is just he's calm. He seems kind of wise beyond his years. He's from California, but he likes to hunt and fish and his dad is a policeman and he's raised right. The demeanor strikes you pretty quickly, but at the end of the day, he's just a 6-foot-3 kid that has a lot of arm talent, and I think really did well bringing JT in. He's a pleasure to be around."
Shrout made the cross-country trek to begin his Tennessee career a little more than a month ago, and he's going to need time to develop into a college-ready quarterback. Shrout's frame needs bulking up and he'll need to master the new offense the Vols will use under new coordinator Tyson Helton. The freshman also will need as many practice reps as he can handle to get a better grasp on the speed of the game and hone his technique and mechanics even further.
(ENJOY VIP ACCESS TO GOVOLS247 WITH A FREE SEVEN-DAY TRIAL)
Tennessee's quarterback battle is expected to come down to Jarrett Guarantano and Keller Chryst, and the Vols also have Will McBride, who went from third-stringer to starter late last season. The presence of three older scholarship quarterbacks should afford Shrout, who threw 27 touchdown passes with 25 interceptions in 2017, the time he needs to develop this season for the rest of his career. Tennessee's rep-focused practice style also will give him the work he needs to develop.
Even this fall, though, his natural gifts will be on display in practice settings.
"He's the kind of kid that just right off the bat what you recognize about him, which was the case at the QB Collective camp, is just his release, his arm talent," Flowers said. "He's a balanced passer. He just has really quality mechanics. You can tell he's going to really fill into his body. He's a good athlete at 6-foot-3, but you recognize that quick release, the arm talent. He has that kind of pure-passer look to him.
"I'm sure when anybody sees that, they think of Aaron Rodgers. I wouldn't make any comparisons, but ultimately that's what pops out at you, the arm talent, the velocity. He's very strong-armed and very mechanically sound."