For the third consecutive year, Tennessee's defensive linemen are learning from a new position coach.
According to at least a couple of them, that's not a bad thing.
Tennessee senior defensive end Kyle Phillips said Wednesday that the transition to new defensive line coach Tracy Rocker has been "a good change" for the Vols' defensive linemen, and senior defensive tackle Shy Tuttle said adjusting to Rocker hasn't "really been hard."
"He's been fun," Phillips said of Rocker, a veteran SEC assistant and former defensive line coach for the NFL's Tennessee Titans.
"Coach Rocker's been fun, like all the other coaches. I believe that he's just giving us confidence going into the season, just bringing a new voice. I think it's a good change."
Phillips and Tuttle are among the veterans on Tennessee's roster who have seen plenty of change over the past couple years.
They played under former defensive line coach Steve Stripling, an original member of former head coach Butch Jones' staff, during the 2015 and 2016 seasons. But Stripling was replaced last year by Brady Hoke, a former head coach at Michigan, San Diego State and Ball State.
After Pruitt's hiring in December, the Vols' defensive linemen now will get to learn from another new position coach, one with an impressive resume as both a player and a coach.
"I mean, it ain't really been hard," Tuttle said. "I've learned stuff from all my coaches. I'm just appreciative and blessed to be in this position where I can."
Tuttle said he "was pretty excited" to find out about the hiring of Pruitt, a former defensive coordinator at Alabama, Georgia and Florida State. And after working with Rocker for the past few months, Tuttle said he likes what Rocker has brought to the table.
"He's pretty enthusiastic," Tuttle said. "He's going to get what he wants out of you and more."
Rocker, 52, might connect with the Vols' defensive linemen on a different level because of his own background as a player.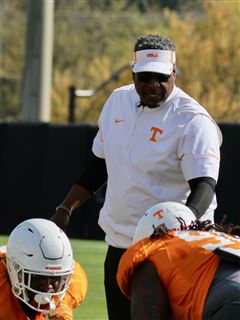 He was a standout defensive lineman at Auburn, where he won the Outland Trophy and the Lombardi Award and was a consensus All-American in 1988, and he was inducted into the College Football Hall of Fame in 2004.
"I found that out a couple days after he got the job," Tuttle said, referring to Rocker's history.
Over the past 15 years, Rocker has served as the defensive line coach at Arkansas, Ole Miss, Auburn and Georgia in addition to spending three years with the Titans.
"I've been here with the same head coach for three years, and now we're switching to a different one," Phillips said. "But I think it's a good adjustment. I believe that this coaching staff really has been (emphasizing) being disciplined, being focused, having toughness, playing for four quarters, and I think that's going to help us moving forward."
Rocker has brought plenty of intensity to the practice field through Tennessee's first 10 spring practices, challenging his players during the early portions of practices that have been open to media.
Phillips said Rocker's initial message to his new players when he met them a few months ago was a simple one: "Just get ready to work."
Rocker and the rest of the Vols' new staff seem to have made a strong impression on their players to this point.
"They all know what they're talking about. … They all know what they're doing," Tuttle said.