Pruitt: Vols, Jennings 'going one day at a time'
Tennessee's new coach provides the latest on the Vols' star wide receiver as he seeks full reinstatement.
NASHVILLE — Jauan Jennings remains in some kind of limbo as far as his status with Tennessee's football program.
The star wide receiver, dismissed by the former coaching regime just before the season finale in November, has a path back to the Vols provided he checks on the boxes on a to-do list given to him by new coach Jeremy Pruitt and athletic director Phillip Fulmer.
Pruitt was in downtown Nashville on Thursday afternoon for the third and final National Signing Day Celebration at the Country Music Hall of Fame and addressed the latest with Jennings in a meeting with the media before the program with hundreds of Tennessee fans.
(Want the latest scoop on Tennessee football and basketball? Make sure you're in the loop — take five seconds to sign up for our FREE Vols newsletter now!)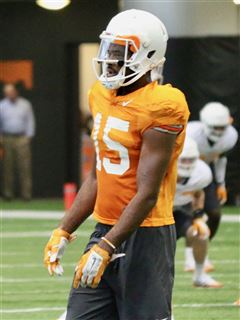 Jennings, who was Tennessee's second-leading receiver in 2016 before suffering a season-ending wrist injury in the 2017 season opener, has yet to be reinstated officially and rejoined team activities, and Pruitt said the Vols are taking a methodical approach with the situation.
"First of all, I feel like and I tell the guys all the time, there's no perfect coaches and no perfect players," Pruitt said. "We've all made mistakes. I'm sure everybody around here has made mistakes. The difference nowadays is with social media, things get out there.
"We've laid out some things in-house that he's got to do, and we're just going one day at a time. We'll see where we go with it."
During a brief question-and-answer session with fans during the program, Pruitt was asked what are the chances Jennings would be back with the team.
"One of the first things when I got to Tennessee, Coach Fulmer, he filled me in on the situation," Pruitt answered. "The way I look at it is this: There ain't no perfect folks in this room. There ain't no perfect coaches. There ain't no perfect players. And if they had Instagram and all that stuff back when we were all growing up, some of us might not be in this room.
"I'll say this: Jauan knows he made a mistake. He's embarrassed by it, and I think we're going to give him an opportunity in-house to find his way back on the team. But -- and there's always a but with it, right? -- he's got to do that. There ain't going to be nothing given to him and he knows that. It's a long ways to go and we'll see. Hopefully he can do that."
Tennessee is a little more than a month away from starting spring practice in mid-March.
(ENJOY VIP ACCESS TO GOVOLS247 WITH A FREE SEVEN-DAY TRIAL)
———————————————
Contact Patrick Brown at patrick.brown@cbsinteractive.com or on Twitter, and follow GoVols247 on Facebook.