Jeremy Pruitt has confirmed Tennessee star offensive lineman Trey Smith will miss spring practice due to "personal health issues."
The new coach of the Vols also updated the health status of three other offensive linemen.
Chance Hall, a 2015 SEC All-Freshman team selection who has played six games the past two seasons due to knee injuries, finally underwent surgery this week, redshirt freshman K'Rojhn Calbert will be limited in spring practice and Nathan Niehaus has been participating in winter workouts the past two-plus months.
(Want the latest scoop on Tennessee football and basketball? Make sure you're in the loop — take five seconds to sign up for our FREE Vols newsletter now!)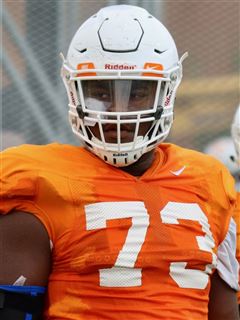 Pruitt was mum on the details regarding Smith's situation and said Tennessee will have a better idea on his status for the season "as the weeks go.
However, Tennessee's new coach also said the Freshman All-American and former five-star recruit was "working out" in the Anderson Training Center on Thursday.
"Trey's had some personal health issues that basically he's just getting some information," Pruitt said. "There's really not a whole lot of information for any factual deal, really. I really don't know to even put it, because I don't know much about it, just to tell you the truth. We'll know more as the weeks go.
"He's not going to go through spring."
Like Smith, Hall had a promising freshman season and appeared to be Tennessee's starting right tackle of the future, but he played in just six games in 2016 and underwent multiple surgeries on his knee.
He missed all of the 2017 season due to injury and spent part of preseason camp seeking additional opinions on how to repair his knee, and only this week was he able to undergo the special type of surgery he required.
Hall likely faces a long recovery, but Pruitt would not rule out him returning in time to play this season.
"I expect to have everybody back," he said.
Calbert went through roughly two weeks of preseason camp before undergoing surgery to address preexisting problems with his knee.
"He had his knee surgery last year and he's been participating (in workouts)," Pruitt said, "but he'll be limited in the spring."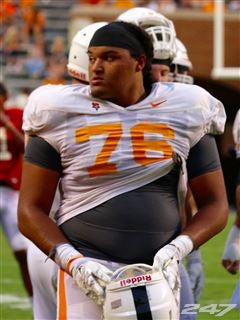 After redshirting his first season on campus in 2016, Niehaus missed the entire 2017 season due to an injury unspecified from the previous staff.
Pruitt said Niehaus "hadn't had an injury that I know of" and has been participating in winter workouts.
(ENJOY VIP ACCESS TO GOVOLS247 WITH A FREE SEVEN-DAY TRIAL)
These absences mean Tennessee, which will begin spring practice on March 20, will be down to seven available scholarship offensive lineman for the spring, including freshmen Jerome Carvin and Ollie Lane, who enrolled in January.
Those two would join Drew Richmond, Marcus Tatum, Riley Locklear, Ryan Johnson and Devante Brooks as the Vols' healthy offensive linemen for Pruitt's debut spring.
———————————————
Contact Patrick Brown at patrick.brown@cbsinteractive.com or on Twitter, and follow GoVols247 on Facebook.