Fulmer: 'Traditionalist' Pruitt will have say on Smokey Greys
What will Tennessee's new coach do with Tennessee's Smokey Grey alternate uniforms?
The arrival of a new head coach could leave the future existence of Tennessee's Smokey Grey alternate uniforms up in the air.
The Vols wore the combination six times in five seasons under previous head coach Butch Jones and split those games.
Their fate is now in the hands of new coach Jeremy Pruitt, Tennessee athletic director Phillip Fulmer said Wednesday morning during an appearance on "The Swain Event" with former Tennessee wide receiver Jayson Swain.
(Want the latest scoop on Tennessee football and basketball? Make sure you're in the loop — take five seconds to sign up for our FREE Vols newsletter now!)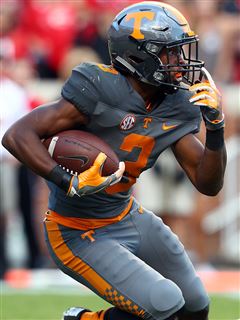 "I talked to Jeremy about our traditions here in a lot of things," Fulmer said. "In the end, that will be his choice, but we have talked about it. I think he's pretty much a traditionalist, but I can't sit here and tell you what his plans are about the grey uniforms. That's a recruiting thing as much as it is anything.
"I don't think you would call me old-fashioned, but as much a traditionalist as I am, that has to be his call, because he's the one that's out there working and trying to get great football players here."
Jones introduced the alternate uniforms prior to his first season and debuted them with a fashion show in August before the 2013 season.
Tennessee wore the Adidas version of the new threads twice during Jones's first season in narrow home losses to Georgia and Vanderbilt. The updated version of the jerseys in 2014 were widely panned and the Vols did not wear them in their final year with Adidas. The Nike version of the alternate jerseys included a shaded helmet designed to look like the Smoky Mountains.
The Vols debuted those in a comeback win against Georgia in 2015 and wore them in a pair of 2016 wins against Florida at home and against Nebraska in the Music City Bowl.
The last appearance of the jerseys was in the 2017 loss to Georgia, a 41-0 home blanking that was Tennessee's worst-ever loss at Neyland Stadium.
What happens now to the jerseys is up to Pruitt.
"We'll see where it goes," Fulmer said, "but he knows about the game maxims, he knows about the checkerboard end zone and those things. I don't know that everybody appreciates it or has appreciated it like he will and I do."
(ENJOY VIP ACCESS TO GOVOLS247 WITH A FREE SEVEN-DAY TRIAL)
Here is Fulmer's full interview on "The Swain Event" from Wednesday morning.
———————————————
Contact Patrick Brown at patrick.brown@cbsinteractive.com or on Twitter, and follow GoVols247 on Facebook.