What sets the SEC apart from the rest of the power conferences in college football is the combination of size, skill and athleticism the league's defensive linemen possess.
Such specimens often aren't found in bulk in other parts of the country, and part of Tennessee's rebuilding job under first-year coach Jeremy Pruitt includes upgrading that particular part of the roster in future recruiting cycles.
The Vols will see plenty of examples of the caliber and kind of players they need to sign, the hulking, disruptive interior defensive linemen who free up the linebackers behind them to make plays and rack up tackles for loss and other disruptive plays on their own.
After ranking the five best opposing quarterbacks, the five best opposing running backs, the five best wide receivers and the five best offensive lines on Tennessee's 2018 schedule, GoVols247 ranks the five best opposing defensive linemen (pass rushers not included) the Vols will face this season.
(ENJOY VIP ACCESS TO GOVOLS247 WITH A FREE SEVEN-DAY TRIAL)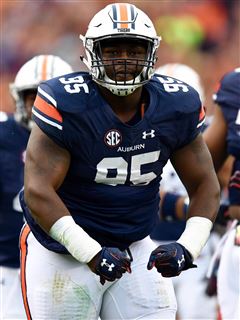 5. DONTAVIUS RUSSELL (AUBURN)
Auburn will have a couple of stud defensive tackles anchoring the middle of its defensive front in 2018, which will make defensive coordinator Kevin Steele's job that much easier. Russell, a former four-star prospect who redshirted in 2014, has started 37 games in his career and will be in his fourth season as a starter in 2018. The 6-foot-3, 295-pounder was solid his first two seasons, but he elevated his game as a fourth-year junior last season and solidified himself as one of the SEC's top defensive tackles.
Russell's 83.2 grade from Pro Football Focus was the seventh-best among SEC interior defensive linemen, and two of the players ahead of him were first-round picks in the 2018 NFL Draft. He finished with 46 tackles, 6.5 tackles for loss, three sacks and five quarterback hurries. Russell's 84.4 PFF run-defense grade was fifth-best in the SEC and ranked 29th among all defensive tackles, and he's improved drastically in that category after debuting with a 59.2 run-defense grade as a redshirt freshman in 2015.
4. JONATHAN LEDBETTER (GEORGIA)
Pruitt and Tracy Rocker combined to sign Ledbetter as a member of Georgia's 2015 class, and he put his off-field issues behind him and blossomed into one of the quietly reliable members of the Bulldogs' menacing defensive front as they won the SEC and came so close to winning the national title in 2017.
Ledbetter was arrested twice on alcohol-related incidents in 2016 and nearly threw away his chance at Georgia, but after serving a six-game suspension that seasons he's straightened things up and last season was a key part of Georgia's run, racking up 38 tackles, 5.5 tackles for loss, 2.5 sacks and seven quarterback hurries from his five-technique/defensive end position in Kirby Smart's defense.
The 6-foot-4, 269-pounder was the fourth-best player and highest-graded defensive linemen for Georgia in 2017, according to PFF. His 81.0 grade was marked improvement from his first two seasons (60.7 and 66.7) and he made some key plays to help the Bulldogs beat Oklahoma in the Rose Bowl. Georgia has some holes to fill on defense in 2018, but Ledbetter again figures to be one of their top performers.
3. TERRY BECKNER JR. (MISSOURI)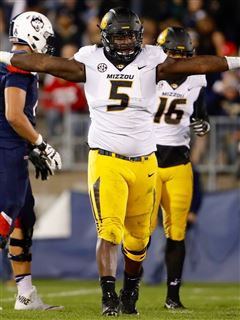 One of the highest-ranked recruits in the history of a program that has done well on less-heralded prospects, Beckner stunned many by deciding to return to the Tigers for his senior season instead of enter the 2018 NFL Draft after a stellar 2017 season. The former five-star recruit had his first two seasons at Missouri ended by knee injuries, but he went the distance last season and excelled. The 6-foot-4, 300-pounder's 83.0 PFF grade in 2017 was the 10th-best among SEC interior defensive linemen.
After putting his injuries behind him, Beckner recorded 38 tackles, 11 tackles for loss and seven sacks — the latter total matched Ole Miss's Breeland Speaks, the 46th overall pick of the Chiefs in April, for the most by an SEC interior defensive lineman — as his play began to draw comparisons to Sheldon Richardson, another former Missouri defensive tackle who became a first-round NFL Draft pick of the Jets and the 2013 NFL Rookie of the Year.
According to PFF, Beckner racked up the fifth-most total pressures (sacks, quarterback hits and hurries) among SEC interior defensive linemen in 2017, and he'll be back to provide a menacing presence for SEC offensive lines in 2018.
2. DERRICK BROWN (AUBURN)
Tennessee had a real chance to land Brown, the former five-star prospect who was the No. 10 overall player in the 247Sports Composite for the 2016 class, before he decided to sign with Auburn, and rubbing salt in the what-if wound for the Vols is he's lived up to his recruiting billing through two seasons with the Tigers.
Brown's 84.7 PFF grade in 2017 was the fifth-best among all SEC interior defensive linemen as he racked up 56 tackles, nine tackles for loss, 3.5 sacks and two forced fumbles. According to PFF, Brown was equally effective defending the run (82.9) as he was rushing the passer (81.5), and his single-game 85.8 run-defense grade against Georgia in Auburn's regular-season rout of the Bulldogs jumps out. The 6-foot-5, 330-pounder made marked improvements from his freshman season and will continue to get better as a junior.
With the NFL-bound duo of Russell and Brown manning the middle, opponents will have all kinds of trouble running up the middle against Auburn this season.
1. RAEKWON DAVIS (ALABAMA)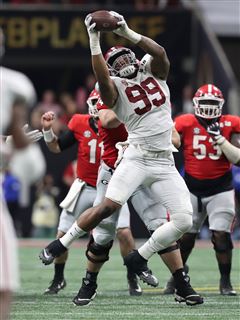 At 6-foot-7 and 306 pounds, Davis is a freak even by Alabama standards and he's next in line in the Crimson Tide's defensive line factory. He led Alabama with 8.5 sacks in 2017 and finished with 10 tackles for loss, the 10th-best total for all defensive linemen in the SEC last season. Davis shined in Alabama's two College Football Playoff games last season, recording a sack in each game and adding a pivotal interception in the title game against Georgia.
His 69 tackles last season were the third-most on a defense loaded with NFL players and show the kind of freakish athleticism he possesses at his eye-opening size. Davis should solidify his positioning as a first-round pick in the 2019 NFL Draft with another strong season from his five-technique/defensive end spot in 2018. Even while racking up a handful of sacks, Davis recorded an 84.8 PFF run-defense grade, the fourth-best among SEC interior defensive linemen and No. 25 nationally at his position.
Davis is terrifying enough on his own, but his fellow 3-4 defensive end, Isaiah Buggs, also merited serious consideration for this list. Buggs and Davis had matching 83.1 PFF grades last season playing either side of Da'Ron Payne and the former led the conference in total pressures at his position. And to think Davis and Buggs were sharing snaps with Da'Shawn Hand, who has since moved on to the NFL.