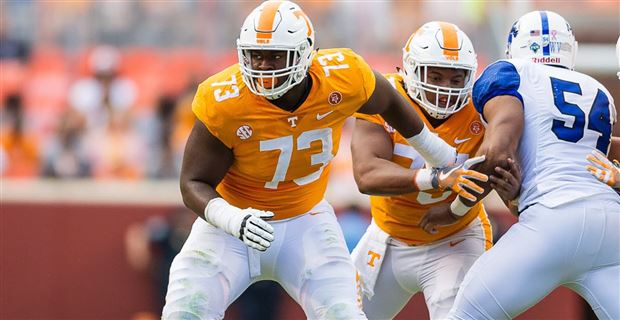 GET VIP ACCESS TO GOVOLS247 WITH A FREE 7-DAY TRIAL
Tennessee star offensive lineman Trey Smith will miss at least a portion of spring practice — and possibly longer — while dealing with a medical issue, a source close to the program told GoVols247 on Saturday night.
Smith, a Freshman All-American last season, is continuing to seek medical evaluation, and any timetable on his potential return would be speculation at this point, according to the source.
The loss of Smith for any period of time would be a major blow to new coach Jeremy Pruitt's rebuilding process in Knoxville. The 6-foot-6, 320-pound West Tennessee native was the nation's No. 14 overall prospect in the 2017 industry-generated 247Sports Composite, and he lived up to that billing during a banner freshman season.
(Want the latest scoop on Tennessee football and basketball? Make sure you're in the loop — take five seconds to sign up for our FREE Vols newsletter now!)
Smith was one of the few bright spots for the Vols last season, starting all 12 games and routinely grading out as the team's best offensive lineman.
Tennessee has offered no official comment on Smith's situation, and Smith's family has requested privacy regarding his health.
GoVols247 will continue to monitor this developing story.
———————————————
Contact Wes Rucker by email at wes.rucker@cbsinteractive.com or ON TWITTER, or FOLLOW GOVOLS247 ON FACEBOOK.