Aaron Beasley admittedly has been leaning toward Tennessee since getting a scholarship offer from the Vols in February.
The three-star rising senior athlete from Heard County High School in Franklin, Ga., returned to Tennessee on Friday night for the fourth time in less than four months for a weekend visit that he said would let him "know for sure if I want to" play for the Vols.
He arrived at a decision by Sunday afternoon.
The 6-foot-0.5, 220-pound Beasley announced Sunday on his Twitter account that he has committed to Tennessee, choosing the Vols over Florida State and Auburn and giving first-year coach Jeremy Pruitt's staff a versatile player capable of helping on offense or defense.
"I like the coaching staff a lot, and I like (safeties) coach (Charles) Kelly, who all he's coached," said Beasley, who's ranked by 247Sports as the No. 460 overall prospect and No. 35 safety in the 2019 class. "I like his coaching development. I like the atmosphere up there. I like the coaching schemes and stuff like that.
"I mean, they've probably been my favorite probably the whole time, since they offered."
Beasley became Tennessee's 10th known commitment for the 2019 class and its second in 48 hours. Four-star defensive back Anthony Harris of Havelock (N.C.) High School announced his commitment to the Vols on Friday afternoon.
Tennessee made a strong first impression on Beasley when he received his offer from the Vols on Feb. 20 during a phone conversation with Pruitt. His first trip to Knoxville just four days later only made him like Tennessee more.
"Coach Pruitt himself, he called and offered me. That was big. He was the first head coach to do that," Beasley said.
"I like the vibe up there. I feel like Coach Pruitt and the coaching staff are going to change things around up there. It just feels at home up there."
Beasley said he's convinced that Tennessee is headed in the right direction under Pruitt, a first-time head coach who previously served as defensive coordinator at Alabama, Florida State and Georgia.
"He came from Alabama," Beasley said of Pruitt. "I feel like he can really change stuff around up there."
Beasley has been recruited by most teams as a possible safety. But he also has played running back in high school, and he said Tennessee's coaches have told him that he "could pick" which position he wants to play in college, although they have discussed "mainly defense" to this point.
"They said it's all up to whatever I want to do," he said. "I'll see how this season goes. I'm still evaluating what I want to do."
With Beasley now up to 220 pounds, he said Nebraska also "has been talking to me about linebacker."
"I mean, honestly, I'll play anywhere on the defensive side of the ball — wherever they want to put me, other than (defensive) line or corner or something," he said with a laugh.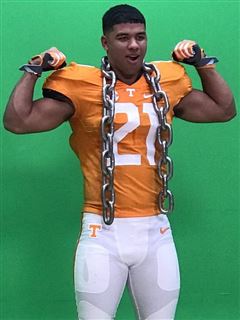 If he plays safety at Tennessee, he said the Vols have indicated that he would have opportunity to compete for early playing time.
"They'll only have, like, two safeties (returning) next year, because they didn't sign a safety in the '18 class," Beasley said. "After this year, they'll only have two safeties on the roster from last year, and those will be, like, seniors and juniors. I could play early there."
Beasley said he has built a strong relationship with Kelly over the past few months, adding that he's "probably the closest" with Kelly and Pruitt among Tennessee's coaches.
He said he likes that Kelly coached one of his favorite players — former Florida State safety Derwin James of the NFL's Los Angeles Chargers — during his previous stint as the Seminoles' defensive coordinator.
"Derwin, he's probably one of my favorite players, so that's big," Beasley said. "I mean, (Kelly) keeps it real with me. I just like his demeanor and stuff like that."
With offers from at least 20 schools under his belt, and with home-state school Georgia recently having shown some interest in him, he said he's not ready to close the door on the other teams pursuing him.
After attending a camp at Georgia on Tuesday, he said he's "a Georgia fan, so that's a dream offer." And he's still planning to visit other schools.
"I'll probably go back up to Florida State in July," Beasley said. "I'll still have my recruitment open."