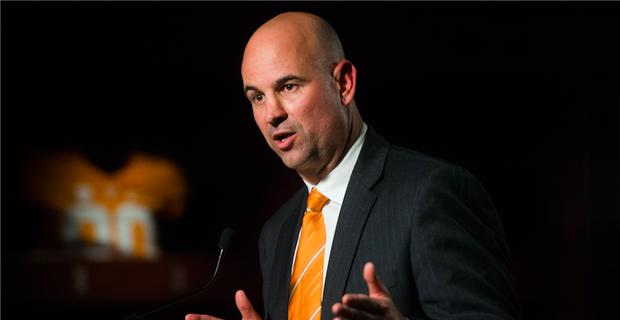 Coming off its first eight-loss season in school history, Tennessee might need some time to rebuild under first-year coach Jeremy Pruitt.
But Barton Simmons, 247Sports' director of scouting, thinks it might not take as long as expected for the Vols to work their way back into contention in the SEC.
During a recent interview on Knoxville's Sports Radio WNML, Simmons said he believes "there's still talent there" on Tennessee's roster, and "it may not take quite as long for Tennessee to get back as people think" if their strength and conditioning and their player development can improve under Pruitt.
WNML's Vince Ferrara pointed out to Simmons that the Vols' current players include two players who were rated five-star prospects in the industry-generated 247Sports Composite, 34 who were rated four-stars, 46 who were rated three-stars and pair of former two-stars.
"My interpretation of those numbers is that, despite the way that program has underachieved over the last couple of years, there's still talent there," Simmons told Ferrara. "And you can sort of squabble with the rankings, and you can disagree, and I would certainly respect that and acknowledge that the rankings aren't and won't ever be perfect.
"But those rankings, in a lot of cases — and pretty much universally — reflect recruitments and who wanted these guys. And, at the very least, Tennessee has a roster that's pretty heavily stacked with guys other schools wanted.
"To me, where things went awry with the previous staff, I do think part of it was just taking guys to take guys, taking guys to help their recruiting ranking, to build momentum, as opposed to making tough decisions and taking guys who were the right fit and were really heavily scrutinized and evaluated. And then the other end of it is, there's no way you can look at Tennessee's program and not acknowledge that there's been a void in development, strength and conditioning.
"And I think, when you look at the guys that they've got … there's guys that are really talented. And I think, if this staff has the right strength and conditioning program and player development in place, I just think it may not take quite as long for Tennessee to get back as people think.
"And you would think Jeremy Pruitt's got that blueprint because of where he's been," Simmons added, referring to Pruitt's previous stints as defensive coordinator at Alabama, Georgia and Florida State. "This will be, I think, a test of that sort of Nick Saban model. But there's plenty of reason for optimism when you look at it that way."
Simmons said there have been "underachievers" on Tennessee's roster that contributed to the Vols' 4-8 season last year under former coach Butch Jones.
But he said developing talent could play a major role in determining how quickly Tennessee can get back on track.
"Look, it's a fact that if a kid who's a four-star or five-star or whatever you want to call him has two schools — School X and School Y — he can go to School X and he will be a better player than if he goes to School Y, just based on the way that School X develops kids," Simmons said.
"So we can't rank guys that way, but it's a fact, and kids make decisions that impact their future in terms of the way they're going to get developed on campus. And if Tennessee can become a School X as opposed to a School Y — which is, I think, what they were before — then all of a sudden this roster starts to look very different and I think can really improve rapidly."