An offensive lineman who spent the past few years in Tennessee's backyard has decided to play for the Vols.
Three-star rising senior offensive lineman Chris Akporoghene of IMG Academy in Bradenton, Fla., announced Monday afternoon on his Twitter account that he has committed to Tennessee.
The 6-foot-4, 290-pound Akporoghene, who played at The King's Academy in Seymour, Tenn., before moving to powerhouse IMG Academy earlier this year, chose the Vols over Oregon, Texas, Duke and Nebraska, giving first-year Tennessee coach Jeremy Pruitt's staff its 13th commitment for the 2019 class.
Akporoghene, a Nigeria native, earned a scholarship offer from Tennessee less than a month earlier with a strong showing at one of its camps.
Oregon hosted him last month on his first official visit, but he ultimately decided to return to East Tennessee.
"After consulting with my family, I have decided to commit to the University of Tennessee," he wrote in a note posted on his Twitter account. "I am excited to represent UT, Coach Pruitt and his staff, Vol fans, and my entire Tennessee family over the next four years. Go Big Orange!"
He's ranked the No. 772 overall prospect and No. 72 offensive tackle in the industry-generated 247Sports Composite for the 2019 class. He's also ranked by 247Sports as the No. 1,820 overall player and No. 150 offensive tackle in the 2019 class.
Akporoghene, who plans to graduate in December and enroll at Tennessee in January, joined five-star offensive tackle Wanya Morris of Grayson High School in Loganville, Ga., and four-star offensive lineman Jackson Lampley of Montgomery Bell Academy in Nashville, Tenn., as the Vols' third Class of 2019 offensive-line commitment.
He moved to the Knoxville area three years ago to pursue college opportunities in the United States. His family still is in Nigeria, but the family that has hosted him in Tennessee over the past few years naturally wasn't opposed to the idea of having him play for the Vols.
"For my family, that's huge for them," Akporoghene said after learning of his offer from the Vols last month. "... And, for my family, that's home. It would make them happy to know that I play for the University of Tennessee, and it would make me happy, too."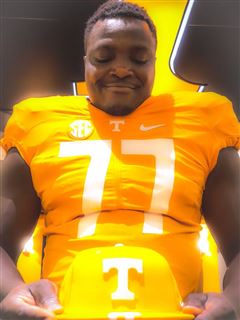 At the time of the offer, he admitted Tennessee was "late in the race." He said at the time that he wanted "to go to a place where I'm considered a main priority," and the Vols would need to make him a priority if they wanted to land him.
They've done that over the past few weeks. Pruitt's staff showed him plenty of attention in the days after Tennessee extended the offer to him, earning a spot among his five finalists. And the Vols continued to talk with him frequently coming off his official visit to Oregon the weekend of June 23.
Akporoghene likes what he has seen from Tennessee's staff, too, including offensive line coach Will Friend.
"From what I see, I think they're a lot better than the last staff," Akporoghene said last month. "From what I saw, the coaches this time, they want to make a difference. I mean, they've made that pretty clear because, from the words that they told me, the program was going through a lot and they're trying to bring it back to its former glory.
"Now they're trying to get guys who can ball, who can make a difference — not just any kind of player — and they're trying to get guys who can actually make a difference on the team. And they sounded really convincing. I think they're going to be one of the top teams this year."