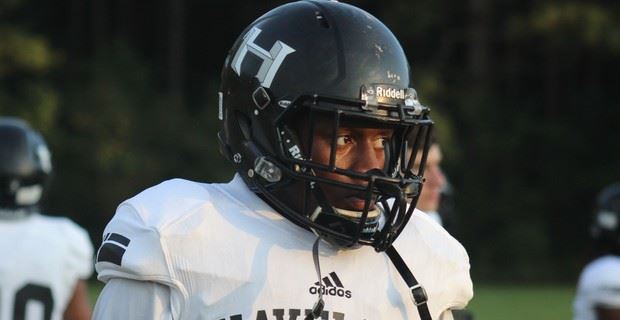 Anthony Harris once planned to wait until sometime during his senior season to announce his college decision.
But he recently decided there was no need for him to wait that long.
The four-star rising senior defensive back from Havelock (N.C.) High School announced Friday afternoon that he has committed to Tennessee, choosing the Vols over N.C. State, North Carolina and Virginia Tech after visiting Tennessee for the first time in March.
The 6-foot-1.5, 171-pound Harris gave the Vols their ninth known commitment for the 2019 class and their first from a defensive back. He said N.C. State finished second to Tennessee.
"They have more than just football," said Harris, who's ranked the No. 171 overall prospect and No. 11 safety in the industry-generated 247Sports Composite for the 2019 class. "They have a lot of stuff outside of football. It'll keep you out of trouble, but it helps out the community, and the atmosphere is good."
Harris said as recently as early May that he wanted to decide on a college later this year during his senior season. But after visiting North Carolina in late April and N.C. State last month, he said his mind was set on the Vols.
"I kind of felt that sold on Tennessee already," he said.
While Harris said he "thought about" attending an in-state school, he said he "wanted to get out of state, too."
His trip to Knoxville in March allowed him to watch former Havelock standout Kendal Vickers — a former Tennessee defensive tackle — participate in the Vols' annual pro day.
Harris admitted "that visit opened my eyes" to everything Tennessee has to offer.
"(I liked) the facilities, the atmosphere and the way the weight room is, their players. They showed me videos about it," he said.
"It surprised me. They said that people will be on their boats waiting for the game," Harris added, referring to the "Vol Navy" that uses the Tennessee River to travel to Tennessee's home games. "Their stadium is almost an NFL size. They have a good crowd no matter what game it is."
Vols co-defensive coordinator Chris Rumph, quality control analyst Montario Hardesty, first-year head coach Jeremy Pruitt and Charles Kelly, Tennessee's safeties coach and special teams coordinator, all have been in contact with Harris over the past several months. Harris said Rumph and Hardesty have talked with him most frequently.
The Vols have told Harris, he said, that he's capable of playing any of a few different positions in their secondary.
"They said I can play a mixture of roles — like, safety, nickel and corner — because they said my hips move good, and the way I (play) the ball and how I come downhill," Harris said.
"The staff is very good. Now that they have new people, I believe that they'll succeed more."
With his decision behind him, he said he's already planning to return to Tennessee next weekend to spend time with the Vols' coaches and get to know some of their players.
"I think we're going to be up there, like, Friday or Saturday," Harris said.
But Harris hasn't decided whether he will continue visiting other schools over the next several months leading up to National Signing Day.
"I don't know, as of right now," he said.