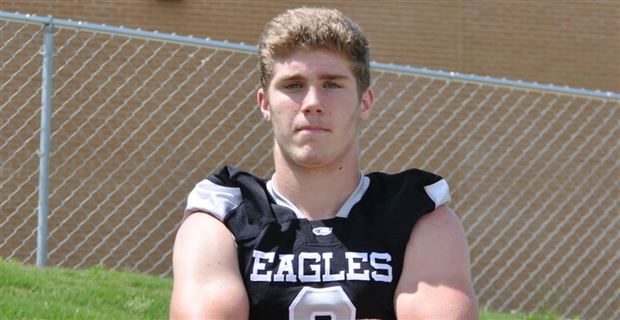 The scholarship offers Sean Brown received from LSU and Ole Miss more than two weeks ago briefly caused him to consider postponing his college decision, but he ultimately decided to move forward with his previous plans.
He realized his mind still was set on Tennessee.
Brown, a three-star junior tight end from Coosa High School in Rome, Ga., announced late Friday night after his spring game that he has committed to Tennessee, choosing the Vols over Auburn, LSU and Ole Miss coming off four visits to Knoxville in a span of less than two months.
The 6-foot-5, 245-pound Brown gave first-year Tennessee coach Jeremy Pruitt's staff its sixth commitment for the 2019 class and its second from a tight end, joining four-star tight end Jackson Lowe of Cartersville, Ga.
"I mean, there was a little bit of time where I was thinking about not (committing this week). But I decided to go ahead and do it," said Brown, who's ranked by 247Sports as the No. 644 overall prospect and No. 30 tight end in the 2019 class.
"With Coach Pruitt and everything, I know they're going to be rebuilding that team. And I want to be a part of that, making Tennessee the top of the SEC again.
"At first, I was thinking (about taking more visits). But I know in my heart that Tennessee is the right place."
Brown said he's excited about his opportunity to compete for early playing time at Tennessee, and he's confident Pruitt will turn around the Vols' program after watching him as an assistant coach at Alabama, the team Brown grew up liking.
"The opportunity to play early is greater at Tennessee, I think," said Brown, who's also ranked the No. 959 overall prospect and No. 37 tight end in the industry-generated 247Sports Composite for the 2019 class.
"It all just goes back to them rebuilding that team. A few years ago, Tennessee was at the top of the SEC, and they kind of dropped off. And now that Coach Pruitt's in there, he's going to turn that around. I know that Coach Pruitt's a hell of a coach, and I know what he's capable of, watching him from Alabama. I know he's going to get stuff done.
"They don't play around. I mean, they're down to business, and they know that pretty soon they're going to win them an SEC championship."
Brown said he and Lowe, whose schools are less than 40 miles apart, "hit it off well the first time we met" during a visit to Auburn. Brown said he expects both of them to thrive in Tennessee's offense.
"Honestly, me and him, in my opinion, we're going to be the best tight-end duo in the nation eventually," Brown said, referring to Lowe. "Being able to play with him, I mean, we wouldn't have a weak spot at tight end. Us playing double-tights, running that iso and power and all that, that'd be unstoppable.
"They see us as being the most versatile players on the field, and me and him both can run and block as well as anybody on that team. They're just happy that we're both going to be there."
Brown visited the Vols on March 3 for the first time to attend one of their junior days, and he returned twice in a span of six days in late March, spending one day with Pruitt's staff and then watching one of Tennessee's spring practices. He made the trip to Knoxville again April 21 for the Vols' spring-ending Orange and White Game.
Each time he was there, he said, he "just saw a family atmosphere" that made it easy for him to envision himself at Tennessee.
"Everybody up there just looked like they've been there for six or seven years," Brown said. "None of that looked new to anybody. I can tell people are comfortable when they go there."
Brown said he first informed the Vols of his decision "about a week ago," talking with Pruitt, tight ends coach Brian Niedermeyer and safeties coach Charles Kelly, who's serving as his area recruiter.
"They were just excited that I was going to hop on board with them," Brown said.
He said he appreciated "more than anything" that Tennessee's coaches, starting with Kelly and Niedermeyer, have been "100-percent honest with me." He said he has enjoyed getting to know Niedermeyer over the past few months and is looking forward to playing for him.
"He's something else," Brown said. "He's a great guy. I mean, I've watched him in practice, and I know he's going to be funny with you off the field. But once he's on that field, he's serious about everything. He's going to get you better."